CGA Interclub Playoffs Update - Round 1 Complete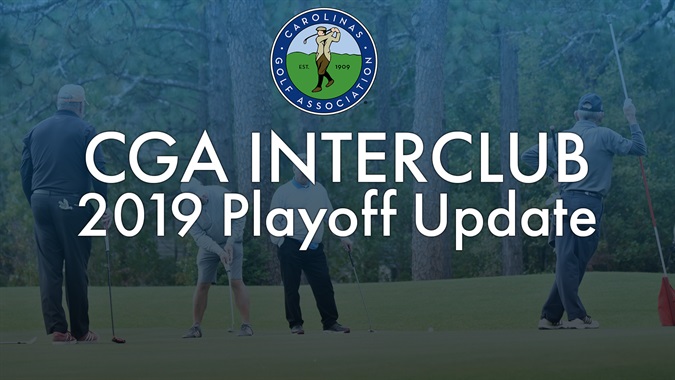 Regular Interclub Playoff Brackets 2019 | SENIOR Interclub Playoff Brackets 2019
With one 1st round playoff match to go (scheduled for Sunday), advancing teams are preparing for round two in both leagues while a few senior teams have made it to round three.
Several captains have requested extensions beyond the target date for various reasons. Extensions are granted depending on the number of available days and/or weekends before the next target date. Weather related issues have and will also cause extensions. In any event, we must be down to the "final four" teams in each league by October 19 for the Seniors and November 11 for the Regular league. When requesting an extension, it's recommended to contact the next potential opponent and set that date as well. NOTE: Not having the right team players available is not a valid reason to re-schedule a match.
Other Notables:
Don't forget to put the MATCH DATE in TPP! Both captains need to do this for the play at their site before submitting players scores and match results.
Once an initial playoff match date is agreed upon by both teams, any request to reschedule by one team depends on the ability of their opponent and the calendar. If necessary the CGA Interclub committee will determine the outcome of an unplayed match due to calendar restraints.
Remember to use the "Refresh Handicap Indexes" button in TPP to update players handicaps prior to a match. Indexes are updated automatically on the 15th and last day of each month in GHIN. Both captains should hit the refresh button when lineups were set in TPP prior to the 15th, or 30th/31st with a match date after the 15th or 30th/31st.
As travel time increases for your next round, neutral sites may be used. We can assist you with setting tees in TPP for a neutral course.
Win or lose, please input results immediately in order for the next round to be scheduled.
Regular League Playoffs
The No. 1 seed in the East (Tanglewood GC) will begin their playoff run after receiving a first-round bye and will face the Lochmere GC #1 team following their two-point win over Highland CC.
The rookies from Duplin CC won their first playoff match against Lochmere GC #2 and advanced to meet Falls Village GC out of Durham, N.C. which nipped Riverwood GC by a single point.
The Preserve at Jordan Lake will face Duke University GC while Umstead Pines and Lonnie Poole round out the teams in the upper side of the East bracket.
The lower half has Pinehurst CC #9 ready to come out of the gate to face Willow Springs CC from Wilson NC.
The former champions from Pinehurst CC #1-6 won a "sudden death" playoff against Chapel Hill CC and will wait for the winner of the Pine Needles vs the Club at 12 Oaks match for their next opportunity to advance.
The Governors Club stopped Siler City CC by two points and will face Ft. Bragg which received a "bye" as the No. 3 seed.
Durham's Hope Valley CC agreed to host the match for all 16 players due to course conditions at Salem Glen and then used their home course advantage to advance with a 38 to 35 final score. HVCC will face Bentwinds CC following their 11-point win over Mill Creek GC from Mebane, N.C.
In the West region the River Hills CC #1 will face the No. 1 seed from Cowans Ford CC after their 38 to 34 win over Tega Cay (Cove).
Cramer Mountain squeaked by with a one-point win over Tega Cay (Pines) and awaits the scheduled match against Olde Sycamore Golf Club.
Rock Hill CC (past champions) and River Run CC #1 will square off next after advancing from round one with identical scores (39 to 33) over Lincoln CC and Ballantyne CC respectively.
Tega Cay (Grand View) is still alive after beating Cowans Ford CC #2 by a single point. They will face Pine Island CC #1 which also won by one point over the boys from Providence CC.
Piper Glen #2 will have their first match when they face Gaston CC. Cedarwood CC and Waterford GC both won "sudden death" matches in round one against Palisades CC and River Run CC #2 respectively and will meet each other in round two.
The match of the week has to be Highland Creek GC #1 vs Highland Creek GC #2. The #2 team, which drew a "bye", has been sitting on the sidelines hoping for this matchup.
The No. 6 seed from Bermuda Run CC and No. 22 seed Ft. Mill GC advanced with identical five-point wins over Providence CC and Northstone CC #2 respectively to round out the lower bracket in the West.
Here's a quick link to the Regular playoff brackets: Regular Interclub Playoff Brackets 2019
SENIOR League Playoffs
North Region: Following a first-round bye, the 2018 defending seniors from Tanglewood will try to maintain their winning streak when they take on Anderson Creek GC. ACGC defeated Riverwood GC by eight points to advance and will try to break Tanglewood's 17 consecutive match wins.
Chapel Hill CC has already advanced to round three as they stopped the Club at 12 Oaks with a 37 ½ to 34 ½ win last week.
The Crossings of Durham made it to the third round with a six-point win over Lochmere GC. They will face the winner of the Forsyth CC vs Henderson CC match which will be played at a neutral site (Alamance CC) on September 12.
Despite the early playoff loss by the 2018 regular champions from Wildwood Green, the WGGC seniors are still alive after a narrow two-point win over High Point CC. They will face the Governors Club which drew a "bye" as a No. 2 seed.
The Preserve at Jordan Lake and Lonnie Poole GC will match wits in round two after both teams defeated their first-round opponents by the same five-point margin. The winner of this match will meet the winner between Carolina Trace (the No. 3 seed with a "bye") and Stoney Creek GC. SCGC required "sudden death" over Oak Valley GC to advance.
Wakefield Plantation of Wake Forest NC is the third team to move past round two following a four-point (38 – 34) win over Bermuda Run CC.
In the South region, the No. 1 seed, Links at Stoney Point from Greenwood S.C., will face off against the Reserve at Pawleys Island after the Reserve beat Seabrook Island (Green) in overtime.
Once Dorian passes up the South Carolina coast, Belfair GC #1 from Bluffton and Pinehurst CC #7 can schedule their match.
The remaining teams in the upper quadrant have Verdict Ridge CC matched up against Pinehurst CC MGA and Gaston CC over Northstone CC.
The lower half of the South region has Kiawah Island (Cassique & River) Club as the only team that has advanced to the third round following a four-point win over Tega Cay. They will meet the winner between Cramer Mountain and the Tradition Golf Club. In addition, Pinehurst CC #9 and Daniel Island #1 are scheduled for the 18th while two close rivals, River Hills CC and Rock Hill CC are still debating on a date for their match.
Here's a quick link to the Senior playoff brackets: SENIOR Interclub Playoff Brackets 2019