Preview: 12th NC Super Senior Championship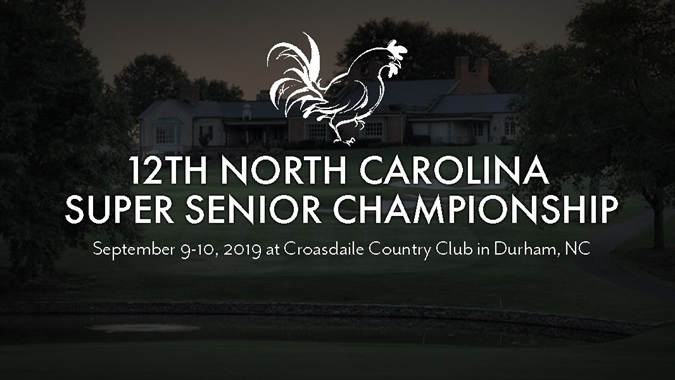 SOUTHERN PINES, N.C. (September 6, 2019) -- The Carolinas Golf Association will conduct the 12th North Carolina Super Senior Championship at Croasdaile Country Club in Durham, NC. from September 9-10, 2019.
Related: Championship Web Site | Starting Times | Scoring | History
The CGA returns to Croasdaile C.C. next week for the fifth CGA championship held at the site. The first championship at Croasdaile C.C. was the 2004 N.C. Amateur won by the reigning N.C. Super Senior Champion, Paul Simson of Raleigh, N.C. The most recent CGA Championship held at Croasdaile C.C. was the 2018 Carolinas Junior Girls' Championship won by Maria Atwood of Holly Springs, N.C.
The classic parklands golf course was designed by famed architect and Carolinas Golf Hall of Fame inductee, George Cobb. Architect and Cobb Associate, John Lafoy, performed a very honest and essential renovation in 2002, which included a conversion to A1-A4 Bentgrass greens.
Simson will not be in this year's field to defend his title. Our 2011 champion, Mike Sprouts of Newton, N.C., our 2015 champion, Robert Desjardins of Mathews, N.C. and our 2017 champion, Arlis Pike of Kernersville, N.C., will all compete in the 70+ Division this year.
Headlining our Championship Division is the 2014 N.C. Super Senior champion and five-time CGA champion, Ron Carpenter of Creedmoor, N.C. Carpenter will have the home-course advantage as a member of Croasdaile C.C.
He'll have to fend off a challenge by the likes of Don Detweiler of Raleigh, N.C. Detweiler finished runner-up last year to his regular four-ball partner, Simson. Detweiler, who won this year's N.C. Super Senior Four-Ball and the N.C. Senior Four-Ball with Simson, will look to capture his third CGA championship win of the year.
Seven-time CGA champion and reigning Carolinas Super Senior Player of the Year, Russ Perry of Winston-Salem, N.C., won the Carolinas Super Senior Championship earlier this year at Green Valley Country Club in Greenville, S.C. He currently sits in second place behind Simson in the race for the 2019 Carolinas Super Senior Player of the Year award. A top finish this week would help propel him into the lead.
This championship is conducted at 36 holes of stroke play. Entry is open to any male amateur golfer, age 65 and older, who is a legal resident of North Carolina, is a member in good standing of a club which is a member of the Carolinas Golf Association and has an active GHIN® USGA Handicap Index®. Players may sign up for the Championship Division or 70+ Division.
Championship Division (Men Age 65+): Approximate yardage = 6,100 yards.
70+ Division (Both team members age 70+): Approximate yardage = 5,600 yards
Yardage subject to change.
Schedule of rounds:
Monday, September 9
Round 1 – 18 holes of stroke play
Tuesday, September 10
Round 2 – 18 holes of stroke play
Awards luncheon immediately following completion of play.