First Round Results of the NC Mid-Amateur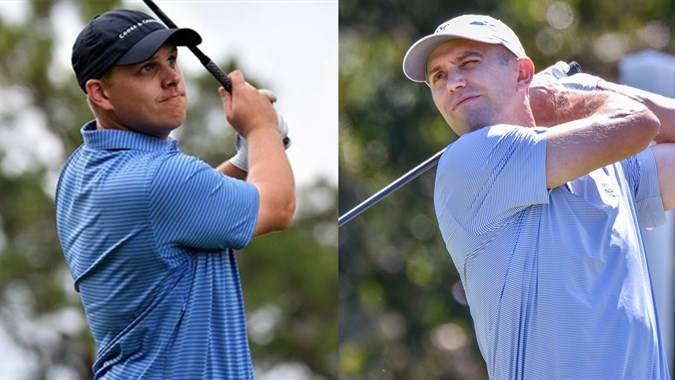 Thomas Owen (left) and Stephen Woodard share the first round lead at the N.C. Mid-Amateur Championship.
KANNAPOLIS, N.C. (September 20, 2019) -- First round results of the 26th North Carolina Mid-Amateur Championship at The Club at Irish Creek in Kannapolis, N.C. on September 20, 2019.
Related: Championship Web Site | Starting Times | Scoring | History | Photos
Thomas Owen of Fayetteville, N.C. and Stephen Woodard of Charlotte, N.C. are tied at the top of the leaderboard after the first round of the 26th N.C. Mid-Amateur Championship. Both players fired opening rounds of 6-under-par 65 to take an early one-shot lead into Saturday's second round.
"I was really happy to shoot a good round," said Owen. "I just hit a lot of solid shots and it was one of those rounds where I didn't do anything crazy and was able shoot 6-under. I just played solid."
Today was Owen's first time playing The Club at Irish Creek but said his comfort level on bent grass greens may be a big advantage over his fellow competitors.
"These greens are so similar to Highland Country Club," said Owen. "We're still Bent(grass) so I'm pretty comfortable as far as where the greens are at. A lot of these guys are probably playing Bermuda most of the time. This isn't a terribly demanding driving course which I like. My wedge and mid-iron play is usually pretty solid."
Owen was tied for second place after the second round of the 2018 N.C. Mid-Amateur Championship at Ballantyne Country Club and ultimately finished tied for third.
Woodard's round consisted of five birdies, one eagle and a bogey. He won the first event of the 2019 CGA Championship season in April at the Carolinas Mid-Amateur Championship at The Reserve Club in Pawleys Island, S.C. A win this week would give him the CGA Mid-Am sweep for 2019. He'd be the first person to win both the N.C. Mid-Amateur and the Carolinas Mid-Amateur in the same year since Scott Harvey in 2012. Only three people have achieved that feat; Paul Simson (1997) and Mike Goodes (2006).
Sam Echikson of Charlotte, N.C. is right in the mix after an opening round score of 5-under-par 66. Echikson finished tied for second earlier this year at the Carolinian Amateur Championship and is looking for redemption in this week's event.
Owen, Woodard and Echikson are playing in this year's Captain's Putter Matches representing the Carolinas Team against the Virginians Team in October.
The Championship is conducted at 54 holes of stroke-play competition. After 36 holes, the field is cut to the low 60 scores and ties for the final round. An on-course playoff is used to break a tie for the championship. The top 30 scores will receive merchandise and are exempt into the 2020 N.C. Mid-Amateur Championship.
Entry is open to any male amateur golfer who has reached his 25th birthday by September 20, 2019, is a legal resident of North Carolina, is a member in good standing of a club which is a member of the Carolinas Golf Association (CGA) and has an active GHIN® USGA Handicap Index® at a CGA member club that does not exceed 10.4.
26th North Carolina Mid-Amateur Championship
The Club at Irish Creek | Kannapolis, N.C.
First Round Results
| | | | | |
| --- | --- | --- | --- | --- |
| Pos. | Player | City, State | To Par | Total |
| T1 | Thomas Owen | Fayetteville, NC | -6 | 65 |
| T1 | Stephen Woodard | Charlotte, NC | -6 | 65 |
| 3 | Sam Echikson | Charlotte, NC | -5 | 66 |
| T4 | Michael Swaringen | Salisbury, NC | -4 | 67 |
| T4 | Chris Cassetta | High Point, NC | -4 | 67 |
| T4 | Dan Walters | WInston-Salem, NC | -4 | 67 |
| T7 | Caleb Keck | Concord, NC | -3 | 68 |
| T7 | John Nieters | Clemmons, NC | -3 | 68 |
| T7 | Matthew Crenshaw | Burlington, NC | -3 | 68 |
| T7 | Olof Bengtsson | Charlotte, NC | -3 | 68 |
| T11 | Daniel Neveu | Pinehurst, NC | -2 | 69 |
| T11 | Brad Mundy | Hickory, NC | -2 | 69 |
| T11 | Paul Tucker | Waxhaw, NC | -2 | 69 |
| T11 | Justin Pennell | Lenior, NC | -2 | 69 |
| T11 | Lionel Sutton | La Grange, NC | -2 | 69 |
| T11 | Clay Watkins | Mebane, NC | -2 | 69 |
| T11 | Bobby Dean | Charlotte, NC | -2 | 69 |
| T11 | Keith Kepley | Charlotte, NC | -2 | 69 |
| T19 | Brandon Reece | Rolesville, NC | -1 | 70 |
| T19 | Greg Earnhardt | Greensboro, NC | -1 | 70 |
| T19 | Brandon Mader | Greenville, NC | -1 | 70 |
| T19 | Matthew Younts | Greensboro, NC | -1 | 70 |
| T19 | Brock Elder | Whitsett, NC | -1 | 70 |
| T19 | Brian Westveer | Charlotte, NC | -1 | 70 |
| T19 | Chris Sharp | Charlotte, NC | -1 | 70 |
| T26 | Dallas Page | Stoneville, NC | E | 71 |
| T26 | David Gies | Charlotte, NC | E | 71 |
| T26 | Skip Corneliussen | Summerfield, NC | E | 71 |
| T26 | Tyler Shuler | Bryson City, NC | E | 71 |
| T26 | Dennis Long | Statesville, NC | E | 71 |
| T31 | Brent McKenzie | Wake Forest, NC | +1 | 72 |
| T31 | Brian Curry | Lenoir, NC | +1 | 72 |
| T31 | Andrew Ward | Charlotte, NC | +1 | 72 |
| T31 | Matt Kilgo | Charlotte, NC | +1 | 72 |
| T31 | Steven Brame | Henderson, NC | +1 | 72 |
| T31 | Joe Kastelic | Hickory, NC | +1 | 72 |
| T31 | Chris Holland | Fayetteville, NC | +1 | 72 |
| T31 | Timothy Driver | Holly Springs, NC | +1 | 72 |
| T31 | Bailey Patrick | Charlotte, NC | +1 | 72 |
| T31 | Jay Roberts | Davidson, NC | +1 | 72 |
| T31 | Scott Park | Charlotte, NC | +1 | 72 |
| T31 | Damon Postal | Charlotte, NC | +1 | 72 |
| T31 | William Jamieson | Cary, NC | +1 | 72 |
| T31 | Mark Whitley | Stantonsburg, NC | +1 | 72 |
| T45 | Mike Nelson | Raleigh, NC | +2 | 73 |
| T45 | Jeffrey Brisson | Elizabethtown, NC | +2 | 73 |
| T45 | Clayton Holland | Greensboro, NC | +2 | 73 |
| T45 | Joe Brooks | Franklin, NC | +2 | 73 |
| T45 | Jason Gabriel | Claremont, NC | +2 | 73 |
| T45 | Chris Williams | Concord, NC | +2 | 73 |
| T45 | Dale Fuller | Raleigh, NC | +2 | 73 |
| T45 | Chad Frye | Kannapolis, NC | +2 | 73 |
| T45 | Britt Mitchell | Creedmoor, NC | +2 | 73 |
| T45 | Dustin Moore | Burlington, NC | +2 | 73 |
| T45 | Zack Griffith | Chapel Hill, NC | +2 | 73 |
| T56 | Kevin Herring | La Grange, NC | +3 | 74 |
| T56 | John Heffernan | Charlotte, NC | +3 | 74 |
| T56 | Terrain Gill | Charlotte, NC | +3 | 74 |
| T56 | Mitch Robinette | Greensboro, NC | +3 | 74 |
| T56 | Bryan Bowman | Apex, NC | +3 | 74 |
| T56 | Zachary Sexton | Charlotte, NC | +3 | 74 |
| T56 | Jeremy Ray | Pfafftown, NC | +3 | 74 |
| T56 | Stefan Brewer | Charlotte, NC | +3 | 74 |
| T56 | Tommy Miller | Blowing Rock, NC | +3 | 74 |
| T56 | Paul Slomkowski | Colfax, NC | +3 | 74 |
| T56 | Anthony Conn | Raleigh, NC | +3 | 74 |
| T56 | Jason Debuhr | Mint Hill, NC | +3 | 74 |
| T68 | Sumner Tate | Raleigh, NC | +4 | 75 |
| T68 | Seth Correll | Huntersville, NC | +4 | 75 |
| T68 | Derek Paschal | Davidson, NC | +4 | 75 |
| T68 | Nathan Kohl | Greensboro, NC | +4 | 75 |
| T68 | Jordan Bilodeau | Charlotte, NC | +4 | 75 |
| T68 | Richard Youden | Winston-Salem, NC | +4 | 75 |
| T68 | Josh McWhorter | Boone, NC | +4 | 75 |
| T75 | Jason Smith | Raleigh, NC | +5 | 76 |
| T75 | Mark Absher | Winston Salem, NC | +5 | 76 |
| T75 | Richard Gill | Wilmington, NC | +5 | 76 |
| T75 | William Carter | Laurinburg, NC | +5 | 76 |
| T75 | Andy Crotts | Cramerton, NC | +5 | 76 |
| T75 | Aubrey Wilkerson | Charlotte, NC | +5 | 76 |
| T75 | Rick Powers | Oxford, NC | +5 | 76 |
| T75 | Park Williams | Kernersville, NC | +5 | 76 |
| T75 | Matt Ellzey | Apex, NC | +5 | 76 |
| T75 | Scott Lincicome | Pinehurst, NC | +5 | 76 |
| T75 | Ed Donlin | Concord, NC | +5 | 76 |
| T75 | Stephen Lavenets | Willow Spring, NC | +5 | 76 |
| T75 | Zac Lewis | Wilmington, NC | +5 | 76 |
| T75 | Sean Marks | Charlotte, NC | +5 | 76 |
| T75 | David Cook | Cedar Point, NC | +5 | 76 |
| T75 | James Bohn | Cary, NC | +5 | 76 |
| T91 | Kenny Flynn | Winston-Salem, NC | +6 | 77 |
| T91 | Jason Hawley | Charlotte, NC | +6 | 77 |
| T91 | Ryan Patterson | Waxhaw, NC | +6 | 77 |
| T91 | Nathan Presnal | Raleigh, NC | +6 | 77 |
| T91 | Nick Cromer | Trinity, NC | +6 | 77 |
| T91 | Brian Swenson | Charlotte, NC | +6 | 77 |
| T91 | Bretton Danforth | Raleigh, NC | +6 | 77 |
| T98 | Jody Delvechio | Newton, NC | +7 | 78 |
| T98 | Andrew Frank | Charlotte, NC | +7 | 78 |
| T98 | Joe Burns | Greensboro, NC | +7 | 78 |
| T98 | William Langmeyer | Matthews, NC | +7 | 78 |
| T98 | John Cornett | Boone, NC | +7 | 78 |
| T98 | Marais Lombard | Charlotte, NC | +7 | 78 |
| T98 | Seth Holloman | Matthews, NC | +7 | 78 |
| T98 | Mark Thomas | Wake Forest, NC | +7 | 78 |
| T98 | Stuart Augustine | Fayetteville, NC | +7 | 78 |
| T98 | David Brown | Conover, NC | +7 | 78 |
| T98 | Drew Haywood | Chapel Hill, NC | +7 | 78 |
| T98 | Jayson Jennings | Fuquay Varina, NC | +7 | 78 |
| T98 | Taylor Ferguson | Charlotte, NC | +7 | 78 |
| T98 | Daniel Jackson | Indian Trail, NC | +7 | 78 |
| T112 | Brian Hayes | High Point, NC | +8 | 79 |
| T112 | Craig Stroup | Thomasville, NC | +8 | 79 |
| T112 | Nicholas Melillo | Greensboro, NC | +8 | 79 |
| T112 | Kristopher Laird | Mint Hill, NC | +8 | 79 |
| T116 | Nathan Barker | Clemmons, NC | +9 | 80 |
| T116 | Dave Koster | Clemmons, NC | +9 | 80 |
| T116 | Wes Pope | Pineville, NC | +9 | 80 |
| T116 | Ryan Hub | Charlotte, NC | +9 | 80 |
| T116 | Scott Patnode | Belmont, NC | +9 | 80 |
| T116 | Eric Ardery | Durham, NC | +9 | 80 |
| T116 | Morris Marshburn | Vass, NC | +9 | 80 |
| T116 | Michael Porte | Winston-Salem, NC | +9 | 80 |
| T116 | Josh Neal | Raleigh, NC | +9 | 80 |
| T125 | Todd Grear | Mooresville, NC | +10 | 81 |
| T125 | Mark Nieters | Lexington, NC | +10 | 81 |
| T125 | Adam Firestone | Huntersville, NC | +10 | 81 |
| T125 | Blake Burnette | Charlotte, NC | +10 | 81 |
| T129 | Austin Adams | Charlotte, NC | +11 | 82 |
| T129 | Jake Benfield | Lenoir, NC | +11 | 82 |
| T129 | Danny Boughman | Lenoir, NC | +11 | 82 |
| T129 | Mark Kozel | Chapel Hill, NC | +11 | 82 |
| T129 | Daren Hefner | Conover, NC | +11 | 82 |
| T129 | Tomis Parker | Charlotte, NC | +11 | 82 |
| T135 | Craig Brookes | Charlotte, NC | +12 | 83 |
| T135 | Richard Kile | Charlotte, NC | +12 | 83 |
| T135 | Scott Chesna | Marion, NC | +12 | 83 |
| T135 | Ashley Fuquay | Greensboro, NC | +12 | 83 |
| 139 | Scott Neely | Winston-Salem, NC | +13 | 84 |
| T140 | Randy Poteat | Wendell, NC | +15 | 86 |
| T140 | Michael Gardner | Goldsboro, NC | +15 | 86 |
| 142 | Gregory Flicek | Raleigh, NC | +16 | 87 |
| WD | Brad Buxton | Greensboro, NC | +- | WD |