Woodard Goes for Mid-Amateur Sweep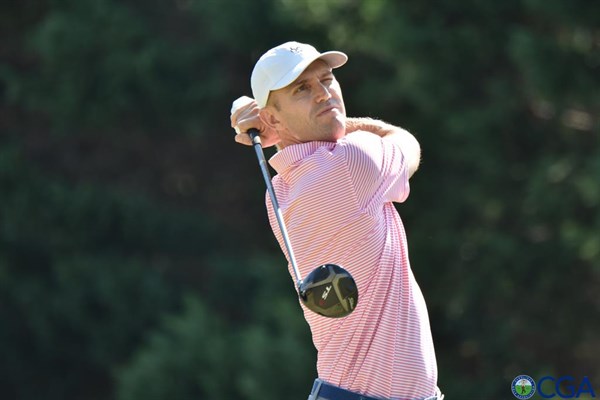 Stephen Woodard of Charlotte, NC looks to win both Mid-Amateur Championships in 2019
KANNAPOLIS, N.C. (September 21, 2019) – Second round results of the 26th North Carolina Mid-Amateur Championship at The Club at Irish Creek in Kannapolis, N.C. on Saturday, September 21, 2019.
Related: Championship Web Site | Starting Times | Scoring | History
2019 Carolinas Mid-Amateur Champion, Stephen Woodard of Charlotte, N.C. stands alone at the top of the leaderboard after the second round of the 26th N.C. Mid-Amateur Championship. Woodard birdied three of his last five holes at Irish Creek to take a four-shot lead into the final round over Thomas Owen of Fayetteville, N.C. and Bobby Dean of Charlotte, N.C.
Woodard won the Carolinas Mid-Amateur Championship in April, a rain shortened championship, but his mindset will not change this time with an overnight lead. "That tournament was different with the rainout…but I am going to keep being aggressive and try to putt the way I have been putting." Woodard is very familiar with Irish Creek and feels comfortable here, "I used to play this course a long time ago with some buddies a lot. I feel comfortable here, I love playing here, I love the greens and I feel at home playing here," said Woodard.\
A win tomorrow by Woodard would make him only the fourth person ever to win the N.C. Mid-Amateur and the Carolinas Mid-Amateur in the same year since. The previous three people to achieve that feat are Paul Simson (1997), Mike Goodes (2006) and Scott Harvey (2012). Woodard on what the Mid-Amateur sweep would mean to him, "That would be quite an honor, those are pretty good names to be associated with, but I have got a lot of work to do," said Woodard.
The cut line at the N.C. Mid-Amateur Championship fell at six-over par 148. Final Round tee times can be found here: https://cga.golfgenius.com/pages/2200545
The Championship is conducted at 54 holes of stroke-play competition. After 36 holes, the field is cut to the low 60 scores and ties for the final round. An on-course playoff is used to break a tie for the championship. The top 30 scores will receive merchandise and are exempt into the 2020 N.C. Mid-Amateur Championship.
Entry is open to any male amateur golfer who has reached his 25th birthday by September 20, 2019, is a legal resident of North Carolina, is a member in good standing of a club which is a member of the Carolinas Golf Association (CGA) and has an active GHIN® USGA Handicap Index® at a CGA member club that does not exceed 10.4.
26th North Carolina Mid-Amateur Championship
The Club at Irish Creek | Kannapolis, N.C.
Second Round Results
| | | | | | | |
| --- | --- | --- | --- | --- | --- | --- |
| Pos. | Player | City, State | Total To Par | R1 | R2 | Total Score |
| 1 | Stephen Woodard | Charlotte, NC | -10 | 65 | 67 | 132 |
| T2 | Bobby Dean | Charlotte, NC | -6 | 69 | 67 | 136 |
| T2 | Thomas Owen | Fayetteville, NC | -6 | 65 | 71 | 136 |
| T4 | Brian Westveer | Charlotte, NC | -5 | 70 | 67 | 137 |
| T4 | Sam Echikson | Charlotte, NC | -5 | 66 | 71 | 137 |
| T4 | Matthew Younts | Greensboro, NC | -5 | 70 | 67 | 137 |
| T7 | Dan Walters | WInston-Salem, NC | -4 | 67 | 71 | 138 |
| T7 | Matthew Crenshaw | Burlington, NC | -4 | 68 | 70 | 138 |
| T9 | Olof Bengtsson | Charlotte, NC | -3 | 68 | 71 | 139 |
| T9 | Steven Brame | Henderson, NC | -3 | 72 | 67 | 139 |
| T11 | Scott Park | Charlotte, NC | -2 | 72 | 68 | 140 |
| T11 | Skip Corneliussen | Summerfield, NC | -2 | 71 | 69 | 140 |
| T11 | Daniel Neveu | Pinehurst, NC | -2 | 69 | 71 | 140 |
| T11 | Lionel Sutton | La Grange, NC | -2 | 69 | 71 | 140 |
| T15 | John Nieters | Clemmons, NC | E | 68 | 74 | 142 |
| T15 | Dallas Page | Stoneville, NC | E | 71 | 71 | 142 |
| T15 | Chris Sharp | Charlotte, NC | E | 70 | 72 | 142 |
| T15 | Brock Elder | Whitsett, NC | E | 70 | 72 | 142 |
| T15 | Chris Cassetta | High Point, NC | E | 67 | 75 | 142 |
| T15 | Clay Watkins | Mebane, NC | E | 69 | 73 | 142 |
| T15 | Greg Earnhardt | Greensboro, NC | E | 70 | 72 | 142 |
| T15 | Justin Pennell | Lenior, NC | E | 69 | 73 | 142 |
| T15 | Joe Kastelic | Hickory, NC | E | 72 | 70 | 142 |
| T24 | Brandon Reece | Rolesville, NC | +1 | 70 | 73 | 143 |
| T24 | Caleb Keck | Concord, NC | +1 | 68 | 75 | 143 |
| T24 | Michael Swaringen | Salisbury, NC | +1 | 67 | 76 | 143 |
| T24 | Chad Frye | Kannapolis, NC | +1 | 73 | 70 | 143 |
| T24 | Mark Whitley | Stantonsburg, NC | +1 | 72 | 71 | 143 |
| T24 | Dale Fuller | Raleigh, NC | +1 | 73 | 70 | 143 |
| T24 | David Gies | Charlotte, NC | +1 | 71 | 72 | 143 |
| T31 | Brandon Mader | Greenville, NC | +2 | 70 | 74 | 144 |
| T31 | Derek Paschal | Davidson, NC | +2 | 75 | 69 | 144 |
| T31 | Jeremy Ray | Pfafftown, NC | +2 | 74 | 70 | 144 |
| T34 | Timothy Driver | Holly Springs, NC | +3 | 72 | 73 | 145 |
| T34 | Bailey Patrick | Charlotte, NC | +3 | 72 | 73 | 145 |
| T34 | Tyler Shuler | Bryson City, NC | +3 | 71 | 74 | 145 |
| T34 | Dustin Moore | Burlington, NC | +3 | 73 | 72 | 145 |
| T34 | Jason Debuhr | Mint Hill, NC | +3 | 74 | 71 | 145 |
| T34 | Mitch Robinette | Greensboro, NC | +3 | 74 | 71 | 145 |
| T34 | Dennis Long | Statesville, NC | +3 | 71 | 74 | 145 |
| T41 | Scott Lincicome | Pinehurst, NC | +4 | 76 | 70 | 146 |
| T41 | Ed Donlin | Concord, NC | +4 | 76 | 70 | 146 |
| T41 | Jay Roberts | Davidson, NC | +4 | 72 | 74 | 146 |
| T41 | Brad Mundy | Hickory, NC | +4 | 69 | 77 | 146 |
| T41 | Stefan Brewer | Charlotte, NC | +4 | 74 | 72 | 146 |
| T41 | Jason Gabriel | Claremont, NC | +4 | 73 | 73 | 146 |
| T41 | Stephen Lavenets | Willow Spring, NC | +4 | 76 | 70 | 146 |
| T41 | Brian Curry | Lenoir, NC | +4 | 72 | 74 | 146 |
| T41 | William Jamieson | Cary, NC | +4 | 72 | 74 | 146 |
| T50 | Paul Tucker | Waxhaw, NC | +5 | 69 | 78 | 147 |
| T50 | Zac Lewis | Wilmington, NC | +5 | 76 | 71 | 147 |
| T50 | Sean Marks | Charlotte, NC | +5 | 76 | 71 | 147 |
| T50 | Tommy Miller | Blowing Rock, NC | +5 | 74 | 73 | 147 |
| T50 | Jeffrey Brisson | Elizabethtown, NC | +5 | 73 | 74 | 147 |
| T50 | John Heffernan | Charlotte, NC | +5 | 74 | 73 | 147 |
| T50 | Keith Kepley | Charlotte, NC | +5 | 69 | 78 | 147 |
| T50 | Andrew Ward | Charlotte, NC | +5 | 72 | 75 | 147 |
| T58 | Chris Holland | Fayetteville, NC | +6 | 72 | 76 | 148 |
| T58 | Matt Kilgo | Charlotte, NC | +6 | 72 | 76 | 148 |
| T58 | Zachary Sexton | Charlotte, NC | +6 | 74 | 74 | 148 |
| T58 | Clayton Holland | Greensboro, NC | +6 | 73 | 75 | 148 |
| T58 | Nick Cromer | Trinity, NC | +6 | 77 | 71 | 148 |
| T58 | Mike Nelson | Raleigh, NC | +6 | 73 | 75 | 148 |
| T58 | Jody Delvechio | Newton, NC | +6 | 78 | 70 | 148 |
| T58 | Sumner Tate | Raleigh, NC | +6 | 75 | 73 | 148 |
| CUT | Zack Griffith | Chapel Hill, NC | +7 | 73 | 76 | - |
| CUT | Anthony Conn | Raleigh, NC | +7 | 74 | 75 | - |
| CUT | Bretton Danforth | Raleigh, NC | +7 | 77 | 72 | - |
| CUT | Damon Postal | Charlotte, NC | +7 | 72 | 77 | - |
| CUT | Joe Burns | Greensboro, NC | +7 | 78 | 71 | - |
| CUT | Jordan Bilodeau | Charlotte, NC | +7 | 75 | 74 | - |
| CUT | Britt Mitchell | Creedmoor, NC | +7 | 73 | 76 | - |
| CUT | Bryan Bowman | Apex, NC | +7 | 74 | 75 | - |
| CUT | Joe Brooks | Franklin, NC | +7 | 73 | 76 | - |
| CUT | Nathan Kohl | Greensboro, NC | +7 | 75 | 74 | - |
| CUT | James Bohn | Cary, NC | +8 | 76 | 74 | - |
| CUT | Brent McKenzie | Wake Forest, NC | +8 | 72 | 78 | - |
| CUT | Seth Correll | Huntersville, NC | +8 | 75 | 75 | - |
| CUT | John Cornett | Boone, NC | +9 | 78 | 73 | - |
| CUT | Kenny Flynn | Winston Salem, NC | +9 | 77 | 74 | - |
| CUT | Matt Ellzey | Apex, NC | +9 | 76 | 75 | - |
| CUT | Jayson Jennings | Fuquay Varina, NC | +9 | 78 | 73 | - |
| CUT | Nathan Presnal | Raleigh, NC | +9 | 77 | 74 | - |
| CUT | Brian Swenson | Charlotte, NC | +10 | 77 | 75 | - |
| CUT | Park Williams | Kernersville, NC | +10 | 76 | 76 | - |
| CUT | Ryan Patterson | Waxhaw, NC | +10 | 77 | 75 | - |
| CUT | William Carter | Laurinburg, NC | +10 | 76 | 76 | - |
| CUT | Austin Adams | Charlotte, NC | +10 | 82 | 70 | - |
| CUT | Paul Slomkowski | Colfax, NC | +10 | 74 | 78 | - |
| CUT | Richard Youden | Winston-Salem, NC | +10 | 75 | 77 | - |
| CUT | Ryan Hub | Charlotte, NC | +11 | 80 | 73 | - |
| CUT | Wes Pope | Pineville, NC | +11 | 80 | 73 | - |
| CUT | Jason Hawley | Charlotte, NC | +11 | 77 | 76 | - |
| CUT | Dave Koster | Clemmons, NC | +12 | 80 | 74 | - |
| CUT | David Cook | Cedar Point, NC | +12 | 76 | 78 | - |
| CUT | Josh McWhorter | Boone, NC | +12 | 75 | 79 | - |
| CUT | Josh Neal | Raleigh, NC | +12 | 80 | 74 | - |
| CUT | Jason Smith | Raleigh, NC | +12 | 76 | 78 | - |
| CUT | Kristopher Laird | Mint Hill, NC | +12 | 79 | 75 | - |
| CUT | Marais Lombard | Charlotte, NC | +12 | 78 | 76 | - |
| CUT | Kevin Herring | La Grange, NC | +13 | 74 | 81 | - |
| CUT | Terrain Gill | Charlotte, NC | +13 | 74 | 81 | - |
| CUT | Stuart Augustine | Fayetteville, NC | +13 | 78 | 77 | - |
| CUT | Aubrey Wilkerson | Charlotte, NC | +14 | 76 | 80 | - |
| CUT | Danny Boughman | Lenoir, NC | +14 | 82 | 74 | - |
| CUT | Michael Porte | Winston Salem, NC | +14 | 80 | 76 | - |
| CUT | Scott Patnode | Belmont, NC | +14 | 80 | 76 | - |
| CUT | Drew Haywood | Chapel Hill, NC | +14 | 78 | 78 | - |
| CUT | Eric Ardery | Durham, NC | +14 | 80 | 76 | - |
| CUT | Nathan Barker | Clemmons, NC | +14 | 80 | 76 | - |
| CUT | Rick Powers | Oxford, NC | +14 | 76 | 80 | - |
| CUT | Seth Holloman | Matthews, NC | +14 | 78 | 78 | - |
| CUT | Brian Hayes | High Point, NC | +15 | 79 | 78 | - |
| CUT | Mark Absher | Winston Salem, NC | +15 | 76 | 81 | - |
| CUT | Taylor Ferguson | Charlotte, NC | +15 | 78 | 79 | - |
| CUT | Andrew Frank | Charlotte, NC | +16 | 78 | 80 | - |
| CUT | Craig Stroup | Thomasville, NC | +16 | 79 | 79 | - |
| CUT | Tomis Parker | Charlotte, NC | +16 | 82 | 76 | - |
| CUT | Andy Crotts | Cramerton, NC | +16 | 76 | 82 | - |
| CUT | Richard Kile | Charlotte, NC | +16 | 83 | 75 | - |
| CUT | David Brown | Conover, NC | +17 | 78 | 81 | - |
| CUT | Todd Grear | Mooresville, NC | +17 | 81 | 78 | - |
| CUT | Adam Firestone | Huntersville, NC | +17 | 81 | 78 | - |
| CUT | Mark Thomas | Wake Forest, NC | +17 | 78 | 81 | - |
| CUT | Richard Gill | Wilmington, NC | +17 | 76 | 83 | - |
| CUT | Scott Chesna | Marion, NC | +20 | 83 | 79 | - |
| CUT | William Langmeyer | Matthews, NC | +20 | 78 | 84 | - |
| CUT | Morris Marshburn | Vass, NC | +21 | 80 | 83 | - |
| CUT | Gregory Flicek | Raleigh, NC | +22 | 87 | 77 | - |
| CUT | Jake Benfield | Lenoir, NC | +23 | 82 | 83 | - |
| CUT | Randy Poteat | Wendell, NC | +23 | 86 | 79 | - |
| CUT | Blake Burnette | Charlotte, NC | +25 | 81 | 86 | - |
| CUT | Daren Hefner | Conover, NC | +25 | 82 | 85 | - |
| CUT | Mark Kozel | Chapel Hill, NC | +25 | 82 | 85 | - |
| CUT | Craig Brookes | Charlotte, NC | +26 | 83 | 85 | - |
| CUT | Michael Gardner | Goldsboro, NC | +26 | 86 | 82 | - |
| WD | Brad Buxton | Greensboro, NC | - | WD | WD | - |
| WD | Chris Williams | Concord, NC | - | 73 | WD | 73 |
| WD | Daniel Jackson | Indian Trail, NC | - | 78 | WD | 78 |
| WD | Nicholas Melillo | Greensboro, NC | - | 79 | WD | 79 |
| WD | Mark Nieters | Lexington, NC | - | 81 | WD | 81 |
| WD | Ashley Fuquay | Greensboro, NC | - | 83 | WD | 155 |
| WD | Scott Neely | Winston Salem, NC | - | 84 | WD | 84 |