Womble and Walters Look to Go Wire To Wire at NC 4-Ball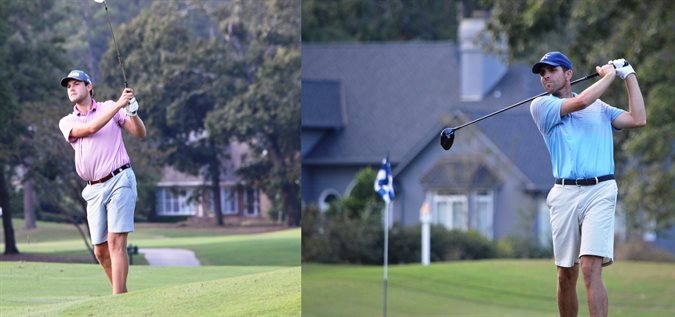 Second Round Leaders: Davis Womble (L) and Dan Walters (R)
WILMINGTON, N.C. (October 5, 2019) Second round results of the 24th North Carolina Four-Ball Championship at the Country Club of Landfall (Dye Course) in Wilmington, N.C. on Saturday, October 5, 2019.
Related: Championship Web Site | Starting Times | Scoring | History
First round leaders, Davis Womble and Dan Walters of Winston-Salem, N.C. look to go wire to wire and win N.C. Four-Ball Championship on Sunday. After an opening round score of 9-under-par, 63, the duo battled cool, windy conditions with a Saturday score of four-under par, 68 for a total of 13-under par. "The course today was definitely a little tougher, the wind was gusty and tough to tell where it was blowing. We didn't putt as well and capitalize on some opportunities, but outside of a couple bogeys, we played okay," said Womble. "We will look to make some more putts tomorrow, and hit better approach shots tomorrow."
The duo has made 13 birdies and an eagle in their first 36 holes along with only two bogeys. Womble played his college golf at Wake Forest University while Walters served as the Associate Head Men's Golf Coach of the men's golf team.
Defending champions, Dustin Moore of Burlington, N.C. and Greg Earnhardt of Greensboro, N.C., sit in a tie for ninth place at six-under par.
Back-to-back championship winning team of JD McNeill of Raleigh, N.C. and Jerry Richardson of Cary, N.C. (2016, 2017), are in second place and will vie for their third championship from three shots back.
After Saturday's round the field of 83 teams was cut to the top 30 teams plus ties for Sunday. 33 teams made the cut at two-under par or better. The leaders tee off Sunday at 9:36 off #1 at CC of Landfall's Dye Course.
The Championship is conducted at 54 holes of four-ball stroke play competition. After 36 holes, the field is cut to the low 30 scores and ties for the final round. An on-course playoff is used to break a tie for the championship. Top 20 scores will receive merchandise.
Entry is open to any male amateur golfer who has reached his 13th birthday by October 4, 2019, is a legal resident of North Carolina, is a member in good standing of a club which is a member of the Carolinas Golf Association (CGA) and has an active GHIN® USGA Handicap Index® at a CGA member club.
24th N.C. Four-Ball Championship
Country Club of Landfall (Dye Course) | Wilmington, N.C.
Round Two Results
| | | | | | | | |
| --- | --- | --- | --- | --- | --- | --- | --- |
| Pos. | Team | Hometown | To Par | R1 | R2 | R3 | Total Strokes |
| 1 | Davis Womble / Dan Walters | Winston-Salem, NC, WInston-Salem, NC | -13 | 63 | 68 | | 131 |
| 2 | JD McNeill / Jerry Richardson | Raleigh, NC, Cary, NC | -10 | 66 | 68 | | 134 |
| T3 | Nick Brown / Brad Mangum | Lenoir, NC, Iron Station, NC | -9 | 70 | 65 | | 135 |
| T3 | Eston Lee / Caden Baker | Four Oaks, NC, Mebane, NC | -9 | 68 | 67 | | 135 |
| T3 | Jonathan Jackson / Matthew Crenshaw | Siler City, NC, Burlington, NC | -9 | 68 | 67 | | 135 |
| T3 | Trey Howell / Neil Wilkinson | Wilmington, NC | -9 | 65 | 70 | | 135 |
| T7 | Jack McClelland / Chad Day | Southern Pines, NC | -8 | 66 | 70 | | 136 |
| T7 | Russell Burke / Trey Broome | Raleigh, NC | -8 | 69 | 67 | | 136 |
| T9 | Hunter Howell / Joe Poole | Raleigh, NC, Southern Pines, NC | -6 | 69 | 69 | | 138 |
| T9 | Stephen Lavenets / Clay Watkins | Willow Spring, NC, Mebane, NC | -6 | 68 | 70 | | 138 |
| T9 | David Cook / Adam Arnett | Cedar Point, NC, Belmont, NC | -6 | 69 | 69 | | 138 |
| T9 | Daniel Neveu / Dean Channell | Pinehurst, NC, Cary, NC | -6 | 69 | 69 | | 138 |
| T9 | Dustin Moore / Greg Earnhardt | Burlington, NC, Greensboro, NC | -6 | 65 | 73 | | 138 |
| T9 | Adam Sperry / David Ange | Wilmington, NC | -6 | 66 | 72 | | 138 |
| T9 | Donald Detweiler / Paul Simson | Raleigh, NC | -6 | 70 | 68 | | 138 |
| T16 | Courtney Faircloth / Sumner Alford | Fuquay Varina, NC | -5 | 69 | 70 | | 139 |
| T16 | Mark Olbrych / Anthony Conn | Raleigh, NC | -5 | 67 | 72 | | 139 |
| T16 | Brett Lascara / Jack Fitzgerald | Wilmington, NC | -5 | 71 | 68 | | 139 |
| T16 | David Shambley / Will Shambley | Cary, NC, Wilmington, NC | -5 | 70 | 69 | | 139 |
| T20 | Jim Aughtry / Joe Jaspers | Concord, NC, Huntersville, NC | -4 | 67 | 73 | | 140 |
| T20 | Brian Urban / Timothy Driver | Holly Springs, NC | -4 | 69 | 71 | | 140 |
| T20 | Alex Nianouris / David Sargent | Raleigh, NC, Cornelius, NC | -4 | 71 | 69 | | 140 |
| T23 | Steve Wilson / Nick Lukas | Wilmington, NC | -3 | 68 | 73 | | 141 |
| T23 | Eric Williams / Michael Gardner | Goldsboro, NC | -3 | 72 | 69 | | 141 |
| T25 | Thomas Messenheimer / Bradford Childers | Morganton, NC, Granite Falls, NC | -2 | 67 | 75 | | 142 |
| T25 | Matt Wagner / Andrew Crisp | WIlmington, NC, Charlotte, NC | -2 | 69 | 73 | | 142 |
| T25 | Whit Howard / Bryan Pendergraft | Raleigh, NC | -2 | 70 | 72 | | 142 |
| T25 | Kevin Herring / Christian Gardner | La Grange, NC, Goldsboro, NC | -2 | 68 | 74 | | 142 |
| T25 | Garrett Clark / Nicholas Mathews | Burlington, NC, Mebane, NC | -2 | 69 | 73 | | 142 |
| T25 | Evan Boyer / Garett Heffner | Morrisville, NC, Apex, NC | -2 | 71 | 71 | | 142 |
| T25 | Lee Forbis / Sherrill Britt | Aberdeen, NC, West End, NC | -2 | 72 | 70 | | 142 |
| T25 | William Carter / Daniel Wieck | Laurinburg, NC, Wilmington, NC | -2 | 71 | 71 | | 142 |
| T25 | Brian Mull / Tommy Miller | Wilmington, NC, Blowing Rock, NC | -2 | 70 | 72 | | 142 |
| CUT | Chris Holland / Billy West | Fayetteville, NC | -1 | 73 | 70 | | - |
| CUT | Parker Truesdale / Randall Hudson | Canton, NC, New Bern, NC | -1 | 68 | 75 | | - |
| CUT | Phil Ciparik / Brian Hepler | Wilmington, NC | E | 73 | 71 | | - |
| CUT | Jack Keefe / Bill Kwasnick | Fayetteville, NC, Southern Pines, NC | E | 71 | 73 | | - |
| CUT | Michael Holshouser / Nathan Jessup | Lexington, NC, Salisbury, NC | E | 71 | 73 | | - |
| CUT | Scott Benton / Dyrck Fanning | Lumberton, NC | E | 72 | 72 | | - |
| CUT | Mark Nieters / John Nieters | Lexington, NC, Clemmons, NC | 1 | 75 | 70 | | - |
| CUT | Rob Stover / Charles Sheffield | Durham, NC | 1 | 74 | 71 | | - |
| CUT | Brett Waters / Matthew Rogers | Monroe, NC, Huntersville, NC | 1 | 70 | 75 | | - |
| CUT | Mark Gauley / Brian Gauley | Raleigh, NC, Wake Forest, NC | 2 | 75 | 71 | | - |
| CUT | Reid Clark / Rus Clark | Raleigh, NC, Trent Woods, NC | 2 | 73 | 73 | | - |
| CUT | Britt Mitchell / Coston Fogleman | Creedmoor, NC, Hillsborough, NC | 2 | 72 | 74 | | - |
| CUT | Chris Williams / Michael Swaringen | Concord, NC, Salisbury, NC | 2 | 73 | 73 | | - |
| CUT | Kyle Narron / Jared Ostendorf | Fayetteville, NC | 2 | 71 | 75 | | - |
| CUT | Jay Aichelman / Sam Echikson | Charlotte, NC | 3 | 74 | 73 | | - |
| CUT | Jeff Manley / Marshall Newman | Raleigh, NC | 3 | 76 | 71 | | - |
| CUT | Kevin Atamian / Dan Harding | Raleigh, NC, Apex, NC | 3 | 71 | 76 | | - |
| CUT | Ben Morehead / Will Rikard | Charlotte, NC, Wrightsville Beach, NC | 3 | 74 | 73 | | - |
| CUT | Bill Roach / Jody Roach | Summerfield, NC, Cornelius, NC | 3 | 71 | 76 | | - |
| CUT | Mark Bawden / Brandon Jobe | Apex, NC, Raleigh, NC | 3 | 72 | 75 | | - |
| CUT | Preston Edmondson / Tuck Burkinshaw | Morrisville, NC, Cary, NC | 3 | 73 | 74 | | - |
| CUT | Eric Brown / John Moyer | Wilmington, NC | 4 | 74 | 74 | | - |
| CUT | Jeremy Rudock / Drew Davis | Winston-Salem, NC, Lexington, NC | 4 | 74 | 74 | | - |
| CUT | Kenny Flynn / Keith McElrath | Winston Salem, NC | 4 | 72 | 76 | | - |
| CUT | Andy Younts / Matthew Younts | Reidsville, NC, Greensboro, NC | 5 | 77 | 72 | | - |
| CUT | Scott McClellan / John Bauman | Cary, NC | 5 | 76 | 73 | | - |
| CUT | Brandon Dembowiak / Preston Dembowiak | Leland, NC, Kernersville, NC | 5 | 74 | 75 | | - |
| CUT | Justin Harvey / Michael Swiger | Holly Springs, NC, Raleigh, NC | 5 | 74 | 75 | | - |
| CUT | Michael Lower / Sean Sosonko | Raleigh, NC | 5 | 76 | 73 | | - |
| CUT | Bryon Ruben / Brad Dawson | Durham, NC, Mebane, NC | 6 | 71 | 79 | | - |
| CUT | Matt Lindley / Brent Hayes | Raleigh, NC, Kinston, NC | 6 | 74 | 76 | | - |
| CUT | Brian Sowinski / Kevin Sowinski | Charlotte, NC, Greensboro, NC | 7 | 73 | 78 | | - |
| CUT | Marais Lombard / David Reid | Charlotte, NC, Matthews, NC | 7 | 75 | 76 | | - |
| CUT | Brad Coleman / Jeremy Ray | Jamestown, NC, Pfafftown, NC | 8 | 73 | 79 | | - |
| CUT | Matthew McIntyre / Chall Gray | Garner, NC, Asheville, NC | 8 | 71 | 81 | | - |
| CUT | Brandon Belisle / Patrick Cummings | Wilmington, NC | 8 | 79 | 73 | | - |
| CUT | Zach Roberts / Owen Kose | Holly Springs, NC | 8 | 74 | 78 | | - |
| CUT | Andrew Frank / Robert Alley | Charlotte, NC | 10 | 74 | 80 | | - |
| CUT | Ryan Hodges / Jason Crowe | Greensboro, NC, Hillsborough, NC | 10 | 76 | 78 | | - |
| CUT | Charles Thrift / Wilson Thrift | Charlotte, NC | 11 | 77 | 78 | | - |
| CUT | Tad Galloway / Donald Cosler | Cary, NC, Durham, NC | 11 | 78 | 77 | | - |
| CUT | Thomas Lineberger / David Register | Cary, NC, Southport, NC | 11 | 79 | 76 | | - |
| CUT | Samuel Smith / Larry Spivey | Fayetteville, NC, Stedman, NC | 14 | 77 | 81 | | - |
| CUT | Daryl McCarthy / Marc Seate | Wilmington, NC, Raleigh, NC | 16 | 77 | 83 | | - |
| CUT | Preston Russell / Dylan Hoffman | Asheboro, NC | 17 | 84 | 77 | | - |
| CUT | Michael Kriston / Stuart Augustine | Durham, NC, Fayetteville, NC | 19 | 80 | 83 | | - |
| CUT | Jeff Wishart / Mark Lassiter | lumberton, NC, Fairmont, NC | 20 | 79 | 85 | | - |
| CUT | Kevin Johnson / Mark Johnson | Wilmington, NC | 24 | 89 | 79 | | - |
| CUT | Brad Strode / Peter Michaels | Durham, NC | 25 | 85 | 84 | | - |
| CUT | Christopher Leroux / Michael Kerley | Asheboro, NC, Clemmons, NC | 26 | 85 | 85 | | - |