Maple Chase Wins Carolinas Club Championship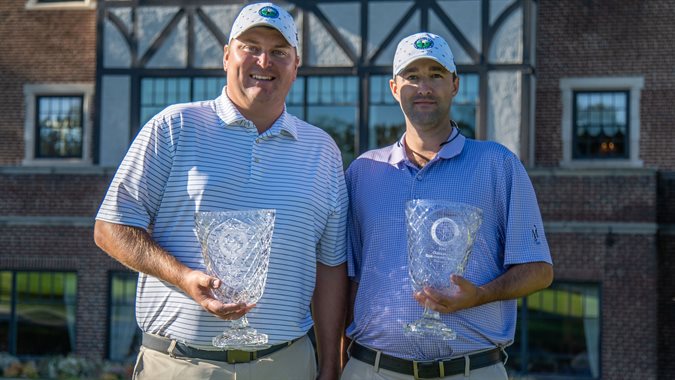 Brad Luebchow (left) and Drew Davis win the 42nd Carolinas Club Championship for Maple Chase Golf & CC
GREENSBORO, N.C. (October 14, 2019) – Final results of the 42nd Carolinas Club Championship at Sedgefield Country Club's Ross Course, in Greensboro N.C. on October 14, 2019.
Related: Championship Web Site | Starting Holes | Scoring | History
Maple Chase Golf & Country Club's Brad Luebchow of Winston-Salem, N.C. and Drew Davis of Lexington, N.C. claim the 42nd Carolinas Club Championship title at Sedgefield Country Club.
"Truthfully, it means a lot to us to represent Maple Chase," said Luebchow . "Maple Chase has really turned the corner in the last five years since it was converted from semi-private to fully private. Not many clubs are able to say they are on the rise and continuing to get healthier. So, I think it's real neat for us to represent the club and win a big event like this."
Luebchow serves as the teaching professional at Maple Chase G&CC. Davis is a member and past club champion. Due to the event being postponed, they didn't get to play in the 2018 Carolinas Club Championship as planned but they decided to make up for it this year and it paid off.
The duo managed to make nine birdies and avoided any bogeys in route to a 9-under-par, 63 on a difficult, but by most accounts, fair Ross Course. Monday's pin positions were set up to mirror the Saturday pin positions when the club hosts the PGA TOUR's Wyndham Championship.
"The golf course is absolutely perfect," said Luebchow. "The greens were fair and there were a lot of really fun and good pin placements."
The win marks the first Carolinas Club Championship title for Maple Chase G&CC but the club's current general manager, Mark Slawter, won the event in 2004 while representing Heritage Golf Club.
"We had jokingly said to him that a couple spring chickens were going to win it this year," said Luebchow.
That joke is now a reality and Luebchow said the trophy will be proudly displayed at Maple Chase's clubhouse.
The host club was represented by Chris Cassetta of High Point, N.C. and Matthew Crenshaw of Burlington, N.C. who carded a 6-under-par, 65 to finish in a tie for second place. Jamestown Park Golf Course's Joseph Cansler of Clemmons, N.C. and Assistant Golf Professional, Marcy Newton of Winston-Salem, N.C., also finished in second place. Nearby Greensboro Country Club was represented by Head Golf Professional Brandon Nowak of Yanceyville, N.C. and Michael Murray of Greensboro, N.C. who finished in fourth place after shooting a 5-under-par, 66.
The Carolinas Golf Association would like to thank the club members and staff of the Sedgefield Country Club for hosting the 42nd Carolinas Club Championship. A special thank you to Director of Golf, Rocky Brooks, Head Professional, Eric Ferguson, Golf Course Superintendent, Chad Cromer and Catering & Sales Director, Travis Huddleston.
The championship is conducted at 18 holes of four-ball stroke play. Gross scores only. A tie for the overall championship is decided by an on-course playoff. All other ties will be split.
Entry is open to any team comprised of: a. A male or female golf professional who is a member of the club's golf professional staff employed by a Carolinas Golf Association (CGA) Member Club and a male or female amateur golfer who is a member in good standing of the same CGA Member Club. b. Two amateur golfers, male or female, who are members in good standing of the same CGA Member Club. Amateurs must be a legal resident of North Carolina or South Carolina, have reached their 13th birthday as of October 14, 2019 and have an active GHIN® USGA Handicap Index® at a CGA member club.
42nd Carolinas Club Championship
Sedgefield Country Club (Ross) | Greensboro, NC
Final Results