Carolinas Lead By 8 at Captain's Putter Matches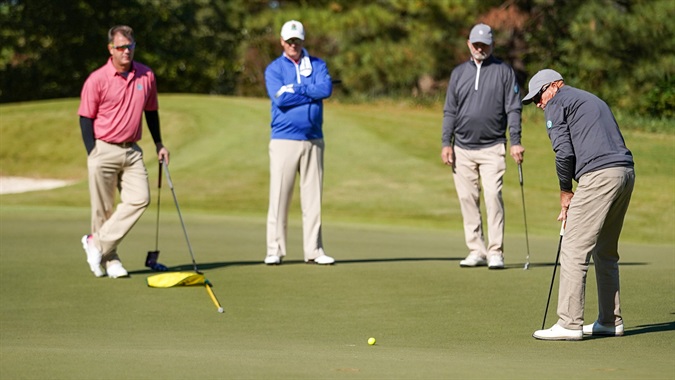 GREENSBORO, N.C. (October 18, 2019) -- After a day of 12 four-ball and 12 foursomes matches, the Carolinas team leads the Virginias Team by eight points (15½-7½) at the 74th Captain's Putter Matches being conducted at Greensboro Country Club's Farm Course. Altogether, 48 golfers from the Carolinas and Virginias are competing in the matches. A victory in each match scores one point in the Ryder Cup-style format, and if a match goes 18 holes without a winner, one-half point is awarded to each side. The event concludes with 24 singles matches on Saturday. The Carolinas Team needs 8½ more points in order to retain the Captain's Putter Trophy, while Virginias needs 16 points for a victory.
Related: Championship Web Site | Four-Ball Match Results | Friday Foursome Match Results | History
Four-Ball Matches Summary
The Carolinas Team jumped out to a seven-point-lead after winning eight of the 12 four-ball matches. Three matches finished in a tie and the Virginias won one match. The dominating start gave the Carolinas Team a 9½--2½ lead heading into the afternoon foursome matches.
Daniel Neveu and Sam Echikson of the Carolinas Team kicked things off as the first side on the course Friday morning. They were also able to put the first points up on the board for the Carolinas Team defeating the Virginias Team's Justin Young and Scott Shingler, 3 and 1. With a par on the par-3, 8th hole, Steve Serrao and Marshall Tinsley claimed the only full point for the Virginians Team in the morning with a 2 and 1 victory over Sherrill Britt and John Eades of the Carolinas Team.
Carolinas Regulars outscored the Virginias regulars (4½-2½), while the Carolinas' senior contingent swept the Virginias (4-0) in the morning four-ball matches. Tim Pope and Russ Perry representing the Carolinas Super Seniors won their match 2 and 1 over Steve Fox and Leon Roday of the Virginias.
Foursome Matches Summary
The Virginias Team fought back to claim half of the available in the afternoon foursome match points (6-6). Five sides from both the Virginias Team and the Carolinas Team won their matches while two matches finished in a tie. The Carolinas Team's Walter Todd and Eddie Hargett along with Scott Harvey and Thomas Owen were the only sides on either team that were able to win both their four-ball and foursome matches.
In the afternoon foursome matches, the Carolinas Regulars edged out the Virginias regulars (4-3). The Virginias' Senior contingent came out on top of the Carolinas (2½-1½) and the Super Seniors match finished in a tie.
Friday Four-Ball and Foursome Matches Results