Team Carolinas Win the 74th Captain's Putter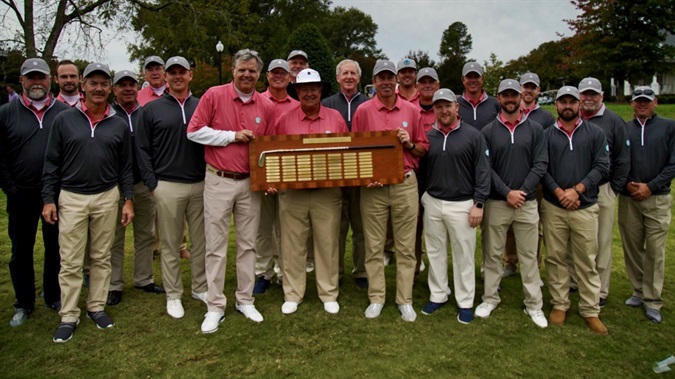 GREENSBORO, N.C. (October 19, 2019) – The Carolinas Team, captained by Lawrence Hicks, conquered their Virginias rivals by 14 points (31-17) to retain the trophy at the 74th Captain's Putter Matches hosted by Greensboro Country Club's Farm Course.
Related: Championship Web Site | Full Results | History
With an eight point lead heading into Saturdays' singles matches, the Carolinas Team needed only 8½ points to retain the cup. With 15 singles matches wins and one tie, they reached that number early on Saturday. The Virginias Team won eight of their singles matches.
Carolinas Regular, Thomas Owen, and Carolinas Seniors, Walter Todd and Eddie Hargett, were the only three players on either team to win all three of their matches this week to finish 3-0-0.
"It definitely felt a little different as the home team this year," remarked Owen on his second appearance representing the Carolinas Team. "The golf course is incredible and in great condition. It's a very fun golf course with all the par 5's and par 3's. That singles match was some of the most fun I've had playing golf in quite a while. We both played really well and (Tyler Gulliksen) was a great guy. That's what it's all about. You come here and meet great people and great players."
Four other Carolinas Team members did not have a loss this week including Dean Channell, Kyle Bearden, Jordan Sease and Chad Wilfong who all finished with 2-0-1 records for the week. Only one Virginias Team member, Jordan Utley, was able to avoid a loss this week and also finish 2-0-1. Every member of the Carolinas Team scored at least one half point this week.
The Captain's Putter is an annual set of matches pitting top golfers from North and South Carolina against top players from Virginia and West Virginia (Virginia State Golf Association and West Virginia State Golf Association). This year's win moves the Carolinas Team to a 51-22-1 overall record in the series.
"This is always one of my favorite weekends of the year and I really look forward to it," said Todd. "I love those Virginias and West Virginias guys. We had great matches every time and all my matches were close. It's hard to tell you how much I enjoy it."
The Carolinas Regulars outscored the Carolinas regulars 10½ -3½ in singles matches. The Carolinas Seniors were also able to outscore their Virginias counterparts 5-3 on Saturday. The Virginias Super Seniors, Leon Roday and Steve Fox, were able to capture both points in singles.
The Carolinas Golf Association would like to thank the club members and staff of Mimosa Hills Golf & Country Club for hosting their 15th CGA Championship. A special thank you to Director of Golf, Bud Taylor, Director of Agronomy, Doug Lowe and Farm Course Superintendent, Brooks Turner.
Full Results