NorthStone Wins the 4th CGA Senior Interclub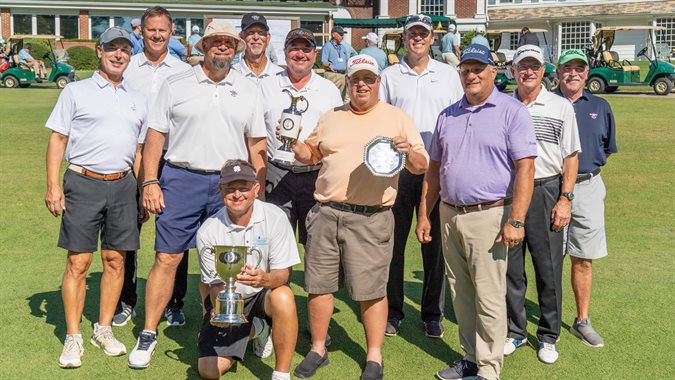 SOUTHERN PINES, N.C. (October 24, 2019) – Final results of the 4th CGA Senior Interclub at Mid Pines Inn and Golf Club in Southern Pines, N.C. on Thursday, October 24, 2019.
Related: Championship Web Site | Final Results | Photos
After seven months of intense interclub competition, NorthStone Country Club in Huntersville, N.C. claims the title of the 4th CGA Senior Interclub champions by the thinnest of margins.
NorthStone faced off against Carolina Trace Country Club in Sanford, N.C. in the final CGA Senior Interclub match of the season. Each teamed pitted their four best four-ball teams against the other an 18-hole final match on Thursday morning. When the dust settled, NorthStone won by a single point (36½-35½) over their opponents.
"I can't tell you how much it means to us because we had a lot of guys that were sick during the season but we battled through it," said NorthStone's Team Captain, Bruce Piercy. "Everyone just did the best they could and we fought for each point, all year long."
The feat is even more impressive when you consider the new point-scoring format implemented at the start of the 2019 CGA Interclub season. In years past, two points were awarded for each side and the overall score meaning there were six available points per match. In the new system, each hole is worth a single point, meaning 18 points are available in each match.
NorthStone won their first two finals matches by four points cumulatively. The third match finished in a tie and Carolina Trace won the last match by three points to come up one point shy of forcing a playoff.
"It means a lot because we are a blue collar club but a great little track," said Piercy. " This is so much fun for us. To get a chance to do something like this, it'll be something we remember for the rest of our lives."
With over 90 teams competing in the fourth season of the CGA Senior Interclub, NorthStone Country Club have put their mark on the Thomas J. Thorpe trophy, named for the CGA Executive Committee member instrumental in the administration of the Carolinas Interclub seasons.
"The program is still growing and is catching on with clubs throughout the Carolinas," said CGA Interclub Administrator Tom Thorpe. "It's a wonderful benefit to being a CGA member and it's only going to get bigger."
In the programs inaugural year, 45 teams participated in the CGA Senior Interclub. This year, over 90 teams participated at the start of the season.
The CGA wishes to thank the members and staff of Mid Pines Inn and Golf Club, especially the General Manager and Director of Golf, Graham Gilmore, Head Golf Professional, Brett Harless and Director of Golf Course Maintenance, David Fruchte.
CGA Senior Interclub
Final Results