Tindal and Smith Victorious at the 11th Carolinas Young Amateur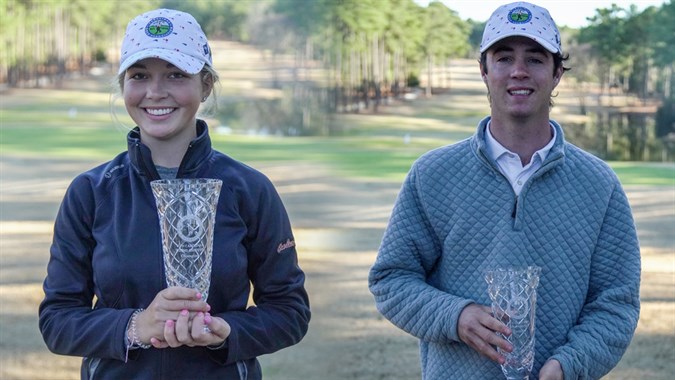 Jodee Tindal (left) and Fulton Smith are the 11th Carolinas Young Amateur Champions.
PINEHURST, N.C. (December 31, 2019) – The 2019 CGA championship season has come to a close with the conclusion of the 11th Carolinas Young Amateur Championship on Tuesday, December 31 at Pinewild Country Club's Magnolia Course in Pinehurst, N.C.
Related: Championship Website | Scoring | History

After two days of exceptionally warm weather in the Carolina Sandhills, the final CGA champions of 2019 have been crowned. College of Charleston Junior, Jodee Tindal of Rock Hill, S.C. and Wake Forest University Freshman, Fulton Smith of Pinehurst, N.C. are the 11th Carolinas Young Amateur champions.
Tindal started the day with a one-shot lead over her nearest competitor, Florida State University junior, Kathleen Sumner of Mount Pleasant, S.C.
After an early stumble, Tindal's lead was gone and the two were tied heading to the seventh hole.
"I think my play was really good," said Tindal. "It was probably better than the scores showed but it was really wet out there and some putts didn't fall so I think it was pretty good overall."

Tindal bounced back with a birdie on the par-5, eighth hole and never relinquished the lead. A par save on the final hole was good enough for a two-shot victory that gives Tindal her fifth CGA Championship title. Tindal is a three-time winner of the Carolinas Parent-Child Championship (2014, 2015, 2019) where she teamed up with her father Kevin and the 2018 Carolinas Women's Four-Ball champion where she teamed up with her sister, Jaelyn.
"I'm really happy about this win because the past two years I've come in second and third so it feels really good going into the spring season," said Tindal. "I just want to keep seeing myself getting better. Obviously a win gives me a lot of confidence so just need to tighten up my short game and hit it a little farther; get on my speed sticks."
In the Men's Division, Smith started the day tied for the lead with the defending champion and University of South Carolina senior, Caleb Proveaux of Lexington, S.C.
Smith went out with a two-under-par, 34 making three birdies and one bogey on the first nine of the Magnolia Course. He repeated that on the back nine to finish at four-under-par (68) for the day. His 7-under-par, 137 total was good enough for a five-shot victory over his closest competitors. High Point University Sophomore, Brandon Einstein of Clemmons, N.C. and Coastal Carolina University freshman, Garrett Cooper of Cowpens, S.C. both finished at two-under-par, 142 for the Championship.
"It's a good way to go out with a win on New Year's Eve," said Smith. "This win obviously helps my confidence a lot. I don't have any specific goals for 2020 but I just want to keep doing what I'm doing and hopefully the results will keep coming."
The victory marks the fourth CGA Championship title for Smith. He is a two-time winner of the Dogwood State Junior Boys' Championship (2016, 2017) and he won the 2019 Carolinian Amateur Championship earlier this year. His round one score of 61 at the Carolinian is tied for the CGA all-time, low-scoring record.
The Carolinas Golf Association would like to thank the members and staff of Pinewild Country Club for their continued support of the Carolinas Young Amateur Championship. A special thank you to the Head Golf Professional, Kyle Kirk and his pro shop staff, Club Manager, Christopher Little and Director of Golf Course Maintenance, John Robertson
11th Carolinas Young Amateur Championship
Pinewild Country Club (Magnolia Course) | Pinehurst, N.C.
Final Results
Women's Division
| | | | | | | |
| --- | --- | --- | --- | --- | --- | --- |
| Pos. | Player | City, State | To Par | R1 | R2 | Total |
| 1 | Jodee Tindal | Rock Hill, SC | +1 | 72 | 73 | 145 |
| 2 | Kathleen Sumner | Mt Pleasant, SC | +3 | 73 | 74 | 147 |
| 3 | Emily Dunlap | Greenville, SC | +8 | 77 | 75 | 152 |
| 4 | Madison Isaacson | Greensboro, NC | +9 | 79 | 74 | 153 |
| 5 | Muskan Uppal | Cornelius, NC | +10 | 77 | 77 | 154 |
| 6 | Gracyn Burgess | Lexington, SC | +13 | 79 | 78 | 157 |
| T7 | Hannah Rose Bruxvoort | Charlotte, NC | +15 | 81 | 78 | 159 |
| T7 | Jessica Spicer | Bahama, NC | +15 | 79 | 80 | 159 |
| 9 | Carson Jenkins | Raleigh, NC | +17 | 81 | 80 | 161 |
| 10 | Michaela Cox | Greensboro, NC | +19 | 85 | 78 | 163 |
| 11 | Janie Thomas | Winston-Salem, NC | +20 | 84 | 80 | 164 |
| 12 | Alexis Jarrell | Davidson, NC | +22 | 86 | 80 | 166 |
| 13 | Sarah Spicer | Bahama, NC | +25 | 86 | 83 | 169 |
| 14 | Brianna Orr | Waxhaw, NC | +47 | 94 | 97 | 191 |
| WD | Ryann Sinclair | Mooresville, NC | - | WD | | WD |
Men's Division
| | | | | | | |
| --- | --- | --- | --- | --- | --- | --- |
| Pos. | Player | City, State | To Par | R1 | R2 | Total |
| 1 | Fulton Smith | Pinehurst, NC | -7 | 69 | 68 | 137 |
| T2 | Brandon Einstein | Clemmons, NC | -2 | 70 | 72 | 142 |
| T2 | Garrett Cooper | Cowpens, SC | -2 | 73 | 69 | 142 |
| 4 | Brady Hinkle | Lancaster, SC | E | 73 | 71 | 144 |
| 5 | Carter Rains | Greenville, NC | +1 | 74 | 71 | 145 |
| T6 | Caleb Proveaux | Lexington, SC | +2 | 69 | 77 | 146 |
| T6 | Patrick Stephenson | Four Oaks, NC | +2 | 72 | 74 | 146 |
| T6 | Harry Corbin | Inman, SC | +2 | 73 | 73 | 146 |
| T6 | Michael Childress | Salisbury, NC | +2 | 73 | 73 | 146 |
| T10 | Alex Rubino | Charlotte, NC | +3 | 73 | 74 | 147 |
| T10 | Jack Parrott | Columbia, SC | +3 | 75 | 72 | 147 |
| 12 | Seth Taylor | Gaffney, SC | +4 | 74 | 74 | 148 |
| T13 | Michael Rials | Florence, SC | +5 | 73 | 76 | 149 |
| T13 | Dylan Lukes | Chapel Hill, NC | +5 | 74 | 75 | 149 |
| T13 | Grant Sellers | McBee, SC | +5 | 74 | 75 | 149 |
| T13 | Drayton Stewart | Charleston, SC | +5 | 75 | 74 | 149 |
| 17 | Addison Beam | Cherryville, NC | +6 | 73 | 77 | 150 |
| T18 | Tyler Gray | Lugoff, SC | +7 | 77 | 74 | 151 |
| T18 | Scott Campbell | Greensboro, NC | +7 | 78 | 73 | 151 |
| T18 | Grant Powell | Colfax, NC | +7 | 78 | 73 | 151 |
| T21 | Max Ferrari | Elon, NC | +8 | 73 | 79 | 152 |
| T21 | Nicholas Bublitz | Fort Bragg, NC | +8 | 74 | 78 | 152 |
| T21 | Kris Jackson | Greenville, NC | +8 | 74 | 78 | 152 |
| T24 | Zack Byers | Shelby, NC | +9 | 74 | 79 | 153 |
| T24 | Donald Matthews | Louisburg, NC | +9 | 75 | 78 | 153 |
| T24 | Davis Reynolds | Maggie Valley, NC | +9 | 77 | 76 | 153 |
| T24 | Nicholas Gunnell | Hamptonville, NC | +9 | 78 | 75 | 153 |
| T24 | Will Lewis | Chapel Hill, NC | +9 | 80 | 73 | 153 |
| T29 | Coston Fogleman | Hillsborough, NC | +10 | 75 | 79 | 154 |
| T29 | Brantley Phillips | Greensboro, NC | +10 | 76 | 78 | 154 |
| T29 | Stephen Lavenets | Willow Spring, NC | +10 | 77 | 77 | 154 |
| T29 | Justin Poole | Wendell, NC | +10 | 78 | 76 | 154 |
| T29 | Harrison Wierse | Wilmington, NC | +10 | 81 | 73 | 154 |
| T34 | Holden Grigg | Myrtle Beach, SC | +11 | 75 | 80 | 155 |
| T34 | Thomas Deal | Cornelius, NC | +11 | 77 | 78 | 155 |
| T34 | John Burghardt | Florence, SC | +11 | 79 | 76 | 155 |
| T34 | Colin Trahan | North Augusta, SC | +11 | 79 | 76 | 155 |
| T34 | Nicklaus Sutton | Matthews, NC | +11 | 80 | 75 | 155 |
| T34 | Ryan Marter | Columbia, SC | +11 | 83 | 72 | 155 |
| 40 | Ian Faulconer | Simpsonville, SC | +12 | 75 | 81 | 156 |
| 41 | Mark Goodall | Pinehurst, NC | +13 | 76 | 81 | 157 |
| T42 | Nick Russell | Hilton Head Island, SC | +15 | 77 | 82 | 159 |
| T42 | Henry Augenstein | Columbia, SC | +15 | 79 | 80 | 159 |
| T42 | Trey Schneider | Mooresville, NC | +15 | 82 | 77 | 159 |
| T45 | Stephen Abrams | Wilson, NC | +16 | 80 | 80 | 160 |
| T45 | David Tipton Smith | Hilton Head Island, SC | +16 | 83 | 77 | 160 |
| T47 | Cody Transou | Gaffney, SC | +17 | 80 | 81 | 161 |
| T47 | Reyhan Griffin | Waxhaw, NC | +17 | 83 | 78 | 161 |
| T49 | Benjamin Crow | Pinehurst, NC | +18 | 79 | 83 | 162 |
| T49 | Solomon Park | Greensboro, NC | +18 | 82 | 80 | 162 |
| T49 | Chad Carter | Aiken, SC | +18 | 83 | 79 | 162 |
| 52 | Nick Agapion | Gaffney, SC | +20 | 84 | 80 | 164 |
| T53 | Andrew Wilmoth | Raleigh, NC | +21 | 81 | 84 | 165 |
| T53 | Avery Papalia | Kernersville, NC | +21 | 82 | 83 | 165 |
| T53 | Trevor Mitchell | Oak Ridge, NC | +21 | 86 | 79 | 165 |
| T53 | Brendan Kelly | Raleigh, NC | +21 | 89 | 76 | 165 |
| T57 | Charles Pendergrass | Henderson, NC | +22 | 81 | 85 | 166 |
| T57 | Micah Alexander | Durham, NC | +22 | 86 | 80 | 166 |
| 59 | Cameron Alge | Mooresville, NC | +25 | 80 | 89 | 169 |
| T60 | Carter Cheek | Cary, NC | +26 | 81 | 89 | 170 |
| T60 | Akshay Kapadia | Charlotte, NC | +26 | 86 | 84 | 170 |
| 62 | Dawson Thornton | Mooresville, NC | +27 | 83 | 88 | 171 |
| 63 | Ezra Park | Greensboro, NC | +46 | 95 | 95 | 190 |
| 64 | Preston Andrews | Chester, SC | +52 | 96 | 100 | 196 |
| 65 | Jason Ross | Fuquay Varina, NC | +60 | 104 | 100 | 204 |
| WD | David Song | Greensboro, NC | - | 78 | WD | WD |