HV3 and CGA Announce Daniel Meggs Memorial Junior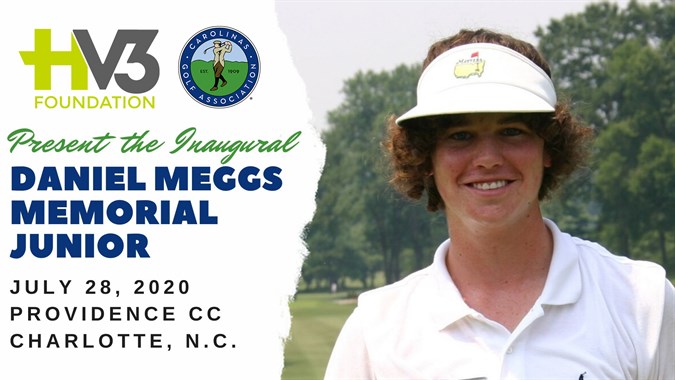 CHARLOTTE, N.C. (April 29, 2020) – The HV3 Foundation and the Carolinas Golf Association have announced the inaugural Daniel Meggs Memorial Junior golf tournament. The tournament will be contested at Providence Country Club in Charlotte, N.C. on Tuesday, July 28, 2020 and will be conducted by the Carolinas Golf Association. An anticipated field of 84 juniors will compete on the course originally designed by Dan Maples and redesigned by Mike Gleason before architect Kris Spence renovated the course in 2018.
Daniel Meggs grew up in Charlotte, N.C. and had a highly successful junior golf career winning the Carolinas Golf Association's inaugural Dogwood State Junior Boys' Championship and the Joe Cheves Junior Invitational in 2005 along with the Carolinas PGA Charles Tilghman Junior in 2006. Meggs competed in three straight USGA U.S. Junior Amateurs with a top finish tied for 33rd in 2007. Meggs played collegiate golf at Wake Forest University from 2008-2011. After college, Daniel shared his knowledge and love for golf as the Director of Instruction at TPC Pipe Glen where he especially loved working with the junior golfers. In May of 2017, just weeks before his wedding to his high school sweetheart Jordan, Meggs was diagnosed with stage four colon cancer. Daniel fought courageously against the cancer for over 2 years before passing away in February of 2020.
For more information, please visit the Daniel Meggs Memorial Junior home page
DATE
Tuesday, July 28, 2020
FORMAT
18-stroke play for boys and girls ages 12-18.
9-hole stroke play for boys and girls ages 6-11.
ELIGIBILITY
Entry is open to any male or female junior golfers between the ages of 6 and 18 who have not finished high school.
PRIZES
Trophies will be awarded to the girls' and boys' champions and the top three places in each division.
FIELD SIZE
84 players
REGISTRATION
Opens on June 2nd at 8 pm
Closes on July 20th at 11:59 pm
About HV3 Foundation
The HV3 Foundation was launched in January 2019 in an effort to give back to less fortunate kids that could greatly benefit from increased access and opportunity in sport. The cost of equipment, proper coaching, and access has become very expensive and unaffordable to many.
The mission for the HV3 Foundation is to bring awareness to the rising cost of entry and access in sports. The foundation will aim to provide financial assistance for equipment, after school programs, instruction, camps, and various other avenues where an athlete can cultivate his/her passion.
For more information about the HV3 Foundation, visit www.hv3foundation.com.
About the Carolinas Golf Association (CGA)
The CGA is a 501(c)(3) not-for-profit educational organization that was founded in 1909 to promote and to protect the game of golf in the Carolinas by providing competitions, education, support and benefits to golf clubs and golfers. The CGA is the second largest golf association in the country with over 700 member clubs represented by nearly 150,000 individuals.
The CGA annually conducts 48 championships and five team match competitions for men, women, juniors, and seniors. It also runs over 150 One-Day (net and gross) events as well as qualifying for USGA national championships. The CGA serves golf in the Carolinas with numerous programs such as: the USGA Handicap System; tournament management software and support; course measuring and course/slope ratings; agronomy consultation; answers about the Rules of Golf, Rules of Amateur Status, and Handicapping; Carolinas Golf Magazine; Interclub series; Tarheel Youth Golf Association; Carolinas Golf Hall of Fame; expense assistance for USGA Junior and Girls' Junior qualifiers from the Carolinas; and the Carolinas Golf Foundation (CGF). The CGF has distributed nearly $2,000,000 since 1977 to benefit Carolinas' golf initiatives including junior and women's programs.
For more information about the CGA, visit our website.