Preview: 16th Dogwood State Junior Girls' Championship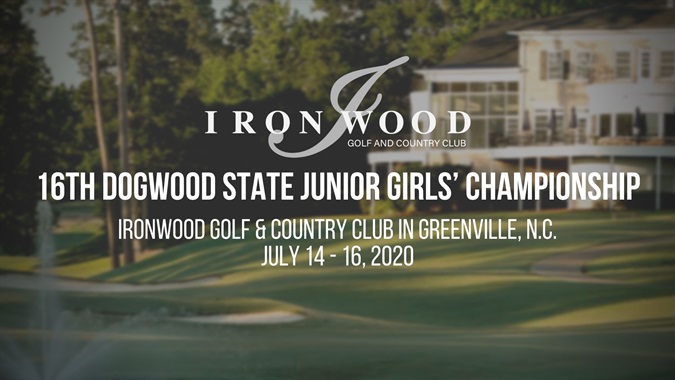 SOUTHERN PINES, N.C. (July 13, 2020) -- The Carolinas Golf Association will conduct the 16th Dogwood State Junior Girls' Championship at Ironwood Golf & Country Club in Greenville, N.C. from July 14 - 16, 2020. (6,049 yards, par 36-36--72)
The CGA will be conducting this championship under the new COVID-19 Tournament Protocols. Learn more here.
Related: Championship Web Site | Full Field of Players | Starting Times | Scoring | History
Players to Watch:
Morgan Ketchum of Winston-Salem, N.C. is the No. 6 ranked player in the N.C. Junior Girls' Rankings after winning the N.C. Junior Girls' Championship just last month. Ketchum also finished tied for second at the Carolinas Women's Amater and tied for 10th at the Twin States Junior Girls' Championship. She was one of the biggest risers in the most recent update of the rankings, shooting up four spots.

Halynn Lee of Cary, N.C. is ranked No. 9 in the N.C. Junior Girls' Rankings and has won two tournaments within the last year (PKBGT Regional - North Carolina Series at Foxfire Resort; TYGA Triad One Day at Pinewood). Most recently, Lee finished top five at the PKBGT National - Carolinas Classic at Carolina Trace Country Club following up her top-10 finish at the Carolinas PGA Junior Girls' Championship.

Emily Mathews of Mebane, N.C. is the No. 7 golfer in the N.C. Junior Girls' Rankings and placed in the top-10 at the Pinehurst North & South Junior Girls' Championship last week. Before that, she won the TYGA One Day at Irish Creek in June and the NCHSAA-3A Central Regional in October. Mathews finished runner-up at the Dogwood State Junior last year.

Grace Holcomb of Wilmington, N.C. is tied as the No. 10 ranked player in the N.C. Junior Girls' Rankings with nine top-five finishes in the last year. In her most recent CGA event, the Twin States Girls' Championship, Holcomb finished tied for fifth. She won two different TYGA one day events in 2019 as well as both the TYGA State Championship and the TYGA Tournament of Champions. She is committed to play collegiate golf at UNC-Greensboro.

Macy Pate of Boone, N.C. is tied with Holcomb for No. 10 in the N.C. Junior Girls' Rankings after a semi-finalist appearance at her most recent outing, the N.C. Junior Girls' Championship. Pate also has top-five finishes at five different PKBGT National events since July 2019.

Kayla Dowell of Mebane, N.C. is tied for No. 22 in the N.C. Junior Girls' Rankings and was the finalist at the N.C. Junior Girls. Dowell finished fifth in the Dogwood State Junior Girls' Championship last year.
Ironwood Golf & Country Club is a family-oriented, privately owned club with a newly renovated 14,000 square foot clubhouse. The 18-hole, championship Lee Trevino Signature Course is the centerpiece of the Ironwood community. Winding through 200 acres of rolling wooded terrain, the course reveals subtle nuances while providing scenic vistas of the Tar River, ponds and native wildlife. Trevino's design displays a masterful use of the contours of the land, creating a challenging, yet highly playable course that reveals more of its subtle nuances each time you play.
The championship format is 54 holes of stroke play competition.
Entry is open to any female amateur golfer ages 12 to 18 as of July 16, 2020, who has not started college, is a legal resident of North Carolina, is a member in good standing of a club which is a member of the Carolinas Golf Association (CGA) and has a current USGA Handicap Index® at a CGA member club.
Schedule of Rounds:
Monday, July 13
Tee Times Available for Practice Rounds
Tuesday July 14
Round 1 Starting Times (7:40 a.m. - 9:40 a.m.)
Wednesday, July 15
Round 2 Starting Times (7:40 a.m. - 9:40 a.m.)
Thursday, July 16
Final Round Starting Times (7:40 a.m. - 9:40 a.m.)
About the Carolinas Golf Association (CGA)
The CGA is a 501(c)(3) not-for-profit educational organization that was founded in 1909 to promote and to protect the game of golf in the Carolinas by providing competitions, education, support and benefits to golf clubs and golfers. The CGA is the second largest golf association in the country with over 700 member clubs represented by nearly 150,000 individuals.
The CGA annually conducts 48 championships and five team match competitions for men, women, juniors, and seniors. It also runs over 150 One-Day (net and gross) events as well as qualifying for USGA national championships. The CGA serves golf in the Carolinas with numerous programs such as: the USGA Handicap System; tournament management software and support; course measuring and course/slope ratings; agronomy consultation; answers about the Rules of Golf, Rules of Amateur Status, and Handicapping; Carolinas Golf Magazine; Interclub series; Tarheel Youth Golf Association; Carolinas Golf Hall of Fame; expense assistance for USGA Junior and Girls' Junior qualifiers from the Carolinas; and the Carolinas Golf Foundation (CGF). The CGF has distributed nearly $2,000,000 since 1977 to benefit Carolinas' golf initiatives including junior and women's programs.
For more information about the CGA, visit our website.
##30##