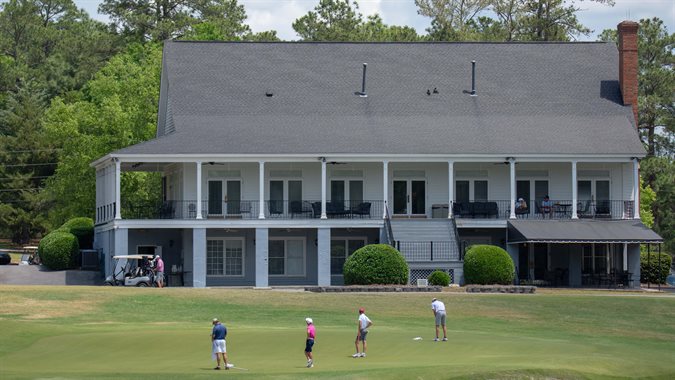 CAMDEN, S.C. (July 23, 2020) – Round one results of the 69th Carolinas Four-Ball Championship at Camden Country Club in Camden, S.C. from July 23 - 27, 2020. (6,455 yards, par 35-35--70)
Related: Championship Web Site | Starting Times | Scoring | History
Camden Country Club was bombarded with birdies today for the first round of the 69th Carolinas Four-Ball Championship as 67 teams shot under par. At the end of the day, two teams found themselves tied for the lead; both past champions. The 2018 winners, Ben Woodruff of Huntersville, N.C. and Carson Ownbey of Canton, N.C., used more than just birdies to catapult themselves up the leaderboard as Ownbey made a double eagle on the par 5, 13th hole. The albatross, along with eight birdies, puts the pair at 10-under-par after the first of two stroke-play qualifying rounds.
"We had a lot of fun out there. After Carson's shot we went crazy, kind of lost it on the next hole but we were able to maintain ourselves coming in," said Woodruff, the 2019 N.C. Amateur Match Play champion.
No strangers to Camden Country Club, the 2013 winners and three-time runner-ups, Paul Tucker of Waxhaw, N.C. and Brent Roof of Columbia, S.C., combined for one eagle, eight birdies, and no bogies to shoot an opening round 10-under-par, 60 and put themselves in a tie for first place.
The two sides take a one-shot lead over a stacked field into the second round of qualifying and will look to capture the Joe B. McCarley Cup which is awarded to the medalist team. Earning the number one seed would be helpful but the team is focused on staying on track to make match play.
Two teams are tied for third place after opening rounds of nine-under par, 61. Ford Reynolds of Columbia, S.C., and Wills Kelly of Camden, S.C. used 10 birdies and one lone bogey to shoot nine-under-par, 61. Tied with Reynolds and Kelly is the team of Anthony Conn of Raleigh, N.C. and Brandon Reece of Rolesville, N.C. Conn and Reece got off to a hot start with four straight birdies to start the round. Things cooled off but not for long as they finished eagle-birdie-birdie for their nine-under-par round.
All our teams will return tomorrow for one more round of stroke-play qualifying before the match play Round of 32 begins on Saturday morning.
69th Carolinas Four-Ball Championship
Camden Country Club, Camden, S.C.
First Round Results
| | | | | |
| --- | --- | --- | --- | --- |
| Pos. | Team | City, State | Total To Par | Total |
| T1 | Ben Woodruff / Carson Ownbey | Huntersville, NC, Canton, NC | -10 | 60 |
| T1 | Paul Tucker / Brent Roof | Waxhaw, NC, Columbia, SC | -10 | 60 |
| T3 | Wills Kelly / Ford Reynolds | Camden, SC, Columbia, SC | -9 | 61 |
| T3 | Anthony Conn / Brandon Reece | Raleigh, NC, Rolesville, NC | -9 | 61 |
| T5 | Zack Swanson / Nick Lyerly | Charlotte, NC, Salisbury, NC | -8 | 62 |
| T5 | Brandon Einstein / Drew Weary | Clemmons, NC, Bluffton, SC | -8 | 62 |
| T7 | Shawn Heinchon / Press McPhaul | Greenville, NC, Raleigh, NC | -7 | 63 |
| T7 | Kyle Davis / Justin Gupton | Charlotte, NC | -7 | 63 |
| T7 | Dongjin Park + Taisuke Ono | Charlotte, NC, charlotte, NC | -7 | 63 |
| T7 | Stephen Lavenets / Clay Watkins | Willow Spring, NC, Mebane, NC | -7 | 63 |
| T7 | Cordes Ford / Rion Moore | Charleston, SC, Georgetown, SC | -7 | 63 |
| T7 | Stephen Carroll / Walker Cress | Concord, NC | -7 | 63 |
| T7 | Chris Kopack / David Gies | Charlotte, NC, Pineville, NC | -7 | 63 |
| T14 | Ryan Reynolds / Brandon Cemprola | Camden, SC, Columbia, SC | -6 | 64 |
| T14 | Payne Kassinger / William Hoffman | ASHEVILLE, NC, Charlotte, NC | -6 | 64 |
| T14 | Michael Childress / Lansdon Robbins | Salisbury, NC, Davidson, NC | -6 | 64 |
| T14 | James Lightsey / Weston Bell | Indian Land, SC, Piedmont, SC | -6 | 64 |
| T14 | Matthew Song / Caleb Surratt | Waxhaw, NC, Indian Trail NC, NC | -6 | 64 |
| T19 | Taylor Ferguson / Cody Sundberg | Charlotte, NC, Charlotte`, NC | -5 | 65 |
| T19 | Alex Heffner / Ike Joy | Harrisburg, NC, Denver, NC | -5 | 65 |
| T19 | Ritch Buckner / William Jamieson | Chapel Hill, NC, Cary, NC | -5 | 65 |
| T19 | Jarrett Grimes + Nicholas Poole | Columbia, SC | -5 | 65 |
| T19 | Jack Parrott / Nicholas Mayfield | Columbia, SC, Rock Hill, SC | -5 | 65 |
| T19 | Dustin Moore / Matthew Crenshaw | Burlington, NC | -5 | 65 |
| T19 | Jackson Steiner / Matt Nelson | Charlotte, NC, Winston Salem, NC | -5 | 65 |
| T19 | Brian Westveer / Justin Westveer | Charlotte, NC | -5 | 65 |
| T19 | Davis Womble / Dan Walters | Winston-Salem, NC, WInston-Salem, NC | -5 | 65 |
| T28 | Grant Sellers / Ethan Willis | McBee, SC, Mount Pleasant, SC | -4 | 66 |
| T28 | Drew Haywood / Britt Mitchell | Chapel Hill, NC, Creedmoor, NC | -4 | 66 |
| T28 | Stefan Brewer / Robert Burrow | Charlotte, NC | -4 | 66 |
| T28 | John Eades / Steven Sherck | Charlotte, NC | -4 | 66 |
| T28 | Walt Todd, Jr / Brandon Truesdale | Greenville, SC, Rock hill, SC | -4 | 66 |
| T28 | Luke Hackworth / Thomas Eubanks | Charlotte, NC | -4 | 66 |
| T28 | David Boyce / Robby Bigley | Charlotte, NC | -4 | 66 |
| T28 | Rick Milligan / Shaun Fettes | shelby, NC, CHARLOTTE, NC | -4 | 66 |
| T28 | Manning Sloop / Zachary Reuland | Rock Hill, SC | -4 | 66 |
| T28 | DeeBo Kelly / Justin Wilson | Camden, SC | -4 | 66 |
| T38 | Justin Guilford / Jacob Shamblin | Davidson, NC, Matthews, NC | -3 | 67 |
| T38 | Jon Eichstaedt / Ryan Solan | Charlotte, NC | -3 | 67 |
| T38 | Connor Armistead / Layne Lambert | Charlotte, NC, Matthews, NC | -3 | 67 |
| T38 | Patten Williams / Alex Williams | Davidson, NC | -3 | 67 |
| T38 | Nicholas Song / Travon Willis | Waxhaw, NC, Indian Trail, NC | -3 | 67 |
| T38 | Todd White / Kevin King | Roebuck, SC, BLUFFTON, SC | -3 | 67 |
| T38 | Raymond Wooten / Mickey Plyler | Clemson, SC | -3 | 67 |
| T38 | James Braun / Dan Hogan | Blythewood, SC | -3 | 67 |
| T38 | Keith Kepley / Richard Lee | Charlotte, NC | -3 | 67 |
| T38 | Scott Park / Christian Park | Charlotte, NC | -3 | 67 |
| T38 | Joe Jaspers / Jim Aughtry | Huntersville, NC, Concord, NC | -3 | 67 |
| T49 | Louis Lambert / Michael Wicker | Charlotte, NC, Rougemont, NC | -2 | 68 |
| T49 | Thomas Deal / Carter Cook | CORNELIUS, NC, Cornelius, NC | -2 | 68 |
| T49 | Randall Teegardin / Brian Powers | Charleston, SC | -2 | 68 |
| T49 | Kevin Driggers / Tucker Ervin | Mt Pleasant, SC, Mount Pleasant, SC | -2 | 68 |
| T49 | Rick Marion / Todd Gardner | Mount Airy, NC, High Point, NC | -2 | 68 |
| T49 | Braxton Mclennan / Michael Teague | charlotte, NC, Charlotte, NC | -2 | 68 |
| T49 | Bobby Dean / Dean Preston | Charlotte, NC, Matthews, NC | -2 | 68 |
| T49 | Walter Todd / Neal Todd | Laurens, SC | -2 | 68 |
| T49 | Zach Adams / Mason Tucker | Charleston, SC, Lancaster, SC | -2 | 68 |
| T49 | Taylor Ingle / Nicholas Beiers | Winnsboro, SC, Lexington, SC | -2 | 68 |
| T59 | Jack Towarnicky / Randall Hudson | New Bern, NC | -1 | 69 |
| T59 | Ben Cox / Billy Cease | Denver, NC, Cherryville, NC | -1 | 69 |
| T59 | Kemp Hooper / Sullivan Hooper | Leesville, SC | -1 | 69 |
| T59 | Brian Mull / Daniel Kopp | Wilmington, NC, Conway, SC | -1 | 69 |
| T59 | Charlie Farrell + Derek Bunce | Hilton Head, SC, Hilton Head Island, SC | -1 | 69 |
| T59 | Michael Sims / Garland Ferrell | Lexington, SC, Greenville, SC | -1 | 69 |
| T59 | Neal Morrison / Nolan Mills III | Charlotte, NC, charlotte, NC | -1 | 69 |
| T59 | Dennis Long / Bill Brawley | Statesville, NC | -1 | 69 |
| T59 | Sam Jackson / Jordan Sease | Wagener, SC, Lexington, SC | -1 | 69 |
| T68 | Evan Rodwell / Dan Cook | Charlotte, NC, Charleston, SC | E | 70 |
| T68 | Chris Cassetta / Daniel Neveu | High Point, NC, Pinehurst, NC | E | 70 |
| T68 | Dylan Stewart / Ian Dabrowski | Mint Hill, NC, Charlotte, NC | E | 70 |
| T68 | Kyle Bearden / Damon Postal | Barnwell, SC, Charlotte, NC | E | 70 |
| T72 | Todd Grear / Daniel Welborn | Mooresville, NC, Charlotte, NC | +1 | 71 |
| T72 | Allie Bates / William Braun | Columbia, SC | +1 | 71 |
| T72 | Hunter McCombs / Jackson Bailey | Morganton, NC, matthews, NC | +1 | 71 |
| T72 | Daniel Coker / Trevor Gerard | Hartsville, SC | +1 | 71 |
| T72 | Jay Sylvan / Gus Sylvan | Charlotte, NC, Columbia, SC | +1 | 71 |
| T77 | Trey Schneider / Jack Anderson | Mooresville, NC, Charlotte, NC | +2 | 72 |
| T77 | Brandon Twigg / Wesley Long | Charleston, SC, Mount Pleasant, SC | +2 | 72 |
| T77 | Scott Strickfaden / Rob Fulford | Huntersville, NC, Cornelius, NC | +2 | 72 |
| T77 | Scott Burnett / John Fritz | Charlotte, NC, Mint Hill, NC | +2 | 72 |
| T77 | John O'Brien / Robert Dargan | Columbia, SC | +2 | 72 |
| T82 | Brandon Jones / Zack Martin | Sanford, NC, sanford, NC | +3 | 73 |
| T82 | Jared Ostendorf / Craig Monsch | Fayetteville, NC, Lancaster, SC | +3 | 73 |
| T82 | Justin Wiles / Gregory Crouch | Wilkesboro, NC, Statesville, NC | +3 | 73 |
| T85 | Sam Rice / Hayes Lanford | Greenwood, SC, Greenville, SC | +4 | 74 |
| T85 | Andrew Groves + Dakota Hunter | Columbia, SC | +4 | 74 |
| T85 | Tanner Huff / Martin Huff | Pinehurst, NC | +4 | 74 |
| 88 | Jimmy Popp + Pat O'Brien | Mooresville, NC | +6 | 76 |
| 89 | Jeff Helms / Chuck Nance | Monroe, NC | +9 | 79 |
| 90 | Tommy Megremis / Kirk MacKenzie | CHARLOTTE, NC, Charlotte, NC | +11 | 81 |