Lyerly/Swanson Set Carolinas Four-Ball Scoring Records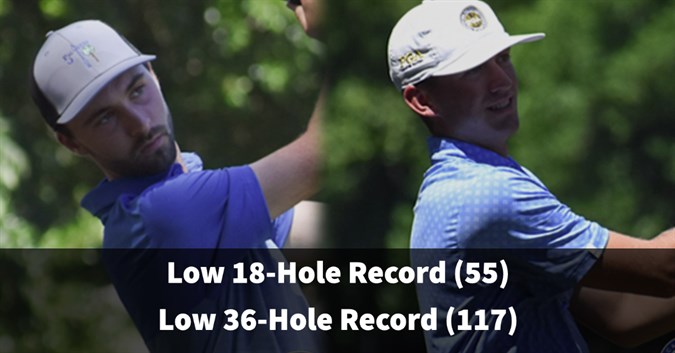 CAMDEN, S.C. (July 25, 2020) – Stroke-play qualifying results of the 69th Carolinas Four-Ball Championship at Camden Country Club in Camden, S.C. on Saturday, July 25, 2020. (6,455 yards, par 35-35--70)
Related: Championship Web Site | Starting Times | Scoring | History
The second round of the 69th Carolinas Four-Ball Championship may have taken two days to complete, but after heavy rains and several broken records, we are down to 32 teams as we head into the match play portion of the Championship.
Nick Lyerly of Salisbury, N.C., the 2016 N.C. Amateur champion, and his playing partner, Zach Swanson of Charlotte, N.C. stole the show before heavy rains caused a suspension of play on Friday evening. Lyerly and Swanson made 13 birdies and an eagle en route to a 15-under-par, 55. They finished the stroke-playing qualifying portion of the Championship at 23-under-par, 117 total. The duo shattered both the low 18-hole tournament round record (59) set in 1986 by Johnny Banks and Bill Bowers and the 36-hole record (123) set in 2018 by Bobby Dean and Robert Preston. This secured their No. 1 seed and the Joe B. McCarley Cup awarded to the stroke-play medalist team. If their play wasn't impressive enough, Lyerly carded an 11-under-par, 59 on his own ball.
Lyerly and Swanson will face off against the No. 32 seed team of Matthew Song of Waxhaw, N.C. and Caleb Surratt of Indian Trail, N.C. They claimed the final match play spot after a nine-for-four playoff along with the teams of Louis Lambert of Charlotte, N.C. and Michael Wicker of Rougemont, N.C. (No. 29) Michael Sims of Lexington, S.C. and Garland Ferrell of Greenville, S.C. (No. 30) and Jack Towarnicky and Randall Hudson of New Bern, N.C. (No. 31).
The 2018 Carolinas Four-Ball champions, Ben Woodruff of Huntersville, N.C. and Carson Ownbey of Canton, N.C. claim the No. 2 seed. They'll face Towarnicky and Hudson in the Round of 32 this afternoon.
69th Carolinas Four-Ball Championship
Camden Country Club, Camden, S.C.
Click here for the Round of 32 Matches