Semfinals Set at the Carolinas Four-Ball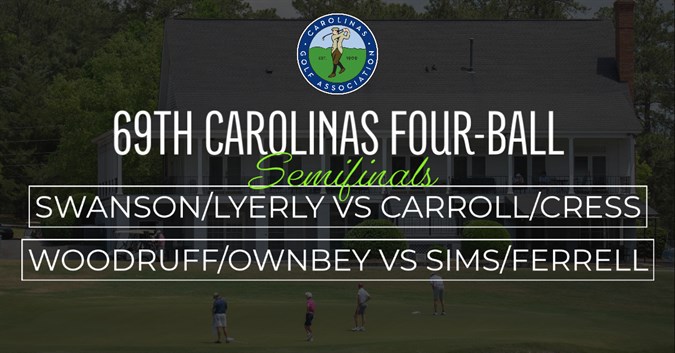 CAMDEN, S.C. (July 23, 2020) – Round of 32, 16 and Quarterfinal results of the 69th Carolinas Four-Ball Championship at Camden Country Club in Camden, S.C. on Sunday, July 26, 2020. (6,455 yards, par 35-35--70)
Related: Championship Web Site | Starting Times | Scoring | History
The marathon of golf continues at Camden Country Club as four teams out of the 90 that started, still remain. After 36 holes and three rounds of matches over a four-day span, three of the top-four seeds remain. The stroke-play medalist and top-seeded side, Zack Swanson of Charlotte, N.C. and Nicholas Lyerly of Salisbury, N.C., have continued their stellar play winning their first three matches to advance to the Semifinals. Swanson and Lyerly took on Caleb Surrat Indian Trail, N.C. and Matthew Song of Waxhaw, N.C. in the Round of 32 starting on Saturday. After numerous rain delays Swanson and Lyerly were able to finish their match Sunday morning winning 1 up. The UNC Greensboro teammates then took on Walter Todd Greenville, S.C. and Brandon Truesdale of Rock Hill, S.C. in the Round of 16. It was another tight match as Swanson and Lyerly won again 1 up. The duo then stood on the first tee in the Quarterfinals staring at their third side of the day as they took on Grant Sellers of McBee, S.C. and Ethan Willis of Mount Pleasant, S.C. and for the third time on Sunday, Swason and Lyerly finished on the 18th hole, 1 up. They will face the No. 4 seed composed of Stephen Carrol and Walker Cress of Condcord, N.C. in the Semifinal round starting at 7:30 a.m. on Monday morning.
Carrol and Cress were able to win their first match 4 & 3 against Michael Wicker of Rougemont, N.C. and Louis Lambert of Charlotte, N.C. Their next match, however, took all 18 holes, winning 1 up over Dongjin Park and Taisuke Ono of Charlotte, N.C. Going into the Quarterfinals long-time friends, Carrol and Cress, were facing off against the 2020 Carolinas Amateur champion, Landson Robbins of Davidson, N.C. and his partner Michael Childress of Salisbury, N.C. Carrol and Cress continued their team play, making 10 birdies in 16 holes to win 3 & 2.
The 2018 winners, Ben Woodruff of Huntersville, N.C. and Carson Ownbey of Canton, N.C., continued to show their domination over Camden CC and their opponents as they won their Round of 32 match 5 & 4 over Jack Towarnicky and Randall Hudson of New Bern, N.C . The college teammates at UNC Charlotte did not stop there as they beat Jackson Steiner of Charlotte, N.C. and Matt Nelson of Winston-Salem, N.C. 5 & 3. The 49ers continued their march to the Semis winning their Quarterfinal match 1 up over Davis Womble and Dan Walters of Winston-Salem, N.C. Woodruff and Ownbey will face the team of Michael Sims of Columbia, S.C. and Garland Ferrell of Greenville, S.C. in the Semifinals.
Sim and Ferrell will be teeing it up in their second straight Semifinals match having lost last year to the 2019 Championship winning team. Sims and Ferrell are the highest-seeded team remaining after having to qualify for match play in a nine-for-four playoff. In the biggest upset in the tournament, history repeated itself as Sims and Ferrell beat Anthony Conn of Raleigh, N.C. and Brandon Reese of Rolesville, N.C. for the second straight year in the first round of match play. The partners continued to keep the gas pedal down beating USC Gamecock teammates Jack Parrott of Columbia, S.C. and Nicholas Mayfield of Rock Hill, S.C., 3 & 2 in the Round of 16. Determined to not stop there, Sims, the former Clemson Tiger, and Ferrell, the former Furman Paladin, took on locals, Ryan Reynolds of Camden, S.C. and Brandon Cemprola of Columbia, S.C., winning 1 up. The highlight of Sims' quarterfinal match came on the par-3, sixth hole where he had a hole-in-one.
Tomorrow's Semifinal matches will begin at 7:30 a.m. and 7:40 a.m. with the final match to follow.
69th Carolinas Four-Ball Championship
Camden Country Club, Camden, S.C.
Round of 32, 16 and Quarterfinals Results
| | | | |
| --- | --- | --- | --- |
| Round of 32 | | | |
| Team | | Team | Score |
| Zack Swanson / Nick Lyerly | def. | Matthew Song / Caleb Surratt | 1 up |
| Ben Woodruff / Carson Ownbey | def. | Jack Towarnicky / Randall Hudson | 5 & 4 |
| Michael Sims / Garland Ferrell | def. | Anthony Conn / Brandon Reece | 3 up |
| Stephen Carroll / Walker Cress | def. | Louis Lambert / Michael Wicker | 4 up |
| Stefan Brewer / Robert Burrow | def. | James Lightsey / Weston Bell | 1 up |
| Ryan Reynolds / Brandon Cemprola | def. | Shawn Heinchon / Press McPhaul | 3 up |
| Jackson Steiner / Matt Nelson | def. | Kyle Davis / Justin Gupton | 23 holes |
| John Eades / Steven Sherck | def. | Wills Kelly / Ford Reynolds | 1 up |
| Davis Womble / Dan Walters | def. | Brian Westveer / Justin Westveer | 2 up |
| Jack Parrott / Nicholas Mayfield | def. | Sam Jackson / Jordan Sease | 23 holes |
| Stephen Lavenets / Clay Watkins | def. | Jarrett Grimes / Nicholas Poole | 5 & 4 |
| Walt Todd, Jr / Brandon Truesdale | def. | Manning Sloop / Zachary Reuland | 1 up |
| Grant Sellers / Ethan Willis | def. | Alex Heffner / Ike Joy | 1 up |
| Brandon Einstein / Drew Weary | def. | Cordes Ford / Rion Moore | 3 & 2 |
| Dongjin Park / Taisuke Ono | def. | Chris Kopack / David Gies | 4 & 3 |
| Michael Childress / Lansdon Robbins | def. | Dustin Moore / Matthew Crenshaw | 4 & 2 |
| | | | |
| Round of 16 | | | |
| Team | | Team | Score |
| Zack Swanson / Nick Lyerly | def. | Walt Todd, Jr / Brandon Truesdale | 2 & 1 |
| Grant Sellers / Ethan Willis | def. | Brandon Einstein / Drew Weary | 3 & 2 |
| Stephen Carroll / Walker Cress | def. | Dongjin Park / Taisuke Ono | 1 up |
| Michael Childress / Lansdon Robbins | def. | Stefan Brewer / Robert Burrow | 1 up |
| Ben Woodruff / Carson Ownbey | def. | Jackson Steiner / Matt Nelson | 5 & 3 |
| Davis Womble / Dan Walters | def. | John Eades / Steven Sherck | 3 & 2 |
| Michael Sims / Garland Ferrell | def. | Jack Parrott / Nicholas Mayfield | 3 & 2 |
| Ryan Reynolds / Brandon Cemprola | def. | Stephen Lavenets / Clay Watkins | 1 up |
| | | | |
| Quarterfinals | | | |
| Team | | Team | Score |
| Zack Swanson / Nick Lyerly | def. | Grant Sellers / Ethan Willis | 1 up |
| Stephen Carroll / Walker Cress | def. | Michael Childress / Lansdon Robbins | 3 & 2 |
| Ben Woodruff / Carson Ownbey | def. | Davis Womble / Dan Walters | 1 up |
| Michael Sims / Garland Ferrell | def. | Ryan Reynolds / Brandon Cemprola | 1 up |