Ownbey and Woodruff Claim Second Carolinas Four-Ball Title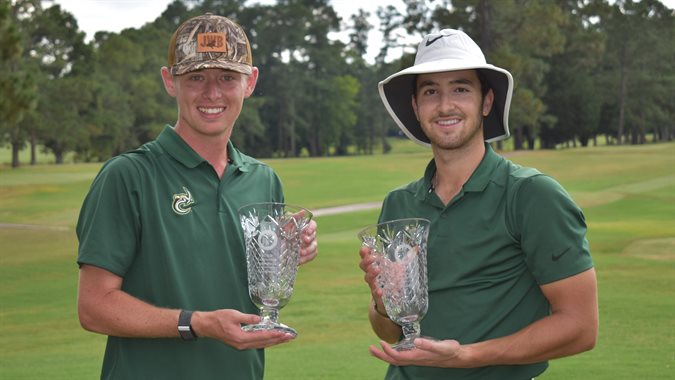 CAMDEN, S.C. (July 27, 2020) – Final results of the 69th Carolinas Four-Ball Championship at Camden Country Club in Camden, S.C. on Monday, July 27, 2020. (6,455 yards, par 35-35--70)
Related: Championship Web Site | Results | History
History repeats itself at Camden Country Club as Carson Ownbey of Canton, N.C. and Ben Woodruff of Huntersville, N.C. team up to capture their second Carolinas Four-Ball title in three years.
The Charlotte 49er teammates battled their way through two grueling rounds of stroke play and four rounds of match play before facing off against the team of Stephen Carroll and Walker Cress of Concord, N.C. in the Final Round.
"We always look forward to this tournament," Ownbey said. "It's a lot of fun because we know each other's games really well and seem to always play well together. When I made a mistake he was always there with a solid hole and vice versa."
With a par on the par-5, third hole, Carroll and Cress took the early 1 up lead but birdies on Nos. 5, 7 and 8 gave Ownbey and Woodruff the 1 up lead at the turn. A birdie on the par-4, 11th hole moved Ownbey and Woodruff to 2 up but it took an eagle on the par-5, 13th hole to win the hole as Carroll and Cress birdied the hole. A birdie on No. 14 put Ownbey and Woodruff 4 up with only four holes to play. The match concluded on No. 15 with both teams making par and Ownbey and Woodruff claiming the 69th Carolinas Four-Ball Championship. They become the ninth team in the history of the Championship to win two or more times.
"It's very exciting to win this event again as it's also fun and motivating competing along Carson," Woodruff said. "We are both grateful and thankful to have the opportunity to play in such a well-run event and can't thank the staff at Camden Country Club for all they do. Camden is a special place to both of us and we are humbled to be your 69th champion."
The eventual champions faced off against Michael Sims of Lexington, S.C. and Garland Ferrell of Greenville, S.C. on Monday morning in the Semifinals. Ownbey and Woodruff won the first hole of that match with a birdie and never lost the lead. The match went the distance with Ownbey and Woodruff claiming the 1 up victory on the 18th green.
Cress' and Carroll's Semifinals were a much different story as they faced off against this year's stroke-play medalist and record-breaking team of Nick Lyerly of Salisbury, N.C. and Zach Swanson of Charlotte, N.C. Cress and Carroll took an early 3 up lead after the first five holes but the match was back to tied by No. 13. A birdie by Carroll on the par-3, 16th hole gave them back the 1 up lead which they would hold onto through the 18th hole.
The CGA would like to extend a thank you to the members and staff of the Camden Country Club, specifically to Head Golf Professional Matt McCarley and Golf Course Superintendent Nick Price, for their hospitality in hosting the 69th Carolinas Four-Ball Championship. We would also like to thank the players and spectators for their understanding and adherence to the new COVID-19 tournament protocols.
69th Carolinas Four-Ball Championship
Camden Country Club, Camden, S.C.
Semifinal and Final Results
Semifinals

Team

Team

Score

Stephen Carroll / Walker Cress

def.

Zack Swanson / Nick Lyerly

1 up

Ben Woodruff / Carson Ownbey

def.

Michael Sims / Garland Ferrell

1 up

Final

Team

Team

Score

Ben Woodruff / Carson Ownbey

def.

Stephen Carroll / Walker Cress

4 and 3