Preview: 52nd Carolinas Senior Four-Ball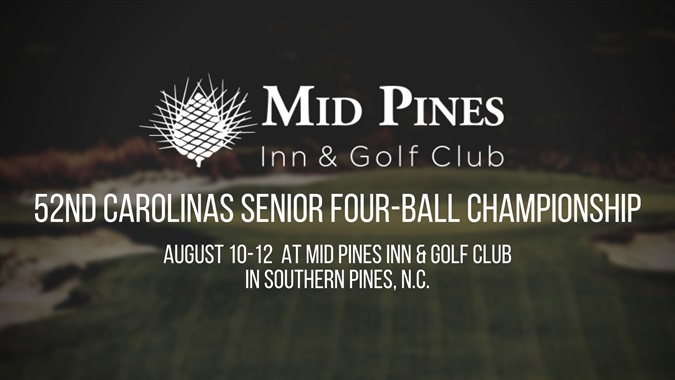 SOUTHERN PINES, N.C. (August 7, 2020) -- The Carolinas Golf Association will conduct the 52nd Carolinas Senior Four-Ball Championship at Mid Pines Inn & Golf Club in Southern Pines, N.C. from August 10-12, 2020. The field is expected to consist of 88 sides for this 54-hole stroke-play event.
Related: Championship Web Site | Starting Times | Scoring | History
The Defending Champions will not be in this year's field as Steve Harwell of Mooresville, N.C. was invited into the field for this year's U.S. Amateur Championship. His partner, Patrick Brady of Reidsville, N.C. is back to represent the Championship winning team but will be partnering this year with Paul Jett of Southern Pines, N.C.

Other Sides to watch:
The 2018 Carolinas Senior Four-Ball champions, Stan Sill of Spartanburg, S.C. and Mike Gravley of Greer, S.C. are back after falling one shot short of forcing a playoff last year at Dataw Island Club. They'll look to rekindle the magic from two years ago that allowed them to capture the come-from-behind victory at Mimosa Hills Country Club.
The side of Don Detweiler and Paul Simson of Raleigh, N.C. seem to have had a monopoly on four-ball championships at times in 2019. The duo won the Carolinas Super Senior Four-Ball, the N.C. Senior Four-Ball and the N.C. Super Senior Four-Ball Championships. They finished tied for sixth place in this event in 2019. They have won the Carolinas Senior Four-Ball three times; the last time being in 2012 (2008, 2010). As a team, they have won nine CGA four-ball championships.
Preston Edmondson of Morrisville, N.C. has finished runner-up in this Championship three times with three different partners. He's decided to stick with his 2019 partner, Dean Channell of Pinehurst, N.C. to see if he can break the streak and claim the title. Edmonson is a three-time CGA champion, Channell is a two-time CGA champion and both men played on the Carolinas Team in the 2019 Captain's Putter Team Matches.
The 2016 and 2017 Championship winning side of James Pearson of Charlotte, N.C. and Jim Grainger of Charlotte, N.C. are back in this year's field. The duo did not play together in the 2018 championship but had a respectable tie for 12th place in last year's event.
Four-time CGA champion, Walter Todd, Sr. of Laurens, S.C., and 2018 Carolinas Senior Amateur champion, Todd Hendley of Columbus, N.C. are looking for redemption after a runner-up finish in this event in 2019. The duo had a top-ten finish in this event in 2018, so if they continue to trend in the same direction, they will be hoisting the trophy after Wednesday's final round.
Format: The championship format is 54 holes of four-ball stroke play. Gross scores only. After 36 holes, the field is cut to the low 30 scores and ties. A tie for the overall championship is decided by an on-course playoff.
Schedule of Rounds:
Monday, August 10
Round 1 - 18 Holes Stroke Play (Morning and Afternoon wave)
Boxed Lunch provided by CGA
Tuesday, August 11:
Round 2 - 18 Holes Stroke Play (Morning and Afternoon wave)
Wednesday, August 12
Round 3 - 18 Holes Stroke Play (Morning wave only)
The CGA will be conducting this championship under the new COVID-19 Tournament Protocols. Learn more here.