Preview: Mid-Atlantic Junior Girls' Challenge Matches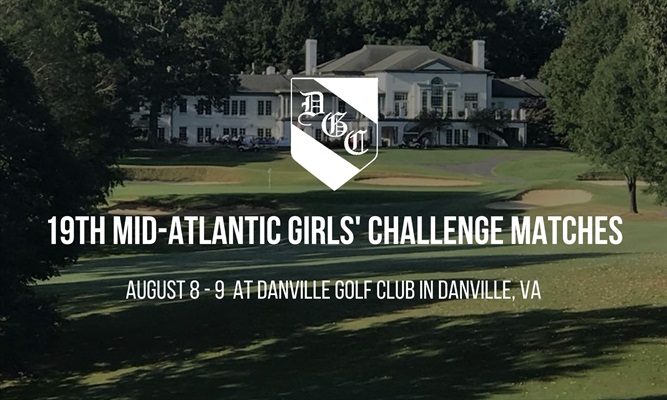 SOUTHERN PINES, N.C. (August 7, 2020) -- The Carolinas Golf Association in association with the Virginia State Golf Association and the Maryland State Golf Association will conduct the 19th Mid-Atlantic Junior Girls' Challenge Matches at Danville Golf Club in Danville, Va. from August 8 - 9, 2020. (5,935 yards; Par 35-35—70)
The CGA will be conducting this championship under the new COVID-19 Tournament Protocols. Learn more here.
Related: Championship Web Site | Full Field | Scoring | History
The Carolinas Team retained the cup in 2019 after a 7 to 5 finish, notching the fourth straight victory in the Mid-Atlantic Junior Girls' Challenge Matches. The Carolinas Team needs 6 points to retain the cup and the Virginia/Maryland team needs 6.5 points to take home the trophy. The overall tournament record is Carolinas 13, Virginia/Maryland 4.
Carolinas Team Roster: Check out the video below to learn more about the 19th Carolinas Junior Girls' Team.
Chloe Holder of Anderson, S.C.

Abigail Schimpf of Daniel Island, S.C.

Morgan Ketchum of Winston-Salem, N.C.

Adrian Anderson of Murrells Inlet, S.C.

Alexia Siehl of Fort Mill, S.C.

Molly Hardwick of Lexington, S.C.

Emily Mathews of Mebane, N.C.

Isabella Britt of Chesnee, S.C.
Format: Match play team competition of junior girls from Maryland and Virginia versus junior girls from North Carolina and South Carolina. Players compete in four-ball matches in the first round and singles matches in the second round. Each match is worth one point. The Carolinas Team needs 6 points to retain the cup and the Virginia/Maryland team needs 6.5 points to win.
Eligibility: Invitation only. Team members qualify based on CGA Championship exemptions. Players must be 18 years or younger and not yet started college.
Schedule of Rounds
Saturday, August 8
Four-Ball Match Play, starting at 9:00 a.m.
Sunday, August 9
Singles Matches, starting at 8:00 a.m.

About the Carolinas Golf Association (CGA)
The CGA is a 501(c)(3) not-for-profit educational organization that was founded in 1909 to promote and to protect the game of golf in the Carolinas by providing competitions, education, support and benefits to golf clubs and golfers. The CGA is the second largest golf association in the country with over 700 member clubs represented by nearly 150,000 individuals.
The CGA annually conducts 48 championships and five team match competitions for men, women, juniors, and seniors. It also runs over 150 One-Day (net and gross) events as well as qualifying for USGA national championships. The CGA serves golf in the Carolinas with numerous programs such as: the USGA Handicap System; tournament management software and support; course measuring and course/slope ratings; agronomy consultation; answers about the Rules of Golf, Rules of Amateur Status, and Handicapping; Carolinas Golf Magazine; Interclub series; Tarheel Youth Golf Association; Carolinas Golf Hall of Fame; expense assistance for USGA Junior and Girls' Junior qualifiers from the Carolinas; and the Carolinas Golf Foundation (CGF). The CGF has distributed nearly $2,000,000 since 1977 to benefit Carolinas' golf initiatives including junior and women's programs.
For more information about the CGA, visit our website.
##30##