Carolinas Team Wins Mid-Atlantic Girls' Matches for 5th Consecutive Year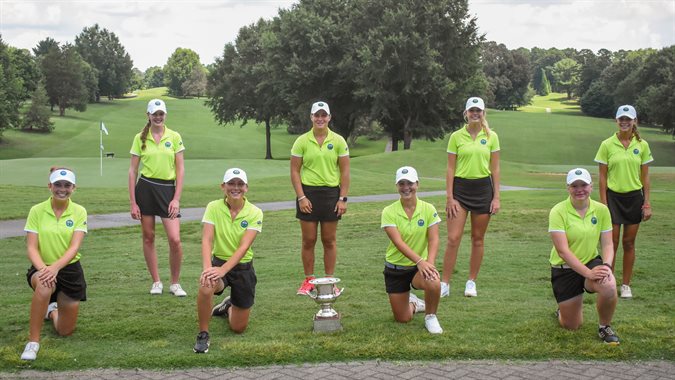 DANVILLE, V.A. (August 9, 2020) -- Final results of the 19th Mid-Atlantic Junior Girls' Challenge Matches at Danville Golf Club in Danville, Va. on August 9, 2020. (5,935 yards; Par 35-35—70)
The CGA will be conducting this championship under the new COVID-19 Tournament Protocols. Learn more here.
Related: Championship Web Site | Full Field | Scoring | History | Photos
The Carolinas Team brought home the trophy for the fifth year in a row after a record-breaking win at the 19th Mid-Atlantic Junior Girls' Challenge Matches.

The Carolinas team was able to secure all four points available in the four-ball round on Saturday by winning all four matches before ever reaching the 18th green. After such a strong start, the Carolinas team entered the singles matches today just needing two more points to retain the title.

Emily Mathews of Mebane, N.C. won the first match of the day and by the largest margin, 7 and 5 against Melanie Walker of Fairfax, Va. Adrian Anderson of Murrells Inlet, S.C. defeated Elizabeth Coffren of Owings, Md., 5 and 4 to win the sixth point for the Carolinas and seal the victory for the fifth consecutive year.

After Anderson's match, the goal was to win four more matches and break the previous Mid-Atlantic Girls' Challenge Matches record. The 2014 Carolinas Team won 9.5 points against the Virginia-Maryland team and that was the number to beat. Molly Hardwick of Lexington, S.C., Morgan Ketchum of Winston-Salem, N.C., Alexia Siehl of Fort Mill, S.C. and Chloe Holder of Anderson, S.C. assured that title by winning their matches this afternoon. Now the 2020 Carolinas Team will go down in the books with more points than any other team in tournament history.

"I am so proud of the team and their outstanding play this week," said CGA Director of Women's Golf, Maggie Watts. "They are all extremely talented and accomplished players, but I was most impressed with how they bonded together and supported each other. I couldn't be more impressed and excited for this team. Go Carolinas!"

The CGA would like to extend a thank you to the members and staff of Danville Golf Club, specifically Jan Sutherland, Head Golf Professional Craig Gunn, and Club Manager Andrew Walker for their hospitality in hosting the 19th Mid-Atlantic Junior Girls' Challenge Matches. The CGA would also like to thank the Virginia State Golf Association and the Maryland State Golf Association, specifically Courtney Jones, for putting this incredible event together this year. The Carolinas Team members would like to thank Vicki DiSantis and Teddy Stockwell for their support and guidance as captains this week.

The 19th Mid-Atlantic Girls' Challenge Matches will return to the Carolinas in 2021.
Singles Matches Results
Emily Mathews (Carolinas) def. Melanie Walker (Virginia-Maryland), 7 & 5
Adrian Anderson (Carolinas) def. Elizabeth Coffren (Virginia-Maryland), 5 & 4
Molly Hardwick (Carolinas) def. Danielle Suh (Virginia-Maryland), 4 & 3
Julie Shin (Virginia-Maryland) def. Isabella Britt (Carolinas), 2 & 1
Jenny Hua (Virginia-Maryland) def. Abbey Schimpf (Carolinas), 6 & 5
Morgan Ketchum (Carolinas) def. Ester Choi (Virginia-Maryland), 5 & 3
Alexia Siehl (Carolinas) def. Elizabeth Tucci (Virginia-Maryland), 2 & 1
Chloe Holder (Carolinas) def. Paige Warren (Virginia-Maryland), 3 & 2
Four-Ball Results
Chloe Holder & Abigail Schimpf def. Julie Shin & Elizabeth Coffren, 4 & 3
Alexia Siehl & Molly Hardwick def. Danielle Suh & Paige Warren, 5 & 4
Emily Mathews & Isabella Britt def. Ester Choi & Jenny Hua, 4 & 3
Morgan Ketchum & Adrian Anderson def. Melanie Walker & Elizabeth Tucci, 3 & 1
About the Carolinas Golf Association (CGA)
The CGA is a 501(c)(3) not-for-profit educational organization that was founded in 1909 to promote and to protect the game of golf in the Carolinas by providing competitions, education, support and benefits to golf clubs and golfers. The CGA is the second largest golf association in the country with over 700 member clubs represented by nearly 150,000 individuals.
The CGA annually conducts 48 championships and five team match competitions for men, women, juniors, and seniors. It also runs over 150 One-Day (net and gross) events as well as qualifying for USGA national championships. The CGA serves golf in the Carolinas with numerous programs such as: the USGA Handicap System; tournament management software and support; course measuring and course/slope ratings; agronomy consultation; answers about the Rules of Golf, Rules of Amateur Status, and Handicapping; Carolinas Golf Magazine; Interclub series; Tarheel Youth Golf Association; Carolinas Golf Hall of Fame; expense assistance for USGA Junior and Girls' Junior qualifiers from the Carolinas; and the Carolinas Golf Foundation (CGF). The CGF has distributed nearly $2,000,000 since 1977 to benefit Carolinas' golf initiatives including junior and women's programs.
For more information about the CGA, visit our website.
##30##