US Amateur Four-Ball Qualifying Results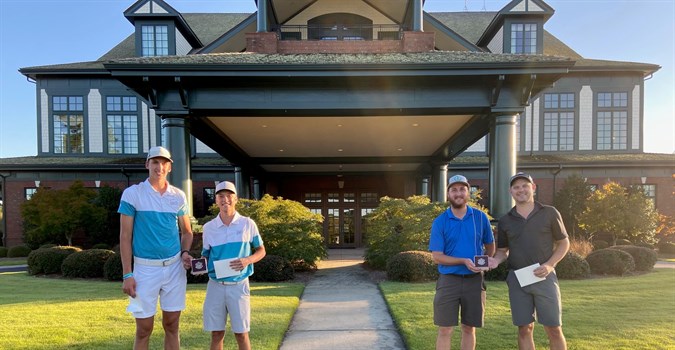 WALLACE, N.C. (October 1, 2020) -- Final results from USGA U.S. Amateur Four-Ball Sectional Qualifying for 2021 at River Landing's Landing Course in Wallace, N.C. on Thursday, October 1, 2020 (7100 yards, par 36-36--72).
Two qualifying spots and two alternate positions were available at this qualifying site.
The side of Drew Hackett from Charlotte, NC & Christofer Rahm from Sweden joined the side of Evan Boyer from Morrisville, NC & Garett Heffner from Apex, NC in qualifying for the 2021 US Amateur Four-Ball Championship. The two sides shot matching scores of six-under-par 66 to share co-medalist honors.
The two qualifying sides will advance to the 2021 US Amateur Four-Ball Championship at Chambers Bay in University Place, Wash.
Hole-by-hole scoring can be viewed here: https://www.golfgenius.com/pages/2336662
This qualifier was conducted by the Carolinas Golf Association on behalf of the United States Golf Association.
U.S. Amateur Four-Ball Sectional Qualifying Results
River Landing (Landing Course)
Wallace, NC
Pos.

Players

Hometown

To Par

Total Score

T1

Drew Hackett + Christofer Rahm

Charlotte, NC, Sweden,

-6

66

T1

Evan Boyer + Garett Heffner

Morrisville, NC, Apex, NC

-6

66

The following players did not make the cut

CUT

Noah Connor + Zack Swanson

Reidsville, NC, Charlotte, NC

-5

67

1st Alternate

CUT

Nicholas Mathews + Caleb Surratt

Mebane, NC, Indian Trail, NC

-5

67

2nd Alternate

CUT

McClure Thompson + Gene Zeigler

Florence, SC

-5

67

CUT

Christian Baliker + Dawson Holmes

Charleston, SC

-5

67

CUT

Brian Gauley + Mark Gauley

Wake Forest, NC, Raleigh, NC

-4

68

CUT

Matthew Crenshaw + Trey Howell

Burlington, NC, Wilmington, NC

-4

68

CUT

David Shambley + Will Shambley

Raleigh, NC, Wilmington, NC

-4

68

CUT

William Buchanan + Jacob Garner

Greensboro, NC, Wilmington, NC

-4

68

CUT

Connor Fahey + Benjamin Loudermilk

Greenville, SC, Anderson, SC

-3

69

CUT

Bubba Aughtry + Joe Jaspers

Charlotte, NC, Huntersville, NC

-3

69

CUT

Blake McShea + Lansdon Robbins

Zebulon, NC, Davidson, NC

-3

69

CUT

Colton Makowiec + Thomas Messenheimer

Morganton, NC

-2

70

CUT

Christopher Blum + Peter Michaels

Raleigh, NC, Durham, NC

-2

70

CUT

Caden Baker + Walker Isley

Mebane, NC, Oak Island, NC

-2

70

CUT

Whitten Meares + John Pitt

Charleston, SC, Raleigh, NC

-2

70

CUT

Jackson Bode + Jackson Van Paris

Pinehurst, NC

-2

70

CUT

John Leak + Zake Masterson

Charlotte, NC, Bluffton, SC

-2

70

CUT

Robert Mason + Drew Steffens

Raleigh, NC

-2

70

CUT

Ian Aldarondo + Beau Coenraad

Puerto Rico,, Netherlands,

-1

71

CUT

Justin Emmons + Nick Lyerly

Asheboro, NC, Salisbury, NC

-1

71

CUT

Steven Brame + Brandon Reece

Henderson, NC, Wake Forest, NC

-1

71

CUT

Henry Angier + Zane Brownrigg

Grasonville, MD, Cincinnati, OH

-1

71

CUT

Jaxon Eck + Garrett Engle

Harrisburg, PA

-1

71

CUT

John Blackwell + Jay Roberts

Wilmington, NC, Concord, NC

E

72

CUT

Donald Cosler + Tad Galloway

Durham, NC, Cary, NC

+1

73

CUT

Preston Edmondson + Gary Robinson

Morrisville, NC, Fayetteville, NC

+1

73

CUT

Sean Miller + Steven Wieder

Greenville, SC, Yonkers, NY

+1

73

CUT

Kyle Carranza + Kyle Niemann

Hollywood, MD, Charleston, SC

+1

73

CUT

Jonathan Ishee + Thomas Wagner

Charlotte, NC

+1

73

CUT

Todd Bryant + Stephen Hales

Fuquay Varina, NC

+2

74

CUT

Mark Cherry + Jeremy Fair

Raleigh, NC, Cary, NC

+2

74

CUT

Daniel Bowden + Jonathan Bowden

Wilmington, NC

+2

74

CUT

Luke Coates + Dylan Thompson

Florence, SC

+2

74

CUT

Scott Burnett + Dwayne Simpson

Charlotte, NC, Mint Hill, NC

+2

74

CUT

Troy Miller + Austin Morgan

Charleston, SC

+3

75

CUT

Ross Bell + Mike Griffin

Raleigh, NC

+3

75

CUT

Patrick Girard + Kyle Mattila

Charlotte, NC

+4

76

CUT

Kevin Atamian + Dan Harding

Raleigh, NC, Apex, NC

+4

76

CUT

Bill Hyder + Rush Shull

Charlotte, NC

+5

77

CUT

Robert Mulcahy + Joey Rinaldi

Gladstone, NJ, Buffalo, NY

+5

77

CUT

Carson Walthall + Glenn Walthall

Charlotte, NC

+6

78

CUT

Connor Leonard + Timothy Leonard

Raleigh, NC, Cary, NC

+7

79

CUT

Chris Fowler + Wheeler Frost

Charlotte, NC

+7

79