Cape Fear Maintains Lead Entering Women's Club Team Final Round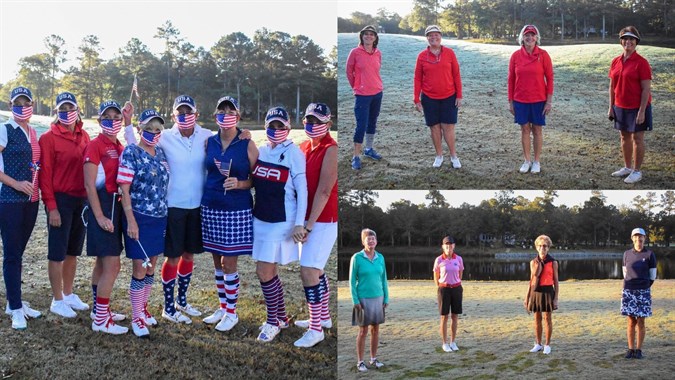 WALLACE, N.C. (October 14, 2020) -- Second round results of the 4th Carolinas Women's Club Team Championship at River Landing Golf Club (Landing) in Wallace, N.C. on October 14, 2020. The field is competing at approximately 5,060 yards, par 72.
The CGA will be conducting this championship under the COVID-19 Tournament Protocols. Learn more here.
Related: Championship Web Site | Full Field | Starting Times | Scoring | History | Photos
Cape Fear Country Club has maintained their lead at the Carolinas Women's Club Team Championship after Natalie Petersen and Teresa Balkcum of Wilmington, N.C. tied the low round of the day again at 3-under-par, 69. The Cape Fear side of Libby Neil and Debbie Long of Wilmington, N.C. shot 1-under-par, 71 in the four-ball stroke play round today to bring the two-day team total to 14-under-par, 274. Cape Fear now leads the pack by six strokes.


Patty Moore and Sally Means of Pinehurst, N.C. also fired off a 3-under-par, 69 in the second round to help Pinehurst Country Club secure second position. The other half of the team, Donna Tanner and Kendra Muir of Pinehurst, N.C. carded 1-over-par, 73 to finish just six strokes shy of the lead at 8-under-par, 280 overall. While the three-time defending champions have some work to do in round three, they must feel confident knowing that their club is the final round format's namesake, Pinehurst Alternate Shot.


Entering the final round, River Landing Golf Club is in third position at 5-over-par, 293, Cowan's Ford Country Club is in fourth at 16-over-par, 304 and Compass Pointe Golf Club has staked fifth at 24-over-par, 312.


In the Carolinas Division, Wildwood Green Golf Club still holds their lead at net 4-under-par, 284 overall. However Pinehurst Country Club has closed the gap, now just one stroke off the lead at net 3-under-par, 285. The home team, River Landing Golf Club has climbed their way into the top-3 after a strong round today, finishing at net 1-over-par, 289 overall.


Thursday's final round format is Pinehurst Alternate Shot with tee times from 8:30 a.m. to 10:31 a.m. To view the full leaderboard click the scoring link above.
Schedule of Final Round:
Thursday, October 15
Final Round - 18 Holes of Pinehurst Alternate Shot
Starting times from 8:30 a.m. to 10:31 a.m. off of #1 tee
About the Carolinas Golf Association (CGA)
The CGA is a 501(c)(3) not-for-profit educational organization that was founded in 1909 to promote and to protect the game of golf in the Carolinas by providing competitions, education, support and benefits to golf clubs and golfers. The CGA is the second largest golf association in the country with over 700 member clubs represented by nearly 150,000 individuals.
The CGA annually conducts 48 championships and five team match competitions for men, women, juniors, and seniors. It also runs over 150 One-Day (net and gross) events as well as qualifying for USGA national championships. The CGA serves golf in the Carolinas with numerous programs such as: the USGA Handicap System; tournament management software and support; course measuring and course/slope ratings; agronomy consultation; answers about the Rules of Golf, Rules of Amateur Status, and Handicapping; Carolinas Golf Magazine; Interclub series; Tarheel Youth Golf Association; Carolinas Golf Hall of Fame; expense assistance for USGA Junior and Girls' Junior qualifiers from the Carolinas; and the Carolinas Golf Foundation (CGF). The CGF has distributed nearly $2,000,000 since 1977 to benefit Carolinas' golf initiatives including junior and women's programs.
For more information about the CGA, visit our website.
##30##