Cape Fear Captures Carolinas Women's Club Team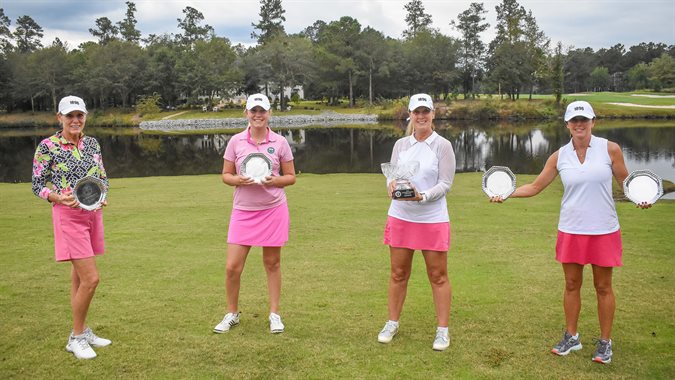 WALLACE, N.C. (October 15, 2020) -- Final results of the 4th Carolinas Women's Club Team Championship at River Landing Golf Club (Landing) in Wallace, N.C. on October 15, 2020. The field competed at approximately 5,060 yards, par 72.
The CGA conducted this championship under the COVID-19 Tournament Protocols. Learn more here.
Related: Championship Web Site | Full Field | Starting Times | Scoring | History | Photos
Cape Fear Country Club has made their mark capturing the 4th Carolinas Women's Club Team Championship. The newly minted CGA champions are the first team to ever beat three-time champions, Pinehurst Country Club and they did it in nail-biting fashion.
Entering the final round, Cape Fear Country Club had a six stroke lead at 14-under-par, 274, but in the final round Pinehurst Alternate Shot format, anything can happen. Natalie Petersen and Teresa Balkcum of Wilmington, N.C. finished with 3-over-par, 75. Their score, along with the 6-over-par, 78 carded by Debbie Long and Libby Neil of Wilmington, N.C., brought Cape Fear to 5-under-par, 427 overall.
"We have four solid competitors with very different games," said Cape Fear's Team Captain Libby Neil. "Natalie (Petersen) is young and plays long and I'm older and hit down the middle. We just make a really good competitive team, because we all fight until the end."
Fight is exactly what they needed to do as Pinehurst's team felt right at home in the alternate shot format named after their home club. Patty Moore and Kendra Muir of Pinehurst, N.C. shot the low round of the day at 2-over-par, 74. Their teammates, Donna Tanner and Sally Means of Pinehurst, N.C., tied Cape Fear's low round at 3-over-par, 75. Despite the big final push, the defending champions fell just two strokes shy of a fourth consecutive title.
"This win means everything," said Neil. "Our Ladies' Golf Association is really strong at Cape Fear and I believe this will inspire some of the ladies there. We are so excited for our club and proud to represent the oldest private golf club in North Carolina."
The home team, River Landing Golf Club captured solo third at 24-over-par, 456 total. Three-time runners-up, Cowan's Ford Country Club finished in fourth this year at 35-over-par, 467 overall.
In the Carolinas Division, Pinehurst Country Club made a major comeback today to take home the trophy. The Carolinas Division reigning champions were one back heading into the final round, but ended the day winning by six strokes at net 7-under-par, 425 overall.
The first and second round leaders, Wildwood Green Golf Club finished in second place at net 1-under-par, 431 total. Third was staked by the home team, River Landing Golf Club at net 3-over-par, 435 overall.
To view the full leaderboard, click the scoring link above.
The CGA would like to extend a thank you to the members and staff of River Landing Golf Club for their hospitality in hosting the 4th Carolinas Women's Club Team Championship. We would also like to thank the players and spectators for their understanding and adherence to our COVID-19 tournament protocols.
About the Carolinas Golf Association (CGA)
The CGA is a 501(c)(3) not-for-profit educational organization that was founded in 1909 to promote and to protect the game of golf in the Carolinas by providing competitions, education, support and benefits to golf clubs and golfers. The CGA is the second largest golf association in the country with over 700 member clubs represented by nearly 150,000 individuals.
The CGA annually conducts 48 championships and five team match competitions for men, women, juniors, and seniors. It also runs over 150 One-Day (net and gross) events as well as qualifying for USGA national championships. The CGA serves golf in the Carolinas with numerous programs such as: the USGA Handicap System; tournament management software and support; course measuring and course/slope ratings; agronomy consultation; answers about the Rules of Golf, Rules of Amateur Status, and Handicapping; Carolinas Golf Magazine; Interclub series; Tarheel Youth Golf Association; Carolinas Golf Hall of Fame; expense assistance for USGA Junior and Girls' Junior qualifiers from the Carolinas; and the Carolinas Golf Foundation (CGF). The CGF has distributed nearly $2,000,000 since 1977 to benefit Carolinas' golf initiatives including junior and women's programs.
For more information about the CGA, visit our website.
##30##