Preview: 43rd Carolinas Club Championship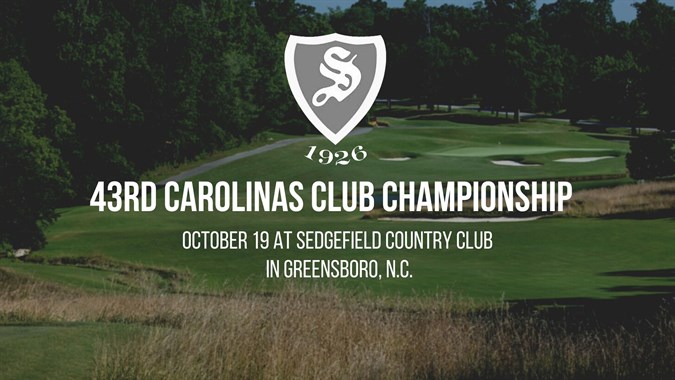 SOUTHERN PINES, N.C. (October 16, 2020) -- The Carolinas Golf Association will conduct the 43rd Carolinas Club Championship at Sedgefield Country Club in Greensboro N.C. on Monday, October 19, 2020.
The CGA will be conducting this championship under the COVID-19 Tournament Protocols. Learn more here.
Related: Championship Web Site | Starting Times | Scoring | History
The Carolinas Club Championship returns to Sedgefield Country Club for the seventh consecutive year. A great friend to the Carolinas Golf Association, this marks the 21st CGA Championship hosted by Sedgefield Country Club.
Sedgefield was the first home to the Greater Greensboro Open when it started in 1938, alternating with Starmount Country Club until 1961, and hosting every year until 1976. The tournament returned to Sedgefield in 2008 with the name Wyndham Championship; the final event of the PGA TOUR regular season.
Teams in the Carolinas Club Championship may be made up of a male or female golf professional who is a member of the club's golf professional staff employed by a Carolinas Golf Association Member Club and a male or female amateur golfer who is a member in good standing of the same CGA Member Club. Teams may also be made up of two amateur golfers, male or female, who are members in good standing of the same CGA Member Club.
A total of 52 sides will compete in this year's event. The host club will be represented by amateurs, Chris Cassetta of High Point, N.C. and Thomas Bonney of Greensboro, N.C.
Brian Kittler and Bill Smith of Raleigh, N.C. are the only fully-intact Championship winning team back in this year's event and they will represent Raleigh Country Club.
The championship is conducted at 18 holes of four-ball stroke play. Gross scores only. A tie for the overall championship is decided by an on-course playoff. All other ties will be split.
Schedule:
Monday, October 19
Round 1: 18 Holes Four-Ball Stroke Play
Tee times begin at 9:00 a.m.