Miller and Cornett Win the 43rd Carolinas Club Championship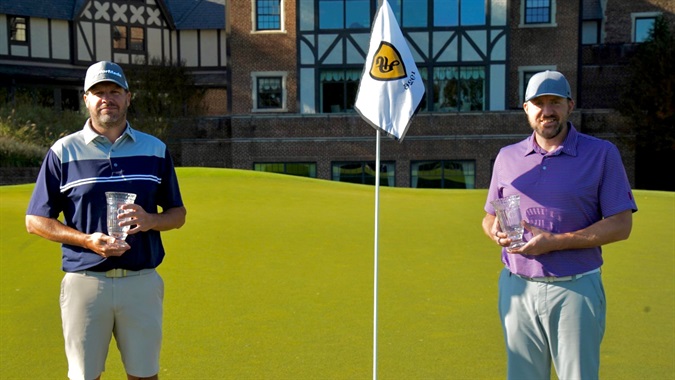 SOUTHERN PINES, N.C. (October 19, 2020) – Final results of the 43rd Carolinas Club Championship at Sedgefield Country Club in Greensboro N.C. on Monday, October 19, 2020.
Related: Championship Web Site | Starting Times | Scoring | History | Photos
"Don't make a bogey. Worked for me!"
This was the advice given by CGA alum and 2019 Wyndham Championship winner, J.T. Poston, to the players taking on Sedgefield Country Club in Monday's Carolinas Club Championship.
Poston played bogey-free for all 72 holes of his first PGA TOUR win last fall at Sedgefield. The same could not be said for this year's Carolinas Club Champions.
Don't make a bogey. Worked for me! https://t.co/aELnJJxAyG

— J.T. Poston (@JT_ThePostman) October 19, 2020
The team representing Boone Golf Club, Tommy Miller of Blowing Rock, N.C. and John Cornett of Boone, N.C., began their round on Sedgefield's 10th hole and by their fifth hole of play, they were already two-over-par after making bogeys on Nos. 11 and 14.
"I was telling Tommy, this is the kick in the pants we need," said Cornett about the rough start. "With the greens as fast as they were and these tough pin positions, we knew it was going to be an uphill battle. I wasn't thinking about winning at that point but it was kind of evident that maybe a 63 wasn't going to happen out here, so I just said we need to make birdies and that's what we did"
The duo birdied the next four holes to go from 2-over-par after only five holes, to 2-under-par at the turn. From there, they played exactly how you need to if you're going to win a four-ball event. When one player was out, the other was making an important par or a birdie.
When Cornett made a birdie on the par-3, third hole, Miller answered with a birdie on the par-4, fourth. Miller saved par on the par-5, fifth hole and Cornett returned the favor on the par-4, sixth. They went back-and-forth like this until their final hole where Miller made a birdie on the par-4, ninth hole to finish the Championship at 6-under-par, 65.
"This is a CGA Championship," said Miller. "To win something like this, it means our name will be in the record books forever."
Two teams narrowly missed forcing a playoff including the side of Joseph Cansler of Clemmons, N.C. and Marcy Newton of Winston-Salem, N.C. and the side of Chris Cassetta of High Point, N.C. and Thomas Bonney of Greensboro, N.C. Both teams finished the Championship one shot back after firing rounds of 5-under-par, 66. Cansler and Newton represented Jamestown Golf Association and Cassetta and Bonney represented the host club, Sedgefield Country Club.
The CGA would like to extend a thank you to the members and staff of Sedgefield Country Club for their hospitality in hosting the 43rd Carolinas Club Championship, especially Director of Golf Rocky Brooks, Director of Sales & Catering Travis Huddleston and McConnell Golf. We would also like to thank the players and spectators for their understanding and adherence to our COVID-19 tournament protocols.
43rd Carolinas Club Championship
Sedgefield Country Club, Greensboro, N.C.
Final Results
| | | | | |
| --- | --- | --- | --- | --- |
| Pos. | Players | Home Club | To Par | Total |
| 1 | Tommy Miller + John Cornett | Boone Golf Club | -6 | 65 |
| T2 | Joseph Cansler + Marcy Newton | Jamestown Golf Assn | -5 | 66 |
| T2 | Chris Cassetta + Thomas Bonney | Sedgefield Country Club | -5 | 66 |
| 4 | Matthew Crews + Nicholas Jacobi | Monroe Country Club | -4 | 67 |
| T5 | Courtney Faircloth + Kyle Akins | Bentwinds Country Club | -3 | 68 |
| T5 | Jack Brown + Jonathan Coleman | Musgrove Mill Golf Club | -3 | 68 |
| T5 | Robert Lutomski + Garland Ferrell | Holly Tree Country Club | -3 | 68 |
| T8 | Cameron Hardison + Greg Hardison | Brook Valley Country Club | -2 | 69 |
| T8 | Stephen Lavenets + Dermot McElhennon | F S C Golf Club | -2 | 69 |
| T8 | Peter Michaels + Christopher Blum | Brier Creek Country Club | -2 | 69 |
| T8 | Matthew Crenshaw + Dustin Moore | Alamance Country Club | -2 | 69 |
| T8 | Brian Kittler + Bill Smith | Raleigh Country Club | -2 | 69 |
| T13 | Louis Matroni + Jon Eggers | Prestonwood Country Club | -1 | 70 |
| T13 | Joe Wood + Nicholas Gunnell | Cedarbrook Country Club | -1 | 70 |
| T13 | Chris Holland + Matt Hudson | Highland Country Club | -1 | 70 |
| T13 | Gary Robinson + James Giovanni | King's Grant Golf & CC | -1 | 70 |
| T13 | Van Nance + Brad Mundy | Hampton Heights Golf Club | -1 | 70 |
| T13 | John Pitt + Nate Eaton | Carolina Country Club | -1 | 70 |
| T13 | Stephen Sawyer + Allen Avera | Carolinas eClub Sandhills | -1 | 70 |
| T13 | Andy Zachowicz + Alex Hefner | Rock Barn Golf & Spa | -1 | 70 |
| T21 | Zachary Harris + Steven Dellinger | Gaston Country Club | E | 71 |
| T21 | Thomas Owen + Billy West | Highland Country Club | E | 71 |
| T21 | Justin Miller + Alex Nianouris | Wildwood Green Golf Club | E | 71 |
| T21 | Jim Brotherton + Curtis Brotherton | High Point Country Club | E | 71 |
| T21 | Evan Rodwell + Kevin Busteed | Pine Island Country Club | E | 71 |
| T21 | Chip Wells + Will Morgan | Scotch Meadows Country Club | E | 71 |
| T21 | Dean Nance + Doug Ramey | Musgrove Mill Golf Club | E | 71 |
| T28 | Mark Williams + Jefferson Duncan | New Bern Golf & Country Club | +1 | 72 |
| T28 | KERNEY Black + Mallory Fobes | Maple Chase G&CC | +1 | 72 |
| T28 | Britt Mitchell + Todd Downes | Finley Golf Course - U N C | +1 | 72 |
| T28 | Michael Swiger + Justin Harvey | Club at 12 Oaks | +1 | 72 |
| T32 | Frank Maynard III + Aaron York | Finley Golf Course - U N C | +2 | 73 |
| T32 | Patrick Horneman + David McMahan | Gaston Country Club | +2 | 73 |
| T32 | Garrett Kachellek + Mitch Schneider | Cedarwood Country Club | +2 | 73 |
| T32 | Timothy Driver + Andy Gregory | Club at 12 Oaks | +2 | 73 |
| T36 | Ed Lawing + Ross Henson | Northstone Club, LLC | +3 | 74 |
| T36 | Hunter Freeman + Scott Clagg | Lonnie Poole G.C. @ N.C.S.U. | +3 | 74 |
| T36 | Tyler Blaschak + Mike Bonello | Old Chatham Golf Club | +3 | 74 |
| T36 | Taylor Britt + Christopher Moye | Wildwood Green Golf Club | +3 | 74 |
| T36 | Miles Young + Aaron Kay | Duke University Golf Club | +3 | 74 |
| T36 | Dave Koster + Thomas Krpicak | Salem Glen Country Club | +3 | 74 |
| T42 | George Patterson + Jim Cillo | Reserve Club at Woodside Pltn. | +4 | 75 |
| T42 | Jordan Thompson + Bob McGee | Old Chatham Golf Club | +4 | 75 |
| T42 | Tad Galloway + Brandon Bryce | Prestonwood Country Club | +4 | 75 |
| T45 | Michael Porte + Ben Firebaugh | Bermuda Run Country Club | +5 | 76 |
| T45 | Rick Clanton + Ryan Clanton | Cedar Rock Golf & Country Club | +5 | 76 |
| T45 | Wesley Faulkenbury + Scott Newnam | Challenge Golf Club | +5 | 76 |
| T48 | Bill Jones + Greg Brastow | Valley at Eastport | +6 | 77 |
| T48 | Matthew Daugherty + Tom Markey | Carolinas eClub Sandhills | +6 | 77 |
| 50 | Mike Fields + tony Austin | Pine Needles Resort | +7 | 78 |
| 51 | Micah Helms + Michael Spillman | Cedarbrook Country Club | +11 | 82 |
| 52 | Jeff Aden + John Reisner | Carolinas eClub Raleigh, Carolinas eClub Charlotte | +12 | 83 |