Final Results of the Carolinas Collegiate Showcase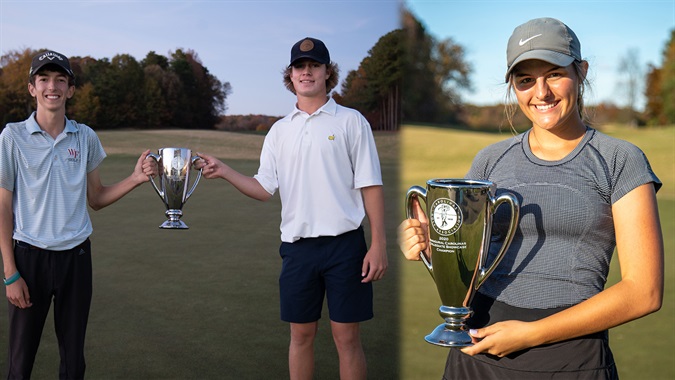 Click here for our photo gallery
GREENSBORO, N.C. (November 8, 2020) -- Final results of the Inaugural Carolinas Collegiate Showcase at Grandover Resort (East and West) in Greensboro, N.C. on Sunday, November 8, 2020. Each golfer played both courses and the yardages are as follows. East Course: Boys - 7,205 yards, Girls - 6,005 yards (36-36--72). West Course: Boys - 6,800 yards, Girls - 6,125 yards (36-36--72).
The CGA conducted this championship under the COVID-19 Tournament Protocols. Learn more here.
Related: Championship Web Site | Full Field of Players | Starting Times | Scoring | Photos
Girls' Division
Paige Paolucci (Class of 2022) of Blythewood, S.C., fired a final round score of 73 to pull off the come-from-behind victory to claim the Girls' Division title at the Carolinas Collegiate Showcase.
"It feels great," said Paolucci." This was my first win in a tournament and I was really happy with how I played today because I had a bad run yesterday, so bouncing back today really meant a lot to me."
Both courses were set up this week to test our players on similar course conditions as one might experience in a collegiate event. Paolucci's 1-over-par, 73 was the low round of the entire event in the Girls' Division. Her 159 total was enough for a two-shot victory over her nearest competitor.
"We've always talked about how much junior golf talent there is in the Carolinas and we wanted to create an event that is focused on the recruiting aspect of getting players ready for college golf," said CGA Senior Tournament Manager, Chris Wolff. "We had a college golf setup that would be really similar to a UNC Greensboro collegiate event where we used the same tees they'd play to give our competitors a good feel for what a college event will really be like."
Sahana Mantha (Class of 2025) of Charlotte, N.C. finished in solo second place with a 161 total. Mary Sears Brown (Class of 2021) of Wake Forest, N.C. and Caroline Johnson (Class of 2023) of Mooresville, N.C. finished tied for third place with a 163 total. Kaitlyn Rand (Class of 2022) of Raleigh, N.C. rounded out the top five in the Girls' Division, finishing with a 166 total. Rand also made her first hole-in-one in Sunday's final round on the par-3, 11th hole on Grandover's West Course.
Boys' Division
Over 140 players competed in our Boys' Division of the Carolinas Collegiate Showcase and at the end of 36 holes, both Josh Buxbaum (Class of 2021) of Wake Forest, N.C. and Jackson Bode (Class of 2022) of Pinehurst, N.C. were crowned co-champions.
"It feels really good," Buxbaum said. "Both courses played very hard but I played well and it was a cool experience to get my first win of the year."
Buxbaum and Bode, who both shot a 3-under-par, 141 total, were the only two players in the field to finish under par on this challenging setup.
"The courses were in really great shape," Bode said. "It just feels really great to get the job done finally and I'm really looking forward to future tournaments down the road."
Michael La Sasso (Class of 2022) of Raleigh, N.C. finished the event in third place at 1-over-par, 145 total. Keenan Royalty (Class of 2023) of Raleigh, N.C., finished the event in fourth place at 2-over-par, 146. Rounding out the top five in our Boys' Division was Nolan Hawkins of Hilton Head Island, S.C. who finished at 3-over-par, 147 total. Hawkins represented the Carolinas Team earlier this summer in the Carolinas-Virginias Junior Team Matches at the Country Club of North Carolina.
The CGA would like to extend a thank you to the members and staff of Grandover Resort, specifically to Director of Golf, Jonathan York, Director of Convention Services, Mariah Bailey and East Course Superintendent, Daniel Knight, West Course Superintendent, Jorge Nava Alcantara and Director of Course and Grounds, Russell Hill. We would also like to thank the players, coaches and spectators for their understanding and adherence to the new COVID-19 tournament protocols.
Inaugural Carolinas Collegiate Showcase
Grandover Resort (East and West), Greensboro, N.C.
Girls' Division: Final Results
| | | | | | |
| --- | --- | --- | --- | --- | --- |
| Pos. | Player | City, State, Grad Year | R1 | R2 | Total |
| 1 | Paige Paolucci | Blythewood, SC, 2022 | 86 | 73 | 159 |
| 2 | Sahana Mantha | Charlotte, NC, 2025 | 83 | 78 | 161 |
| T3 | Mary Sears Brown | Wake Forest, NC, 2021 | 86 | 77 | 163 |
| T3 | Caroline Johnson | Mooresville, NC, 2023 | 82 | 81 | 163 |
| 5 | Kaitlyn Rand | Raleigh, NC, 2022 | 82 | 84 | 166 |
| 6 | Katelyn Griggs | Lexington, NC, 2022 | 86 | 83 | 169 |
| 7 | Sophia Martone | Holly Springs, NC, 2021 | 88 | 82 | 170 |
| T8 | Ella Kue | King Mountain, NC, 2023 | 88 | 83 | 171 |
| T8 | Sidney Renville | Cary, NC, 2022 | 88 | 83 | 171 |
| T10 | Mary-Paige King | Clemmons, NC, 2023 | 91 | 81 | 172 |
| T10 | Eleanor Burnette | Wrightsville Beach, NC, 2023 | 86 | 86 | 172 |
| T12 | Annalee Caveney | Raleigh, NC, 2024 | 91 | 82 | 173 |
| T12 | Maci Beaver | Roanoke Rapids, NC, 2021 | 88 | 85 | 173 |
| T12 | May McDonnell | Charlotte, NC, 2022 | 85 | 88 | 173 |
| 15 | Scotty Foley | Harrisburg, NC, 2021 | 91 | 83 | 174 |
| T16 | Lily Kate Watson | Raleigh, NC, 2023 | 92 | 83 | 175 |
| T16 | Terra Schmitt | Raleigh, NC, 2023 | 89 | 86 | 175 |
| 18 | Emma Niebauer | High Point, NC, 2022 | 92 | 84 | 176 |
| 19 | Kate Dann | Charlotte, NC, 2023 | 93 | 84 | 177 |
| 20 | Elli Flinchum | Summerfield, NC, 2022 | 93 | 85 | 178 |
| T21 | Ava Romfo | Charleston, SC, 2021 | 93 | 86 | 179 |
| T21 | Jenna Rutledge | Beaufort, NC, 2022 | 92 | 87 | 179 |
| T21 | Makenzie Norwood | Kiawah, SC, 2022 | 91 | 88 | 179 |
| 24 | Madelyn Linares | Cary, NC, 2023 | 97 | 84 | 181 |
| T25 | Allison Robinson | Pinehurst, NC, 2021 | 99 | 87 | 186 |
| T25 | Claudia Winterberg | Harrisburg, NC, 2021 | 98 | 88 | 186 |
| T25 | Abbie Daquila | Mount Pleasant, NC, 2021 | 95 | 91 | 186 |
| 28 | Sloane Spessard | Raleigh, NC, 2024 | 95 | 93 | 188 |
| T29 | Briah Frisbee | Leicester, NC, 2021 | 98 | 95 | 193 |
| T29 | Maggie Magner | Charlotte, NC, 2022 | 95 | 98 | 193 |
| 31 | Melissa Wyman | Waxhaw, NC, 2022 | 101 | 96 | 197 |
| 32 | Kyleigh Whittemore | Graham, NC, 2021 | 99 | 101 | 200 |
| 33 | Catherine DeSiena | Oak Ridge, NC, 2024 | 105 | 97 | 202 |
| 34 | Monica Solis | Clemmons, NC, 2021 | 102 | 107 | 209 |
| 35 | Ashlyn Strickland | Greensboro, NC, 2022 | 102 | 109 | 211 |
| WD | Madison Myers | Cary, NC, 2025 | 95 | | |
| DQ | Tayelor Morgan | Columbia, SC, 2021 | | | |
Inaugural Carolinas Collegiate Showcase
Grandover Resort (East and West), Greensboro, N.C.
Boys' Division: Final Results
| | | | | | |
| --- | --- | --- | --- | --- | --- |
| Pos. | Player | City, State, Grad Year | R1 | R2 | Total |
| T1 | Josh Buxbaum | Wake Forest, NC, 2021 | 70 | 71 | 141 |
| T1 | Jackson Bode | Pinehurst, NC, 2022 | 70 | 71 | 141 |
| 3 | Michael La Sasso | Raleigh, NC, 2022 | 73 | 72 | 145 |
| 4 | Keenan Royalty | Raleigh, NC, 2023 | 70 | 76 | 146 |
| 5 | Nolan Hawkins | Hilton Head Island, SC, 2022 | 72 | 75 | 147 |
| T6 | Cayden Bryner | Winston-Salem, NC, 2022 | 75 | 73 | 148 |
| T6 | Samuel Mace | Connelly Springs, NC, 2022 | 73 | 75 | 148 |
| T6 | Andrew Plate | Greensboro, NC, 2021 | 72 | 76 | 148 |
| T9 | WIlson Thrift | Charlotte, NC, 2022 | 72 | 77 | 149 |
| T9 | Cornell Beans | Charlotte, NC, 2024 | 71 | 78 | 149 |
| T9 | Jace Butcher | Wake Forest, NC, 2023 | 76 | 73 | 149 |
| T9 | Kyle Kushnir | Raleigh, NC, 2021 | 73 | 76 | 149 |
| T13 | Tyler DeChellis | Clayton, NC, 2021 | 74 | 76 | 150 |
| T13 | Owen Kose | Holly Springs, NC, 2022 | 82 | 68 | 150 |
| T13 | Branden Boyce | Spring Lake, NC, 2022 | 82 | 68 | 150 |
| T16 | Colin Dutton | Foxfire, NC, 2021 | 74 | 77 | 151 |
| T16 | Steven Shea | Charlotte, NC, 2023 | 72 | 79 | 151 |
| T16 | Ethan Paschal | Fayetteville, NC, 2024 | 84 | 67 | 151 |
| T16 | Ryan Macri | Wake Forest, NC, 2021 | 79 | 72 | 151 |
| T20 | William Grasty | Charlotte, NC, 2022 | 74 | 78 | 152 |
| T20 | Nick Goellner | Apex, NC, 2023 | 70 | 82 | 152 |
| T20 | Jake Conklin | Cary, NC, 2022 | 77 | 75 | 152 |
| T23 | Bradley Davis, Jr. | Pilot Mountain, NC, 2022 | 77 | 76 | 153 |
| T23 | Zach Kupiec | Greensboro, NC, 2024 | 75 | 78 | 153 |
| T23 | Noah Bumgarner | Lenoir, NC, 2021 | 73 | 80 | 153 |
| T23 | Tyler Partee | Thomasville, NC, 2021 | 78 | 75 | 153 |
| T23 | Kyle Haas | Winston Salem, NC, 2023 | 77 | 76 | 153 |
| T23 | Jake Clayton | Burlington, NC, 2022 | 76 | 77 | 153 |
| T29 | Benjamin Peters | Winston-salem, NC, 2021 | 81 | 73 | 154 |
| T29 | Jeremy Edmunds | Charlotte, NC, 2022 | 78 | 76 | 154 |
| T29 | Davis Spradling | Clayton, NC, 2021 | 76 | 78 | 154 |
| T29 | Tyler Jones | Jacksonville, NC, 2023 | 75 | 79 | 154 |
| T33 | Luke Sullivan | Columbia, SC, 2022 | 75 | 80 | 155 |
| T33 | Daniel Adkins | Holly Springs, NC, 2021 | 72 | 83 | 155 |
| T33 | Gray Mitchum | Winterville, NC, 2022 | 77 | 78 | 155 |
| T33 | Ben Jordan | Greensboro, NC, 2022 | 76 | 79 | 155 |
| T37 | Cole Wright | Wake Forest, NC, 2022 | 79 | 77 | 156 |
| T37 | Nick Kleu | Cary, NC, 2022 | 78 | 78 | 156 |
| T37 | Holland Giles | Pinehurst, NC, 2023 | 78 | 78 | 156 |
| T37 | Simon Burgos | Raleigh, NC, 2022 | 78 | 78 | 156 |
| T37 | Davis DeLille | High Point, NC, 2022 | 77 | 79 | 156 |
| T42 | James-Paul Wagner | Cary, NC, 2025 | 77 | 80 | 157 |
| T42 | Jack Burris | Greensboro, NC, 2021 | 81 | 76 | 157 |
| T42 | Connor Brown | Cherryville, NC, 2021 | 76 | 81 | 157 |
| T42 | Taft Courie | Fayetteville, NC, 2026 | 74 | 83 | 157 |
| T42 | Jennings Glenn | Raleigh, NC, 2021 | 84 | 73 | 157 |
| T42 | William Webb | Raleigh, NC, 2024 | 81 | 76 | 157 |
| T42 | Will Conway | Weddington, NC, 2021 | 81 | 76 | 157 |
| T42 | Drew Walker | Advance, NC, 2021 | 80 | 77 | 157 |
| T42 | Benjamin Bailey | Huntersville, NC, 2022 | 80 | 77 | 157 |
| T42 | Calvin Hawkins | Lexington, NC, 2023 | 79 | 78 | 157 |
| T52 | Colson McNulty | Aiken, SC, 2021 | 80 | 78 | 158 |
| T52 | Ryan McCarthy | Cary, NC, 2022 | 74 | 84 | 158 |
| T54 | Owen Pearce | Winston-Salem, NC, 2023 | 79 | 80 | 159 |
| T54 | Kenny Walter | Concord, NC, 2021 | 76 | 83 | 159 |
| T54 | Taylor Kuehn | Asheville, NC, 2023 | 82 | 77 | 159 |
| T54 | Nick Norman | Gastonia, NC, 2022 | 75 | 84 | 159 |
| T54 | Jay Wilkins | Simpsonville, SC, 2022 | 86 | 73 | 159 |
| T54 | Alan Van Asch | Raleigh, NC, 2022 | 83 | 76 | 159 |
| T54 | Jack Boyer | Greensboro, NC, 2022 | 83 | 76 | 159 |
| T54 | Jonathan Honeywell | Whispering Pines, NC, 2022 | 82 | 77 | 159 |
| T54 | Nick Perry | Fayetteville, NC, 2023 | 80 | 79 | 159 |
| T54 | Maddox Whittington | Lenoir, NC, 2022 | 80 | 79 | 159 |
| T64 | Will Guthrie | Charlotte, NC, 2025 | 79 | 81 | 160 |
| T64 | Lexton Ford | Lenoir, NC, 2021 | 79 | 81 | 160 |
| T64 | Will Spicer | Kings Mountain, NC, 2024 | 78 | 82 | 160 |
| T64 | Landon Hawley | Charlotte, NC, 2023 | 75 | 85 | 160 |
| T64 | Spencer Turtz | Charlotte, NC, 2022 | 74 | 86 | 160 |
| T64 | Garrett Hauk | Burlington, NC, 2021 | 80 | 80 | 160 |
| T64 | Aidan Browning | Charlotte, NC, 2022 | 80 | 80 | 160 |
| T64 | Ryan Jahr | Ocean Isle Beach, NC, 2022 | 80 | 80 | 160 |
| T64 | Nick Rubino | Charlotte, NC, 2021 | 80 | 80 | 160 |
| T73 | Davis Oldenburg | Asheville, NC, 2022 | 79 | 82 | 161 |
| T73 | Collin Welborn | Waxhaw, NC, 2021 | 79 | 82 | 161 |
| T73 | Burch Harrison | Columbia, SC, 2022 | 78 | 83 | 161 |
| T73 | Jack Dannemann | Charlotte, NC, 2022 | 78 | 83 | 161 |
| T73 | Cameron Lutterloh | Whitsett, NC, 2022 | 81 | 80 | 161 |
| T73 | Jack Wofford | Greenville, SC, 2021 | 81 | 80 | 161 |
| T73 | Max Jacobson | Charlotte, NC, 2022 | 75 | 86 | 161 |
| T73 | Andrew Graham | Asheville, NC, 2021 | 84 | 77 | 161 |
| T73 | Lukas Pokrzywinski | Charlotte, NC, 2021 | 84 | 77 | 161 |
| T73 | Cameron Hardison | Greenville, NC, 2022 | 81 | 80 | 161 |
| T83 | Eli Kinlaw | Mount Holly, NC, 2021 | 82 | 80 | 162 |
| T83 | Tyler Dorsey | Charlotte, NC, 2023 | 74 | 88 | 162 |
| T83 | Max Cranford | Hickory, NC, 2022 | 73 | 89 | 162 |
| T83 | Isar Joshi | Charlotte, NC, 2023 | 89 | 73 | 162 |
| T83 | Evan Mendyk | Summerfield, NC, 2021 | 82 | 80 | 162 |
| 88 | Gavin Drose | Fayetteville, NC, 2023 | 80 | 83 | 163 |
| T89 | Jonathan Rich | Rockingham, NC, 2021 | 77 | 87 | 164 |
| T89 | Luke Ward | Arden, NC, 2021 | 82 | 82 | 164 |
| T89 | Chris Ha | Fayetteville, NC, 2023 | 84 | 80 | 164 |
| T89 | Parker Cumbea | Fuquay Varina, NC, 2021 | 86 | 78 | 164 |
| T89 | Brodie Perry | Trinity, NC, 2021 | 84 | 80 | 164 |
| T94 | Landon Sutton | Easley, SC, 2022 | 79 | 86 | 165 |
| T94 | Drew Greene | Greenville, NC, 2023 | 79 | 86 | 165 |
| T94 | Mathew McCarthy | Cary, NC, 2024 | 81 | 84 | 165 |
| T94 | Luke Guthrie | Charlotte, NC, 2023 | 77 | 88 | 165 |
| T94 | Max Rotermund | Charleston, SC, 2023 | 86 | 79 | 165 |
| T99 | Spencer Edwards | Nashville, NC, 2022 | 81 | 85 | 166 |
| T99 | Luke McCorquodale | Fayetteville, NC, 2022 | 77 | 89 | 166 |
| T99 | Jack Webster | Raleigh, NC, 2023 | 81 | 85 | 166 |
| T99 | Will Harrington | Summerfield, NC, 2021 | 82 | 84 | 166 |
| T99 | Carson Walthall | Charlotte, NC, 2021 | 83 | 83 | 166 |
| T99 | Evan Prickett | North Augusta, SC, 2022 | 81 | 85 | 166 |
| T105 | Kareem Elkassem | Raleigh, NC, 2023 | 79 | 88 | 167 |
| T105 | Chuck Stanley | Warrenville SC, SC, 2023 | 79 | 88 | 167 |
| T105 | Kunakorn Kai Wen Tang | Raleigh, NC, 2022 | 90 | 77 | 167 |
| 108 | Ford Amerson | Greenville, NC, 2023 | 83 | 85 | 168 |
| T109 | Connor Massey | Burlington, NC, 2022 | 79 | 91 | 170 |
| T109 | John Shepperson | Greensboro, NC, 2022 | 87 | 83 | 170 |
| T109 | Robert Gefaell | Winston-Salem, NC, 2023 | 88 | 82 | 170 |
| 112 | Samanyu Bedi | Charlotte, NC, 2023 | 92 | 79 | 171 |
| 113 | Christian Lampuri | Cary, NC, 2022 | 88 | 84 | 172 |
| T114 | Luke Nelson-21 | Thomasville, NC, 2021 | 88 | 85 | 173 |
| T114 | Andrew Poole | Greensboro, NC, 2021 | 90 | 83 | 173 |
| T116 | Parker Bumgarner | Oak Island, NC, 2022 | 81 | 93 | 174 |
| T116 | Daniel Stamey | Clemmons, NC, 2022 | 87 | 87 | 174 |
| 118 | Garrison Welborn | Waxhaw, NC, 2025 | 80 | 95 | 175 |
| 119 | Mason Beshears | Lewisville, NC, 2022 | 81 | 95 | 176 |
| T120 | Hunter Master | Oak Ridge, NC, 2024 | 86 | 91 | 177 |
| T120 | Ayden Jersey | Greensboro, NC, 2023 | 93 | 84 | 177 |
| T120 | Sam Wilson | Davidson, NC, 2021 | 87 | 90 | 177 |
| 123 | Colt Ingram | Aiken, SC, 2021 | 96 | 82 | 178 |
| T124 | Will Jordan | Greensboro, NC, 2024 | 90 | 90 | 180 |
| T124 | Matthew Coltren | Mt Olive, NC, 2021 | 93 | 87 | 180 |
| 126 | Chase Cheatham | Lincolnton, NC, 2021 | 82 | 99 | 181 |
| 127 | Owen Dougherty | Charlotte, NC, 2023 | 88 | 94 | 182 |
| 128 | Noah Whitley | Colerain, NC, 2022 | 94 | 91 | 185 |
| 129 | Jordan Floyd | Hampstead, NC, 2021 | 97 | 99 | 196 |
| WD | Ayush Bodhale | Huntersville, NC, 2021 | 76 | | |
| WD | Colin Salema | Matthews, NC, 2024 | 78 | | |
| WD | Cole Rouse | Kernersville, NC, 2024 | 79 | | |
| WD | Pearse Lucas | Charlotte, NC, 2021 | 79 | | |
| WD | Qailen Mingo-Long | Greensboro, NC, 2021 | 98 | | |
| WD | Aedan Barnes | Charlotte, NC, 2023 | | | |
| WD | Benton Leinster | Greenville, SC, 2022 | | | |
| WD | Jack Roberts | Greenville, SC, 2022 | | | |
| WD | Langdon Aronson | Raleigh, NC, 2021 | | | |
| WD | Walker Jennings | Greenville, SC, 2022 | | | |
| DNF | Alex Gould | Greensboro, NC, 2022 | 93 | | |
| NS | Will Fowler | Salisbury, NC, 2021 | 86 | | |