Pine Needles Captures the Carolinas Interclub Championship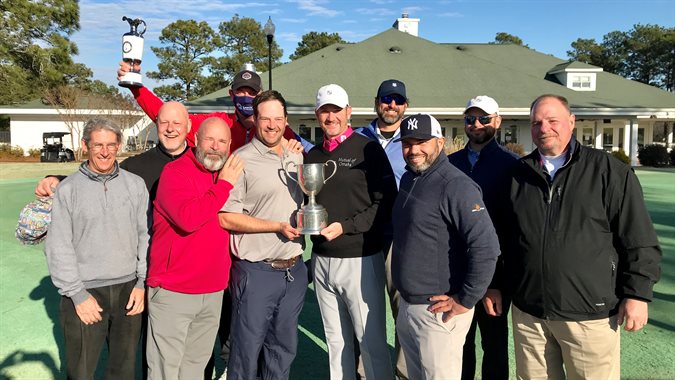 SOUTHERN PINES, N.C. (January 24, 2021) – Over 85 teams competed to get to this point but only one can be named the 23rd Carolinas Interclub Season Champion and hoist the Ben Payne Trophy. At the end of the year-long competition, the team representing Pine Needles Golf Resort of Southern Pines, N.C. defeated Pine Island Country Club of Charlotte, N.C. at Longleaf Golf and Family Club in Southern Pines, N.C. (Par 35-37--72, 6,408 Yards).

Related: Final Scoring | History

Rob Clarke led the charge as team captain of the Pine Needles Interclub team.

"This whole season has been amazing, we have a great group of guys that really want to win as a team," Clarke said. "Today was just crazy, a lot of us played amazing golf and it feels great to be the CGA Interclub Champions, especially the way we did it as a team."

With scoring conditions that would allow for birdies, the Pine Needles team took advantage making 17 birdies on the day to win by a total score of 49.5-30.5. To start the day, Pine Needles teammates Harrold Farrell and Vincent Wade lost their opening hole. The teammates were able to settle down and win three of the next four holes. They were able to hang on to that lead to win 12 points for the team.

The second match started much different as Pine Needles took an early lead with a birdie on their first hole by Rob Carpenter. Carpenter and his teammate Brad Diemart won the first three holes. Pine Island was able to bounce back and tie the match after nine. After winning their 10th and 11th hole, Carpenter and Diemart were able to cruise to a seven point victory.

The third match out saw a back and forth day between Jason Benguche and Reggie Dixon of Pine Island versus Brady Rowland and Chad Knickerbocker of Pine Needles. That match ended in a tie with both teams earning 10 points.

The final match of the day between Andrew Flaskerud and William Hoffman of Pine Island and Mike Fields and Rob Clarke was an all Pine Needles show. The team captain, Clarke, made eight natural birdies to win 14 points for the team.

Pine Needles came into the Championship Match riding high after a comeback rally on Saturday beating Pinehurst Country Club in the semifinals. Looking like they would go home on Saturday as Pinehurst won the first match and had the lead in 2 more matches coming down the stretch, the second match out flipped the tables as teammates Brad Diemart and Rob Carpenter won their last three holes to take back the leaderboard. "My partner Brad and I were two down with three to go. I was able to make a big putt for par on No. 16. Brad made a clutch birdie putt on No. 17 and luckily I was able to hole one out from 45 yards on No. 18 for the win. Now we are headed into the finals and I am really looking forward to it," said Carpenter. After Carpenter and Diemart earned 11.5 points for the team, Pine Needles was able to advance by a score of 41.5-38.5

The Carolinas Interclub trophy is named for Ben Payne of Greensboro, N.C. who was on site to help officiate the tournament and hand out the hardware.

"It's great being out here and seeing the camaraderie between the teams," Payne said. "That's what it's all about and we're ready for next season."

The Carolinas Golf Association would like to thank the members and staff at the Longleaf Golf and Family Club for hosting the 23rd Carolinas Interclub Championship.
Carolinas Interclub Final Results
| | | | |
| --- | --- | --- | --- |
| Points | Pine Island | Pine Needles | Points |
| 8 | Matthias Schmidt + Mike Davidson | Harold Farrell + Vincent Wade | 12 |
| 6.5 | John Kowalczik + Mike Stamps | Brad Diemert + Robert Carpenter | 13.5 |
| 10 | Jason Benguche + Reggie Dixon | Brady Rowland + Chad Knickerbocker | 10 |
| 6 | Andrew Flaskerud + William Hoffman | Mike Fields + Rob Clarke | 14 |
| 30.5 | Pine Island | Pine Needles | 49.5 |
About the Carolinas Golf Association (CGA)
The CGA is a 501(c)(3) not-for-profit educational organization that was founded in 1909 to promote and to protect the game of golf in the Carolinas by providing competitions, education, support and benefits to golf clubs and golfers. The CGA is the second largest golf association in the country with over 700 member clubs represented by nearly 150,000 individuals.
The CGA annually conducts 48 championships and five team match competitions for men, women, juniors, and seniors. It also runs over 150 One-Day (net and gross) events as well as qualifying for USGA national championships. The CGA serves golf in the Carolinas with numerous programs such as: the USGA Handicap System; tournament management software and support; course measuring and course/slope ratings; agronomy consultation; answers about the Rules of Golf, Rules of Amateur Status, and Handicapping; Carolinas Golf Magazine; Interclub series; Tarheel Youth Golf Association; Carolinas Golf Hall of Fame; expense assistance for USGA Junior and Girls' Junior qualifiers from the Carolinas; and the Carolinas Golf Foundation (CGF). The CGF has distributed nearly $2,000,000 since 1977 to benefit Carolinas' golf initiatives including junior and women's programs.
For more information about the CGA, visit our website.
##30##