Tune in to Golf Talk of the Carolinas!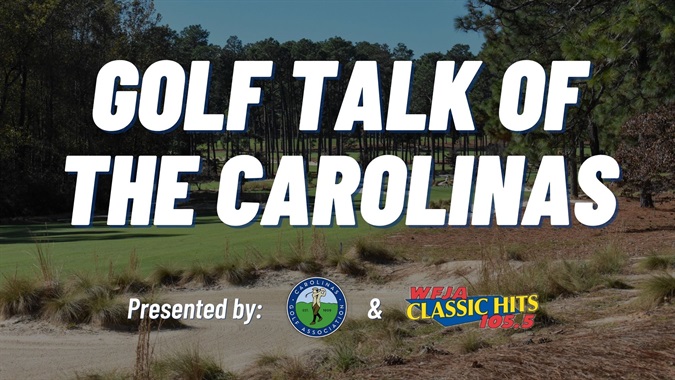 SOUTHERN PINES, N.C. (April 12, 2021) -- The Carolinas Golf Association is pleased to announce a partnership with Sandhills Broadcasting to bring you the latest in golf news from the Carolinas. The CGA and 105.5 WFJA in Sanford, N.C. will provide a live-streaming two-hour video show highlighting the latest in Carolinas golf in addition to updates from the major professional and amateur tours. The show will also feature personalities from the Carolinas. "Golf Talk of the Carolinas" can be seen and heard all over the world beginning Monday, April 12th at 7:00 p.m. at https://wfjawwgpradio.com/listen-live-wfja-wwgp-radio/. It can also be found at the WFJA website at https://wfjawwgpradio.com/. Podcasts are also included and are new for 2021.
The show will air from April 12th through September 6th every Monday night from 7:00 to 9:00 p.m. and will include co-hosts Jon Hockaday and Doug Thompson, both Lifetime PGA Members with 300+ shows behind the microphone. Newcomer and accomplished amateur golfer Daniel Neveu also joins the show for 2021 and the guest list will be impressive. "Golf Talk of the Carolinas" is available for call-ins from listeners at (866) 465-3110 or (866) GOLF-110.
Name: Golf Talk of the Carolinas
Co-hosts: Jon Hockaday, Doug Thompson and Daniel Neveu
Live Streaming Link: https://wfjawwgpradio.com/listen-live-wfja-wwgp-radio
Call in numbers: (866) 465-3110 or (866) GOLF-110.
Air Time: Mondays from 7:00 to 9:00 p.m. from April 12 to September 6
About the Carolinas Golf Association (CGA)
The CGA is a 501(c)(3) not-for-profit organization that was founded in 1909 to promote and to protect the game of golf in the Carolinas by providing competitions, education, support and benefits to golf clubs and golfers. The CGA is one of the largest golf associations in the country with over 700 member clubs represented by nearly 150,000 individuals. The CGA annually conducts 48 championships and five team match competitions for men, women, juniors, and seniors. It also runs over 150 One-Day (net and gross) events as well as qualifying for USGA national championships. The CGA serves golf in the Carolinas with numerous programs such as: the USGA Handicap System; tournament management software and support; course measuring and course/slope ratings; agronomy consultation; answers about the Rules of Golf, Rules of Amateur Status, and Handicapping; Carolinas Golf Magazine; Interclub series; Tarheel Youth Golf Association; Carolinas Golf Hall of Fame; expense assistance for USGA Junior and Girls' Junior qualifiers from the Carolinas; and the Carolinas Golf Foundation (CGF). The CGF has distributed over $2,000,000 since 1977 to benefit Carolinas' golf initiatives including junior and women's programs.
For more information about the CGA, visit our website.

##30##