Womble, Wilfong, Conn and Reece Advance to the Final Match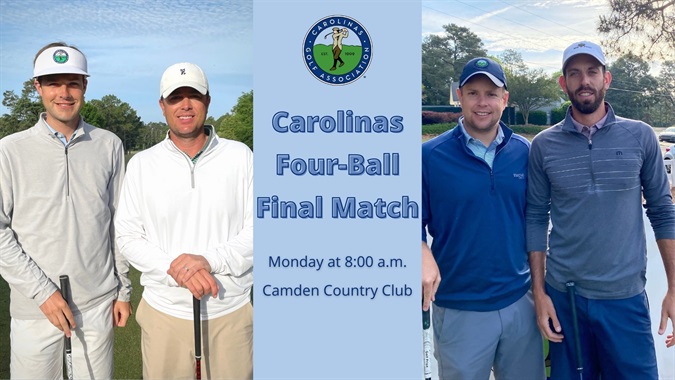 CAMDEN, S.C. (May 2, 2021) -- Quarterfinals and Semifinals results of the 70th Carolinas Four-Ball Championship at Camden Country Club in Camden, S.C. on May 2, 2021. The field is competing at 6,455 yards (par 35-35--70).
The CGA is conducting this championship under the COVID-19 Tournament Protocols. Learn more here.
Related: Championship Web Site | Full Field | Starting Times | Scoring | History | Photos
Quarterfinals
Davis Womble of Winston-Salem, N.C. and Chad Wilfong of Charlotte, N.C. were the first to finish their match defeating Dermot McElhennon of Wake Forest, N.C. and Jackson Sides of Chapel Hill, N.C., 5 & 4. Womble and Wilfong went 10-under-par through the first 14 holes, which secured them a spot in the Semifinals.
Paul Tucker of Waxhaw, N.C. and Brent Roof of Columbia, S.C. went head-to-head against Ryan Reynolds and Brandon Cemprola of Columbia, S.C. The match started slow on the front, but really heated up coming down the stretch. With their backs against the wall as they were two down with three to play, the 2013 champions, Roof and Tucker, won Nos. 16 and 17 to tie the match. The match went into extra holes and Tucker hit his approach into the first playoff hole to a foot for a birdie and the win.
Anthony Conn of Raleigh, N.C. and Brandon Reece of Rolesville, N.C. defeated 2009 South Carolina Match Play Champion, Crawford Reeves of Taylors, S.C. and his former Clemson teammate McCuen Elmore of Lancaster, SC. 1 up. Conn and Reece went 2 down through seven but kept their focus as they won four of the next six holes to take a 2 up lead. Reeves and his partner battled back, but after a big birdie on No. 17 by Conn, the momentum was stalled. Reece and Conn were able to tie No. 18 for the 1 up win.

Justin Gupton and Kyle Davis of Charlotte, N.C. defeated the last standing co-medalists, McClure Thompson of Little River, S.C. and Mitchell Vance of Hartsville, S.C. 2 up. Gupton and Davis started the round 1 up through No. 2, but Thompson and Vance kept the match tight going back and forth between 1 down and tied through the front nine. Gupton and Davis got the momentum going early in the back nine winning Nos. 10, 11 and 12 to go 2 up through No. 12. They were able to maintain that lead through the rest of the round to win 2 up on No. 18.

Semifinals


Womble and Wilfong captured the first match of the semifinals in a swift manner defeating Roof and Tucker 8 & 6. The side went 6-under through 12, winning Nos. 1, 3, 4, 7, 8, 9, 11 and 12 to secure a spot in the championship match without playing No. 18 since the start of match play.


They continue to win by larger margins with every round they advance. Starting with a 2 & 1 in the Round of 32, to a 5 & 3 in the Round of 16, then 5 & 4 in the Quarterfinals, they have now topped that with an outstanding 8 & 6 win to advance to the championship match tomorrow.


The duo is no stranger to high-stakes competition as Womble is a two-time CGA Champion striving for his third title tomorrow and Wilfong is a three-time CGA Champion, notably the reigning North Carolina Mid-Amateur and Carolinas Mid-Amateur Champion.


Conn and Reece secured their seat in the final match after defeating Gupton and Davis 1 up. The match produced fireworks from the start as Conn and Davis both birdied the first hole. After a birdie by Reece on No. 2, the duo secured a 1 up lead. The lead quickly diminished as the former Queens College golfer, Davis birdied Nos. 5 and 6 to take the lead.

After tying with birdies on 7. Reece and Conn rattled off 3 birdies in a row to take a two up lead. Davis and Gupton were able to draw one closer with a birdie on No. 13, but Conn and Reece quickly took on back a hole winning No. 14. With a birdie on No. 16 by Reece to go 2 up it with 2 to play, it looked like the match was going to end quickly until Gupton hit it to a foot on No. 17 to extend the match to the 18th hole. After Gupton's narrowly missed birdie attempt on No. 18, Reece and Conn were able to two-putt for the half and punch their ticket. Conn and Reese are both looking for their first CGA victory in the championship match tomorrow.

The championship match will begin at 8:00 a.m. Stay tuned to our Instagram, Twitter and Facebook for live coverage of the match.


70th Carolinas Four-Ball Championship
Camden Country Club, Camden, S.C.
Quarterfinals Results

Brent Roof / Paul Tucker def. Brandon Cemprola / Ryan Reynolds, 19 holes
Chad Wilfong / Davis Womble def. Dermot McElhennon / Jackson Sides, 5 & 4
Anthony Conn / Brandon Reece def. Crawford Reeves / McCuen Elmore, 1 up
Justin Gupton / Kyle Davis def. McClure Thompson / Mitchell Vance, 2 up

70th Carolinas Four-Ball Championship
Camden Country Club, Camden, S.C.
Semifinals Results

Chad Wilfong / Davis Womble def. Brent Roof / Paul Tucker, 8 & 6
Anthony Conn / Brandon Reece def. Justin Gupton / Kyle Davis, 1 up
About the Carolinas Golf Association (CGA)
The CGA is a 501(c)(3) not-for-profit educational organization that was founded in 1909 to promote and to protect the game of golf in the Carolinas by providing competitions, education, support and benefits to golf clubs and golfers. The CGA is the second largest golf association in the country with over 700 member clubs represented by nearly 150,000 individuals.
The CGA annually conducts 48 championships and five team match competitions for men, women, juniors, and seniors. It also runs over 150 One-Day (net and gross) events as well as qualifying for USGA national championships. The CGA serves golf in the Carolinas with numerous programs such as: the USGA Handicap System; tournament management software and support; course measuring and course/slope ratings; agronomy consultation; answers about the Rules of Golf, Rules of Amateur Status, and Handicapping; Carolinas Golf Magazine; Interclub series; Tarheel Youth Golf Association; Carolinas Golf Hall of Fame; expense assistance for USGA Junior and Girls' Junior qualifiers from the Carolinas; and the Carolinas Golf Foundation (CGF). The CGF has distributed nearly $2,000,000 since 1977 to benefit Carolinas' golf initiatives including junior and women's programs.
For more information about the CGA, visit our website.
##30##