US Open Local Qualifying Results - River Landing CC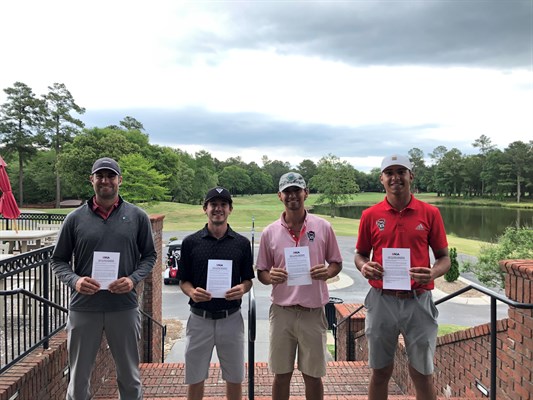 WALLACE, N.C. (May 6, 2021) -- Final results from U.S. Open Local Qualifying at River Landing Country Club in Wallace, N.C. on Thursday, May 6, 2021 (6,950 yards, par 36-36--72).
Five qualifying spots and two alternate positions were available at this qualifying site.
Jimmy Gillam of Myrtle Beach, S.C., Spencer Oxendine of Fayetteville, N.C. and Christian Salzer of Sumter, S.C. shared medalist honors with scores of five-under-par 67. Marc Casullo of Aurora, Ontario advanced with a round of four-under-par 68. Three players finished the day at three-under-par 69 and a playoff was conducted to determine the 5th qualifying spot and the alternate positions. Jared Howard of Charlotte, N.C. won the final qualifier spot with a long birdie put on the first playoff hole. Joshua Brock of Wilmington, N.C. claimed the 1st alternate postion with a birdie on the second playoff hole, making Will Blalock of Gastonia, N.C. the 2nd alternate.
The five qualifiers will advance to the "Longest Day in Golf" and compete at one of twelve 36-hole final qualifying sites on June 7 to earn a spot in the U.S. Open, including the new final qualifying site at Long Cove Club on Hilton Head Island, SC, which will be conducted by the Carolinas Golf Association.
This USGA Qualifier was conducted by the Carolinas Golf Association on behalf of the United States Golf Association.
Hole-by-hole scoring can be viewed here.
US Open Local Qualifying Results
Pos.
Player
Affiliation
To Par
Total Score
Details
T1
Jimmy Gillam (p)
Myrtle Beach, South Carolina
-5
67
T1
Spencer Oxendine
Fayetteville, North Carolina
-5
67
T1
Christian Salzer
Sumter, South Carolina
-5
67
4
Marc Casullo (p)
Aurora, Ontario
-4
68
5
Jared Howard (p)
Charlotte, North Carolina
-3
69
Won 5th qualifying spot with birdie on 1st playoff hole
The following players did not make the cut
CUT
Joshua Brock (p)
Wilmington, North Carolina
-3
69
Won 1st alternate spot with birdie on 2nd playoff hole
CUT
Will Blalock (p)
Gastonia, North Carolina
-3
69
2nd alternate
CUT
Kyle Kushnir
Raleigh, North Carolina
-2
70
CUT
Cameron Akers
Asheville, North Carolina
-2
70
CUT
Jonathan Hardee (p)
Boiling Springs, South Carolina
-2
70
CUT
Dougie Ergood Jr.
Chapel Hill, North Carolina
-2
70
CUT
Austin Hitt
Longwood, Florida
-2
70
CUT
Nick Lyerly
Salisbury, North Carolina
-1
71
CUT
Joshua Rackley (p)
Wilmington, North Carolina
-1
71
CUT
Evan Boyer
Morrisville, North Carolina
-1
71
CUT
Randall Hudson
New Bern, North Carolina
E
72
CUT
Daniel Bowden
Wilmington, North Carolina
E
72
CUT
Pontus Nyholm
Lillington, North Carolina
E
72
CUT
Josh Jackson (p)
Conway, South Carolina
E
72
CUT
Easton Paxton
Riverton, Wyoming
E
72
CUT
Edwin Blomander
Lillington, North Carolina
E
72
CUT
Judson Holliday (p)
Aynor, South Carolina
E
72
CUT
Josh Lendach
Raleigh, North Carolina
1
73
CUT
Ricky Stout (p)
Swansboro, North Carolina
1
73
CUT
Dongjin Park
Charlotte, North Carolina
1
73
CUT
Nicholas Lukas
Wilmington, North Carolina
2
74
CUT
Michael Sutton II (p)
Goldsboro, North Carolina
2
74
CUT
William Webb
Raleigh, North Carolina
2
74
CUT
Stephen Lavenets
Willow Spring, North Carolina
3
75
CUT
Riley Davis (p)
Wilmington, North Carolina
3
75
CUT
Jack Rhea
Jonesborough, Tennessee
3
75
CUT
Connor Armistead
Charlotte, North Carolina
3
75
CUT
Brad Nobles
Raleigh, North Carolina
3
75
CUT
Parker Truesdale
Canton, North Carolina
3
75
CUT
Stephen Abrams
Wilson, North Carolina
3
75
CUT
Romain Lanteri
Lillington, North Carolina
3
75
CUT
Matt Vick (p)
Pinehurst, North Carolina
3
75
CUT
Chad McCann (p)
Wilmington, North Carolina
4
76
CUT
Brian Mull
Wilmington, North Carolina
4
76
CUT
Lawrence George (p)
Wallace, North Carolina
4
76
CUT
Ethan Paschal
Fayetteville, North Carolina
4
76
CUT
Austin Alexander
Rutherfordton, North Carolina
4
76
CUT
Robert McPartland
Seven Lakes, North Carolina
4
76
CUT
Morgan Deneen (p)
Conway, South Carolina
5
77
CUT
Zac Lewis
Winnabow, North Carolina
5
77
CUT
Kyle Simpson (p)
Beulaville, North Carolina
5
77
CUT
James Harris
Lillington, North Carolina
5
77
CUT
Jackson Soska
Newport, North Carolina
5
77
CUT
Josh Neal
Raleigh, North Carolina
5
77
CUT
Kenneth Tobias
Franklin, Tennessee
6
78
CUT
Joshua Buxbaum
wake forest, North Carolina
6
78
CUT
Tim Washburn
Raleigh, North Carolina
6
78
CUT
AJ Clark (p)
Wilmington, North Carolina
6
78
CUT
Wesley Conover (p)
Raleigh, North Carolina
6
78
CUT
Cole Roberts (p)
Johns Island, South Carolina
7
79
CUT
Marco Nieto
Eynon, Pennsylvania
7
79
CUT
Nolan Kovach
Charlotte, North Carolina
7
79
CUT
Michael Neece
Gastonia, North Carolina
7
79
CUT
Ryan Wilkinson (p)
Galivants Ferry, South Carolina
8
80
CUT
Brandon Gamblin (p)
selden, New York
8
80
CUT
Mark Mullery Jr (p)
Myrtle Beach, South Carolina
8
80
CUT
Tyler Robinette (p)
ocean isle, North Carolina
8
80
CUT
Jonathan Bowden
Wilmington, North Carolina
9
81
CUT
Austin Scott
Charleston, South Carolina
9
81
CUT
Henry Augenstein
Columbia, South Carolina
10
82
CUT
Christopher Cole (p)
Charlotte, North Carolina
10
82
CUT
Bradley Taylor
Callands, Virginia
12
84
CUT
John Costa
Lillington, North Carolina
12
84
CUT
Brent Hayes
Kinston, North Carolina
13
85
CUT
Justin Riker (p)
Wilmington, North Carolina
14
86
CUT
Christian Fleetwood (p)
Concord, North Carolina
16
88
WD
Tyler Jones
Jacksonville, North Carolina
-
WD
WD
Aaron O'Callaghan (p)
Pfafftown
-
WD
WD
Tony Parrish (p)
Erwin, North Carolina
-
WD
WD
Jackson Brimfield
Chapel Hill, North Carolina
-
WD
WD
Andrew Propes
Charleston, South Carolina
-
WD
WD
Brian Garrett
San Antonio, Texas
-
WD
WD
Viraj Garewal
Raleigh, North Carolina
-
WD
WD
Alexander Heffner
Harrisburg, North Carolina
-
WD
WD
Tyler Dechellis
Clayton, North Carolina
-
WD
WD
Justin Guilford
Davidson, North Carolina
-
WD
NC
Holden Strickland (p)
Littleton, North Carolina
-
NC
NS
Phillip Mac Ogrady (p)
Palm Springs, California
-
NS
NS
Billy Jansto
Cary, North Carolina
-
NS