US Senior Open Qualifying Results - Highland CC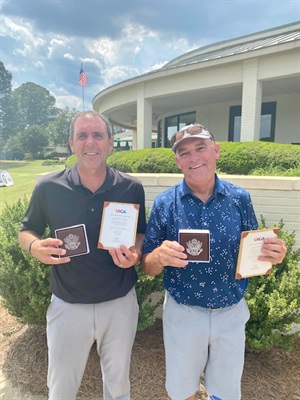 FAYETTEVILLE, NC– Final results from U.S. Senior Open Championship Sectional Qualifying hosted by Highland Country Club in Fayetteville, NC on Monday, May 24, 2021 (6732 yards, par 36-36—72).
Two qualifying spots and two alternate positions were available at this qualifying site.
Steve Isley Jr. of Oak Island, NC shot a four-under par 68 to take home medalist honors. Dean Channell of Pinehurst, NC shot a round of three-under par, 69 to take the second qualifying position as well as the low amateur medal.
The 2021 U.S. Senior Open Championship will be conducted at Omaha Country Club in Omaha, Nebraska from July 8-11, 2021.
This qualifier was conducted by the Carolinas Golf Association on behalf of the United States Golf Association.
2021 US Senior Open Sectional Qualifying
Highland Country Club, Fayetteville, NC
Qualifying Results
Related: Hole-by-Hole Scoring | Tournament Website
Pos.

Player

Affiliation

To Par

Total Score

Details

1

Steve Isley Jr. (p)

Oak Island

-4

68

2

Dean Channell

Pinehurst, North Carolina

-3

69

The following players did not make the cut

CUT

Neal Lancaster (p)

Smithfield

-2

70

1st Alternate

CUT

Mikael Hogberg (p)

Greensboro

-1

71

CUT

Brian Tennyson

Fernandina Beach, Florida

-1

71

CUT

Tim Dunlavey

Spartanburg, South Carolina

-1

71

2nd Alternate with a birdie on 2nd playoff hole

CUT

Chip Collins (p)

Hope Mills

-1

71

CUT

Ricky Morton (p)

Jacksonville

-1

71

CUT

Sherrill Britt

West End, North Carolina

E

72

CUT

Scott Patnode

Belmont, North Carolina

E

72

CUT

Kelly Mitchum (p)

Southern Pines

E

72

CUT

David Wettlaufer (p)

Southern Pines

E

72

CUT

Jason Widener (p)

Chapel Hill

E

72

CUT

Billy Anderson (p)

Wilmington

+1

73

CUT

Lee Porter

Greensboro, North Carolina

+1

73

CUT

Gary Robinson

Fayetteville, North Carolina

+1

73

CUT

Lawrence George (p)

Wallace

+1

73

CUT

Michael Hutcheon (p)

High Point

+1

73

CUT

Chris Hockaday (p)

Angier

+1

73

CUT

Joe Jaspers

Huntersville, North Carolina

+2

74

CUT

Mims Liner

Irmo, South Carolina

+2

74

CUT

Daniel Neveu

Pinehurst, North Carolina

+2

74

CUT

Chris Holland

Fayetteville, North Carolina

+2

74

CUT

Tim Lewis (p)

Hampton

+2

74

CUT

William Baker (p)

West End

+2

74

CUT

Dirk Fennie

Greensboro, North Carolina

+3

75

CUT

Phil Bland

Waynesville, North Carolina

+3

75

CUT

Anthony Branham (p)

Elloree

+3

75

CUT

Todd Hendley

Columbus, North Carolina

+3

75

CUT

John Obrien

Columbia, South Carolina

+4

76

CUT

Samuel Ring

Carthage, North Carolina

+4

76

CUT

John Zoppi

Pinehurst, North Carolina

+4

76

CUT

Chris Haarlow (p)

Greensboro

+4

76

CUT

James Bohn

Cary, North Carolina

+4

76

CUT

Peter Melvin

Pinehurst, North Carolina

+5

77

CUT

Walker Taylor

Wrightsville Beach, North Carolina

+5

77

CUT

Bubba Aughtry

Concord, North Carolina

+6

78

CUT

Tom Bryant (p)

Ormond Beach

+6

78

CUT

Lenin Lezcano

Hilton Head Island, South Carolina

+6

78

CUT

Rik Wall

Greensboro, North Carolina

+6

78

CUT

Paul Jett

Southern Pines, North Carolina

+6

78

CUT

Scott Sperber

Pawleys Island, South Carolina

+6

78

CUT

Daniel Boughman

Lenoir, North Carolina

+7

79

CUT

John Olsen

Mooresville, North Carolina

+7

79

CUT

Brad Dawson

Mebane, North Carolina

+7

79

CUT

Eliseo Villanueva

Fayetteville, North Carolina

+7

79

CUT

Jose Alvarez

Greenville, South Carolina

+8

80

CUT

Matt Pettis

Pinehurst, North Carolina

+8

80

CUT

James Popp

Mooresville, North Carolina

+8

80

CUT

John Cleetwood

Carthage, North Carolina

+8

80

CUT

Jeffrey Epstein (p)

Atlanta

+8

80

CUT

Doug Thompson (p)

Southern pines

+8

80

CUT

Christopher Shaw (p)

BARTLESVILLE

+8

80

CUT

Joey Burgess

Alexandria, Virginia

+8

80

CUT

Gary Pugh

Asheboro, North Carolina

+8

80

CUT

Kevin Burton

Clayton, North Carolina

+8

80

CUT

Francis R Debois Jr (p)

Spring Lake

+8

80

CUT

Joseph Hodsden (p)

Suffolk

+9

81

CUT

Mark Houston (p)

Newport News

+9

81

CUT

Kenneth Kavanaugh

Carolina Beach, North Carolina

+9

81

CUT

Michael Stack (p)

Richmond

+10

82

CUT

Stephen Beecroft (p)

Bolivia

+10

82

CUT

Wilbur pat Fagan (p)

Surf side beach

+12

84

CUT

Joel Hartwell

Laurinburg, North Carolina

+12

84

CUT

Eric Weintraub

Virginia Beach, Virginia

+12

84

CUT

Mark Smith

Thomasville, North Carolina

+13

85

CUT

Spurling Cook

Wake Forest, North Carolina

+13

85

CUT

Gerald Frye

Aberdeen, North Carolina

+15

87

CUT

Gary Kennedy (p)

Virginia Beach

+15

87

CUT

Dwayne Pope

Hope Mills, North Carolina

+16

88

CUT

William Eissele

Fayetteville, North Carolina

+16

88

CUT

James Ingram (p)

Mint Hill

+17

89

CUT

Fred Rogers

Canning, Nova Scotia

+17

89

CUT

Tad Wood

Raleigh, North Carolina

+18

90

WD

John Maginnes (p)

Wilmington

-

WD

WD

Tony Parrish (p)

Erwin

-

WD

WD

Glenn Collins

Greensboro, North Carolina

-

WD

WD

Sjean Beaird (p)

Azusa

-

WD

WD

Klas Tenmark (p)

Molndal

-

WD

WD

David Buck (p)

Pinehurst

-

WD

WD

Richard Shaefer

Holly Springs, North Carolina

-

WD

WD

Victor Grubb (p)

Florence

-

WD

WD

Bill Alspaugh

Morehead City, North Carolina

-

WD

NC

Nathan Powell

Jacksonville, Florida

-

NC