U.S. Senior Open Qualifying Results - Green Valley CC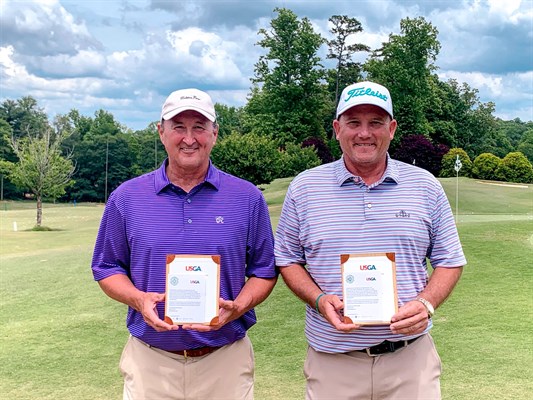 GREENVILLE, S.C. (June 2, 2021) -- Final results from U.S. Senior Open Final Qualifying at Green Valley Country Club in Greenville, S.C. on Wednesday, June 2, 2021 (6,952 yards, par 36-36--72).
Two qualifying spots and two alternate positions were available at this qualifying site.
Todd White of Roebuck, SC won medalist honors with a score of seven-under-par 65. Raymond Franz of Mount Pleasant, SC claimed the second qualifying position with a round of five-under-par 67. Ron Clontz of Greer, South Carolina earned the First Alternate position with a round of four-under-par 68. Patrick Sheehan won a 2 for 1 playoff for the Second Alternate position after shooting three-under-par 69.
The qualifiers will advance to play at the championship at Omaha Country Club in Omaha, Nebraska from July 8-11, 2021.
This USGA Qualifier was conducted by the South Carolina Golf Association, on behalf of the Carolinas Golf Association.
Hole-by-hole scoring can be viewed here.
US Senior Open Final Qualifying Results
Green Valley Country Club, Greenville, S.C.
June 2, 2021
Pos.

Player

Affiliation

To Par

Total Score

Details

1

Todd White

Roebuck, South Carolina

-7

65

2

Raymond Franz (p)

Mount Pleasant, South Carolina

-5

67

The following players did not make the cut

CUT

Ron Clontz

Greer, South Carolina

-4

68

First Alternate

CUT

Patrick Sheehan (p)

Oviedo, Florida

-3

69

Second Alternate

CUT

Brian Quackenbush

Aiken, South Carolina

-3

69

CUT

Hank Smith (p)

Johns Island, South Carolina

-2

70

CUT

Scott Park

Matthews, North Carolina

-2

70

CUT

Glenn Hudson (p)

LaFollette, Tennessee

-2

70

CUT

Gustav Ulrich (p)

Whispering Pines, NC

-1

71

CUT

Jack Larkin

Atlanta, Georgia

-1

71

CUT

Britt Jones (p)

Windermere, Florida

-1

71

CUT

Gareth Edwards (p)

Anderson, South Carolina

E

72

CUT

Buddy Patch

Johns Island, South Carolina

E

72

CUT

Michael Smith (p)

Daniel Island, South Carolina

1

73

CUT

Joseph (p)

Marietta, Georgia

1

73

CUT

Barry Fabyan

Charlotte, North Carolina

1

73

CUT

Matt Cannon (p)

Statesville, North Carolina

1

73

CUT

Steven Liebler

Irmo, South Carolina

2

74

CUT

Matt Wood

Hanahan, South Carolina

2

74

CUT

Marion Dantzler (p)

Orangeburg, South Carolina

2

74

CUT

Frank Remmes

Lilburn, Georgia

2

74

CUT

John Rudolph

CHARLOTTE, North Carolina

2

74

CUT

Tim Straub (p)

Davidson, North Carolina

2

74

CUT

Doug Ramey

Greer, South Carolina

3

75

CUT

Mark Dunn (p)

Ormond Beach, Florida

3

75

CUT

Uly Grisette (p)

Bermuda Run, North Carolina

3

75

CUT

Robert Andrews

Nevada, Missouri

4

76

CUT

Burke Cromer (p)

Columbia, South Carolina

4

76

CUT

Mark Hodges

Belmont, North Carolina

4

76

CUT

Rusty Strawn

McDonough, Georgia

4

76

CUT

Roy Copeland

Columbus, Georgia

4

76

CUT

Jay Blackburn

Harlem, Georgia

5

77

CUT

Lee Palms

Greenville, South Carolina

5

77

CUT

Mike Lawrence (p)

Anderson, South Carolina

5

77

CUT

Steve Larick (p)

Lexington, South Carolina

5

77

CUT

Cory Walker

Ormond Beach, Florida

6

78

CUT

Scott Roberts

Lancaster, South Carolina

6

78

CUT

Alan Davis (p)

Westminster, South Carolina

6

78

CUT

David Murphy

Saint Simons Island, Georgia

6

78

CUT

Ken Knowles

Mooresville, North Carolina

6

78

CUT

Brooks Blackburn (p)

Aiken, South Carolina

6

78

CUT

David Cauthen (p)

Mount Holly, North Carolina

6

78

CUT

Jeffrey Hedden

Hilton Head, South Carolina

6

78

CUT

Michael Bauer

Charleston, South Carolina

7

79

CUT

James Hackenberg (p)

Easley, South Carolina

7

79

CUT

Todd Brown

Winston Salem, North Carolina

7

79

CUT

James Mason (p)

Dillard, Georgia

7

79

CUT

John Nieters

Bermuda Run, North Carolina

8

80

CUT

Chris Greenwood (p)

Wesley Chapel, Florida

8

80

CUT

Chris Culler

Camden, South Carolina

8

80

CUT

Lou Thomas

Greenville, South Carolina

9

81

CUT

Gettys Glaze

Charleston, South Carolina

9

81

CUT

David White

Carthage, Tennessee

9

81

CUT

Scott Curiel (p)

Decatur, Georgia

9

81

CUT

Wrennie Love (p)

Matthews, North Carolina

10

82

CUT

John Whitty (p)

Longs, South Carolina

10

82

CUT

Jimmy Hyams

Charleston, South Carolina

10

82

CUT

Michael Hamilton

Fountain Inn, South Carolina

10

82

CUT

Kent Sonnefeld

Huntersville, North Carolina

11

83

CUT

Jeff Pinckney (p)

St Helena Island, South Carolina

14

86

CUT

Mark Giles

Columbia, South Carolina

15

87

CUT

Jim Prusia (p)

Hilton Head, South Carolina

15

87

CUT

Robert Fisher

Johns Island, South Carolina

16

88

CUT

Charles Mcintyre

Little River, South Carolina

16

88

CUT

Jon Meyers (p)

Charlotte, North Carolina

17

89

CUT

Robert Maclellan (p)

Milton, Ontario

19

91

CUT

Raymond Smith

charlotte, North Carolina

19

91

CUT

Scott Denton (p)

Belmont, North Carolina

23

95

WD

George Sledd (p)

Sanford, Florida

-

WD

WD

John Madden III

Palm Bay, Florida

-

WD

WD

Mike Teasley

Piedmont, South Carolina

-

WD

WD

Carl Paulson (p)

Winter Garden, Florida

-

WD

WD

Thomas Kennaday

Aiken, South Carolina

-

WD

WD

Dale Mercer

Charleston, South Carolina

-

WD

WD

Mickey Plyler

Clemson, South Carolina

-

WD

WD

Harold Wyatt

Atlanta, Georgia

-

WD

WD

Matt Crichton

Cary, North Carolina

-

WD

WD

Robert Gleaton (p)

Aberdeen, North Carolina

-

WD

WD

Kevin King

Bluffton, South Carolina

-

WD

WD

Pete Etters

Wilmington, North Carolina

-

WD

WD

Douglas Weaver (p)

Hilton Head Island, South Carolina

-

WD

WD

Donny Phillips

Suwanee, Georgia

-

WD

NC

Wesley Caudill (p)

Augusta, Georgia

-

NC

NC

Ryan Brickley (p)

Charlotte, North Carolina

-

NC