U.S. Girls' Junior Qualifying - Spring Valley CC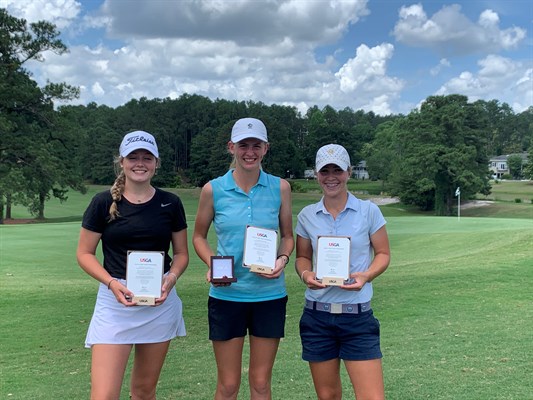 COLUMBIA, S.C. (June 7, 2021) -- Final results from the U.S. Girls' Junior Qualifying at Spring Valley Country Club in Columbia, S.C. on Monday, June 7, 2021 (6,224 yards, par 36-36--72).
Three qualifying spots and two alternate positions were available at this qualifying site.
Kiera Bartholomew of Wake Forest, N.C. won medalist honors with a score of three-under-par 69. Chloe Holder of Anderson, S.C. claimed the second qualifying position with a round of two-under-par 70 and Sydney Roberts of Chesnee, S.C. claimed the final qualifying position with an even-par 72. Hannah Altman of Lake City, S.C. and Karlee Vardas of Lexington, S.C. shot one-over-par 73s, putting them in a playoff for the alternate positions. Altman won the first alternate positon on the first playoff hole, making Vardas the second alternate.
The qualifiers will advance to play at the championship at Columbia Country Club in Chevy Chase, MD from July 12-17, 2021.
This USGA Qualifier was conducted by the Women's South Carolina Golf Association, on behalf of the Carolinas Golf Association.
Hole-by-hole scoring can be viewed here.
US Girls' Junior Qualifying Results
Spring Valley Country Club, Columbia, S.C.
June 7, 2021
Pos.

Player

Affiliation

To Par

Total Score

Details

1

Kiera Bartholomew

Wake Forest, North Carolina

-3

69

2

Chloe Holder

Anderson, South Carolina

-2

70

3

Sydney Roberts

Chesnee, South Carolina

E

72

The following players did not make the cut

CUT

Hannah Altman

Lake City, South Carolina

1

73

First Alternate

CUT

Karlee Vardas

Lexington, South Carolina

1

73

Second Alternate

CUT

Kayleigh Reinke

Rock Hill, South Carolina

2

74

CUT

Mary Kathryn Talledo

Spartanburg, South Carolina

4

76

CUT

Madison Messimer

Myrtle Beach, South Carolina

4

76

CUT

Elizabeth Rudisill

Charlotte, North Carolina

4

76

CUT

Isabella Britt

Chesnee, South Carolina

5

77

CUT

Faith Garcia

Suffolk, Virginia

5

77

CUT

Olivia Wilkie

Bluffton, South Carolina

6

78

CUT

Sarah Boteler

Greenville, South Carolina

6

78

CUT

Chayse Cool

Goose Creek, South Carolina

6

78

CUT

Adrian Anderson

Murrells Inlet, South Carolina

8

80

CUT

Lexi Bennett

Santee, South Carolina

8

80

CUT

Emily Baker

Chapin, South Carolina

9

81

CUT

Gracie Mccoy

Columbia, South Carolina

9

81

CUT

Jennifer Rials

Florence, South Carolina

9

81

CUT

Taylor Burch

Elgin, South Carolina

10

82

CUT

Sophia Martone

Holly Springs, North Carolina

12

84

CUT

Kylie Bowes

Bluffton, South Carolina

13

85

CUT

Hope Garcia

Suffolk, Virginia

16

88

CUT

Alexia Milbrandt

Hilton Head Island, South Carolina

16

88

CUT

Ellen Pritchard

charlotte, North Carolina

16

88

CUT

Emerson Devers

Murrells Inlet, South Carolina

17

89

CUT

Allison Lebo

North Augusta, South Carolina

20

92

CUT

Aubrey Merryman

Summerville, South Carolina

24

96