Pate Becomes the 25th NC Junior Girls' Champion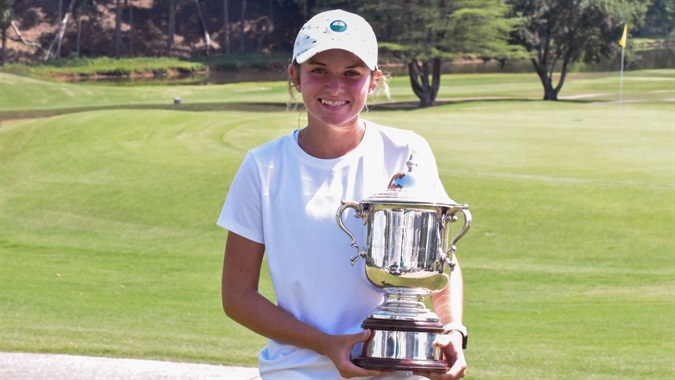 NEWTON, N.C. (June 18, 2021) -- Semifinal and final match results of the 25th North Carolina Junior Girls' Championship at Catawba Country Club in Newton, N.C. from June 15 - 18, 2021. The entire field will compete in the same division and play from 6,076 yards.
Related: Championship Web Site | Full Field of Players | Starting Times | History | Photos

No. 1 seed Macy Pate of Winston-Salem faced the No. 28 seed Nicole Nash of Charlotte for the first semi final match of the North Carolina Junior Girls' Championship. No.10 seeded Sophie Lauture of Charlotte faced the No. 6 seed Morgan Ketchum of Winston-Salem for the final match of the morning.

Pate and Nash were tied for the first four holes of their round, until the par-5 No. 5 when Nash took the lead after she sank a birdie putt. Pate was quick to respond. On the par-3 No.7, Pate stuck her tee-shot to roughly 2 feet from the hole for a tap-in birdie, tying the match.
"I was hit fairways and greens but my putter was pretty cold in the first match," Pate said after the round. "On the back I made a few putts I needed to make, but it was a close match."

The pair would be tied until No.11, when Pate regained the lead. Then, on No.15, Nash's approach shot went long of the green and out-of-bounds. Pate won No.15 to go 2-up with three holes to play. The match was extended to 17 holes, after the pair halved No. 16. Pate would win the match on No. 17 after Nash had trouble in the bunker and conceded the hole. Pate won her semi final match 3 & 1.
Sophie Lauture started her morning round confidently. She won five of the front nine holes. Lauture held offf Ketchum through No.11 and extended it with a win on No. 12, making her 6-up with six to play. Ketchum did not give up, however. On the par-3 No. 13 Ketchum drained a lengthy birdie to win the hole and cut Lauture's lead to 5-up with five holes to play. Ketchum had to win every hole on her way back to the clubhouse to force a playoff.

The chances of continuing Ketchum's semi final match soon came to an end on No. 14 when the pair both parred. Halving No.16 meant that Lauture secured her place in the Championship match later in the afternoon against Pate.

Semi Final Results
No. 1 seed Macy Pate of Winston - Salem def. No.28 seed Nicole Nash of Charlotte, 3 & 1
No.10 seed Sophie Lauture of Charlotte def. No.6 seed Morgan Ketchum, 5 & 4
After the starter notes and introductions were completed, Macy Pate was first to tee off on in the Championship match at Catawba Country Club.

Lauture took the early advantage because of her approach shot that landed within 10 feet of the hole, allowing her to birdie their opening hole. This early lead was vital for Lauture. For the next five holes the final group would halve each one, until No. 7. The seventh hole at Catawba Country Club played at 148 yards downhill and only allowed for nine birdies all week.

"Whenever [Lauture] was up and hitting good shots, it was hard to get anything going," Pate said. "I made some mistakes with my driver that put me in some bad positions on the front, but overall I did not play horribly."

One of those nine birdies gave Lauture a 2-up advantage as her playing partner parred. Shortly after on No. 9 Lauture would pick up another win after punching her tee shot out of the woods letting the ball roll right up to the green and save par.

When the Championship match made the turn, the narrative would change tones. Pate made her final push on the back nine to claim her first CGA victory. Pate did not get discouraged with a defeated attitude being 2-down at the turn.. She went on to win No. 10 and birdie No. 11 to cut Lauture's lead to 1-up with seven holes remaining.

The birdies kept coming on Pate's inward nine. She rolled in an impressive five birdies on the back nine alone. On No. 13, Pate stuck her approach shot within 3 feet of the hole which resulted in a birdie, giving Pate some relief knowing that the match was tied with five holes left to play.

"On the back nine I was hitting my irons much better, I struggled with my distances on the front nine, whether I was hitting it long or short."

The par-4 No. 14 was playing at 360 yards on Friday, and only allowed for six birdies all week. Against the odds, Pate managed to birdie the uncompromising hole giving Pate her first lead in the championship match.

Then, on No. 15 of the Donald Ross design, Pate extended her leading margin to 2 holes-up with three holes to play. The par-5 No. 16 played under par for the field throughout the week and Pate helped contribute to that stat with her match-winning birdie putt from 15 feet.

The championship match was a roller coaster of birdies and saves and although Lauture was a strong opponent, Pate was able to kick her round into high gear on the back nine and secure her first CGA title. Pate thanked God, her family, her fellow competitors and Catawba Country Club in her victory speech.

The Carolinas Golf Association would like to extend our appreciation to the members and staff at Catawba Country Club, especially Head Golf Professional Jason Akel and Golf Course Superintendent Robert Addington.
Championship Match Results
No.1 seeded Macy Pate def. No. 6 seeded Sophie Lauture 3 & 2
About the Carolinas Golf Association (CGA)
The CGA is a 501(c)(3) not-for-profit educational organization that was founded in 1909 to promote and to protect the game of golf in the Carolinas by providing competitions, education, support and benefits to golf clubs and golfers. The CGA is the second largest golf association in the country with over 700 member clubs represented by nearly 150,000 individuals.
The CGA annually conducts 48 championships and five team match competitions for men, women, juniors, and seniors. It also runs over 150 One-Day (net and gross) events as well as qualifying for USGA national championships. The CGA serves golf in the Carolinas with numerous programs such as: the USGA Handicap System; tournament management software and support; course measuring and course/slope ratings; agronomy consultation; answers about the Rules of Golf, Rules of Amateur Status, and Handicapping; Carolinas Golf Magazine; Interclub series; Tarheel Youth Golf Association; Carolinas Golf Hall of Fame; expense assistance for USGA Junior and Girls' Junior qualifiers from the Carolinas; and the Carolinas Golf Foundation (CGF). The CGF has distributed nearly $2,000,000 since 1977 to benefit Carolinas' golf initiatives including junior and women's programs.
For more information about the CGA, visit our website.
##30##