Preview: 54th NC Junior Boys' Championship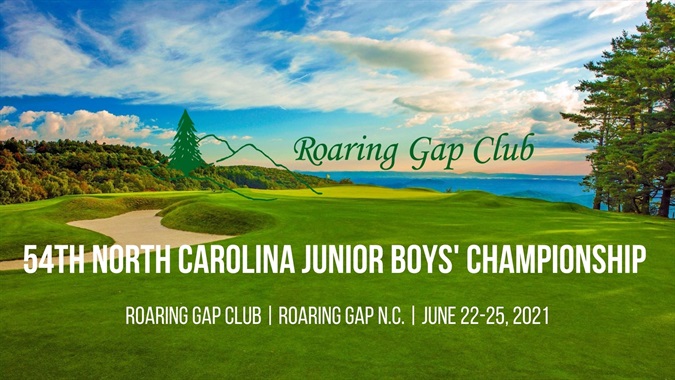 SOUTHERN PINES, N.C. (June 19, 2021) -- The Carolinas Golf Association will conduct the 54th North Carolina Junior Boys' Championship at Roaring Gap Club in Roaring Gap, N.C. from June 22-25, 2021. The field will compete from the Black tees that play 6,348 yards, par 71.
Related: Championship Web Site | Full Field of Players | Starting Times | History
Top-30 Players in the Field:
No.2 Branden Boyce of Spring Lake
No.3 Ben Jordan of Greensboro
No.4 Michael La Sasso of Raleigh
No.5 Owen Kose of Holly Spring
No.8 Tyler Jones of Jacksonville
No.9 Kyle Haas of Winston - Salem
No.10 Spencer Turtz of Charlotte
No.11 Josh Buxbaum of Wake Forest
No.12 Gray Mitchum of Winterville
No.16 Hampton Roberts of Cary
No.17 Daniel Boone of Fuquay Varina
No.20 Keenan Royalty of Raleigh
No.21 Jennings Glenn of Raleigh
No. 22 Jackson Bode of Pinehurst
No.24 Davis Adams of Raleigh
No.25 Bryan Fang of Raleigh
No.26 Charlie Barr of Salisbury
No.27 Ethan Paschal of Fayetteville
No.28 Aidan Browning of Charlotte
No.30 Ryan Jahr of Ocean Isle Beach
​
If you're looking for olde-worlde charm, look no further than the Roaring Gap Club. The unique Donald Ross designed mountain top layout enjoys far reaching views from the fringe of the escarpment. The golf course itself is rather hilly and a little short by modern standards but you'll need to look very hard to find a layout that is more engaging and fun than Roaring Gap Club.
The championship format is match play with an 18 hole stroke play qualifier (Friday, June 25th) to determine the seeding for match play. The top 64 boys from the stroke play qualifier will advance to match play. Once a player loses a match they are eliminated from the tournament. Trophies are awarded to the champion, runner-up, semifinalists, quarterfinalists and the stroke play qualifying medalist.
Entry is open to any male amateur golfer ages 8-18 as of June 25, 2021, who has not started college, is a legal resident of North Carolina, is a member in good standing of a club which is a member of the Carolinas Golf Association (CGA) and has a current USGA Handicap Index® at a CGA member club that does not exceed 18.3.
Schedule of rounds:
Monday, June 21
Tee times available for practice rounds
Tuesday, June 22
8:00 a.m. - 9:30 a.m. Stroke Play Qualifying
11:30 a.m. - 3:00 p.m. Boxed lunch available for players
12:30 p.m. - 2:30 Stroke Play Qualifying
Wednesday, June 23
8:00 a.m. - 9:40 a.m. Round 1 Matches
11:30 a.m. - 3:00 p.m. Boxed lunch available for players
12:30 p.m. - 3:00 p.m. Round 2 Matches
Thursday, June 24
8:00 a.m. - 8:49 a.m. Round 3 Matches
12:00 p.m. - 1:30 p.m. Quarterfinals
Friday, June 25
8:00 a.m. - 8:10 a.m. Semifinal Matches
12:30 p.m. Championship Match
About the Carolinas Golf Association (CGA)
The CGA is a 501(c)(3) not-for-profit educational organization that was founded in 1909 to promote and to protect the game of golf in the Carolinas by providing competitions, education, support and benefits to golf clubs and golfers. The CGA is the second largest golf association in the country with over 700 member clubs represented by nearly 150,000 individuals.
The CGA annually conducts 48 championships and five team match competitions for men, women, juniors, and seniors. It also runs over 150 One-Day (net and gross) events as well as qualifying for USGA national championships. The CGA serves golf in the Carolinas with numerous programs such as: the USGA Handicap System; tournament management software and support; course measuring and course/slope ratings; agronomy consultation; answers about the Rules of Golf, Rules of Amateur Status, and Handicapping; Carolinas Golf Magazine; Interclub series; Tarheel Youth Golf Association; Carolinas Golf Hall of Fame; expense assistance for USGA Junior and Girls' Junior qualifiers from the Carolinas; and the Carolinas Golf Foundation (CGF). The CGF has distributed nearly $2,000,000 since 1977 to benefit Carolinas' golf initiatives including junior and women's programs.
For more information about the CGA, visit our website.
##30##