Preview: 12th Jimmy Anderson Girls' Invitational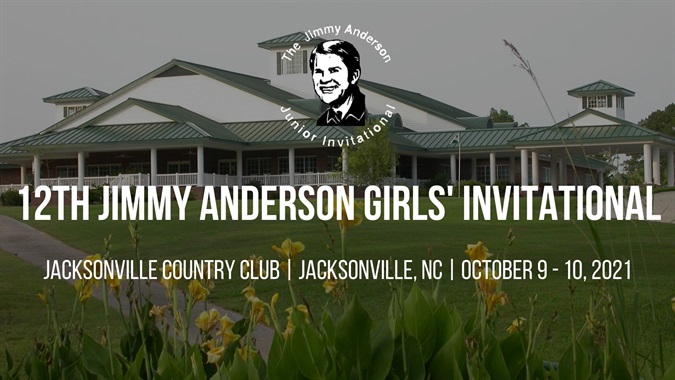 SOUTHERN PINES, N.C. (October 8, 2021) -- The Carolinas Golf Association will conduct the 12th Jimmy Anderson Girls' Invitational at Jacksonville Country Club in Jacksonville, N.C. from October 9-10, 2021. The field will compete at 5,781 yards (par 35-37--72).
Related: Championship Web Site | Full Field of Players | Starting Times | Scoring | History
Top 50 Ranked Carolinas Junior Girls in the Field:
No. 1 Adrian Anderson of Murrells Inlet, S.C.

No. 3 Kiera Bartholomew of Wake Forest, N.C.

No. 9 Madison Messimer of Myrtle Beach, S.C.

No. 10 Ellen Yu of High Point, N.C.

No. 13 Ella Perna of Durham, N.C.

No. 17 Nicole Nash of Charlotte, N.C.

No. 18 Maya Beasley of Pinehurst, N.C.

No. 19 Hannah Altman of Lake City, S.C.

No. 23 Heather Appelson of Wake Forest, N.C.

No. 28 Caroline Hawkins of Columbia, S.C.

No. 30 Emerson B. Dever of Durham, N.C.

No. 31 Saia Rampersaud of Durham, N.C.

No. 33 Karsyn Roberts of Pikeville, N.C.

No. 35 Leah Edwards of Greensboro, N.C.

No. 40 Olivia Pellerin of Greenville, S.C.

No. 41 Kinsley Smith of Raleigh, N.C.

No. 42 Garland Gould of Raleigh, N.C.

No. 44 Kasey McIlvaine of Raleigh, N.C.

No. 45 Cindy Song of Waxhaw, N.C.

No. 47 Sahana Mantha of Charlotte, N.C.

No. 50 Katelyn Griggs of Lexington, S.C.
Past Champions in the Field (1):
Cindy Song, Waxhaw, N.C., 2019
Established in 1954, Jacksonville Country Club provides a tremendous George Cobb design located in Onslow County, that can challenge golfers of all skill levels. Jacksonville CC was one of Cobb's earliest golf course design projects, and still holds up to the modern game.
Jimmy Anderson was the head golf professional at Jacksonville Country Club for over 25 years. Each Saturday morning, he conducted a junior golf clinic to help spread the game of golf to the next generation. During his tenure at Jacksonville CC, he taught many juniors including Mallory Miller, the 1987 N.C. Junior Champion and numerous future collegiate and golf professionals. Not only did he teach the game of golf, but was always there with a helpful word of encouragement to any young golfer.
The championship format is 36 holes of stroke play.
Schedule of Rounds:
Saturday, October 9
First Round - 18 Holes of Stroke Play
Sunday, October 10
Final Round - 18 Holes of Stroke Play
About the Carolinas Golf Association (CGA)
The CGA is a 501(c)(3) not-for-profit educational organization that was founded in 1909 to promote and to protect the game of golf in the Carolinas by providing competitions, education, support and benefits to golf clubs and golfers. The CGA is the second largest golf association in the country with over 700 member clubs represented by nearly 150,000 individuals.
The CGA annually conducts 48 championships and five team match competitions for men, women, juniors, and seniors. It also runs over 150 One-Day (net and gross) events as well as qualifying for USGA national championships. The CGA serves golf in the Carolinas with numerous programs such as: the USGA Handicap System; tournament management software and support; course measuring and course/slope ratings; agronomy consultation; answers about the Rules of Golf, Rules of Amateur Status, and Handicapping; Carolinas Golf Magazine; Interclub series; Tarheel Youth Golf Association; Carolinas Golf Hall of Fame; expense assistance for USGA Junior and Girls' Junior qualifiers from the Carolinas; and the Carolinas Golf Foundation (CGF). The CGF has distributed nearly $2,000,000 since 1977 to benefit Carolinas' golf initiatives including junior and women's programs.
For more information about the CGA, visit our website.
##30##