The Carolinas Claim the Captain's Putter Title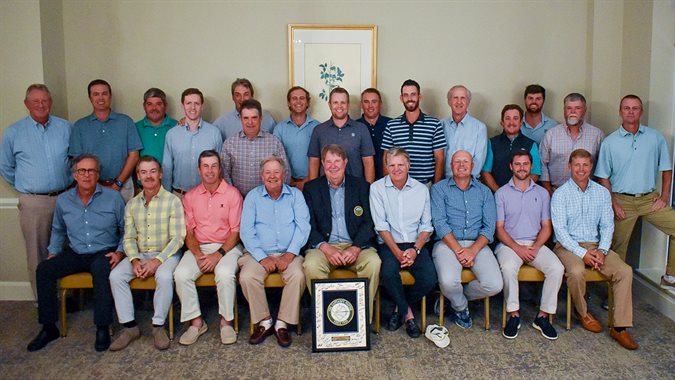 GASTONIA, N.C. (October 16, 2021) -- Final results of the 76th Captain's Putter Matches at Gaston Country Club in Gastonia, N.C. on October 16, 2021. The Regular Division competed at 7,042 yards and the Senior Division competed at 6,615 yards (par 36-36--72).
Related: Championship Website | Team Rosters | Starting Times | Scoring | History | Photos

After racking up 18 points in the four-ball and foursomes matches, the Carolinas team only needed to earn 6.5 of the available 24 points in the singles matches today to win back the Captain's Putter. The Virginias team did not make that an easy feat taking 13.5 of the 24 singles match points, but the Carolinas ultimately earned back the Captain's Putter on their home turf.
Putting 48 of the best golfers from four states together to battle it out naturally creates heated competition, but the by-product is incredible golfers bringing out their "A-game" for their respective teams. In several instances, not even a birdie could win the hole. Gaston Country Club saw 12 eagles and 273 birdies in just two days of competition from these teams. The talent displayed from this select group of golfers was immeasurable.
Carolinas Regular, Daniel Neveu brought home the first match of the day 5 & 4 for a point for the Carolinas team. Following Neveu, several matches came in with points for the Virginias team. They captured an outstanding 11 matches with senior Matt Sughrue taking down the CGA's most decorated champion Paul Simson in a 3 & 2 victory.
Virginias Regulars and playing partners, Jordan Utley and Dustin Groves went undefeated in the four-ball and foursome matches. They were able to carry that momentum into the singles matches and both pulled off a clean sweep for their matches this weekend.
On the Carolinas side, three players were able to pull off a clean sweep this weekend, one player from each division. Raymond Wooten, a Carolinas Regular, captured his four-ball match with Mark Olbrych 4 & 3 for his biggest win of the weekend. Carolinas Senior and Captain's Putter mainstay, Eddie Hargett performed best in the singles with a swift 4 & 3 victory this morning. The Carolinas Super Senior Player of the Year, Evan Long also showed out in the singles matches capturing his third win of the matches 4 & 2. Notably, Carolinas Senior, Steve Harwell clinched his match with an 8 & 6 finish on No. 12 green for the biggest win of the weekend.
The Captain's Putter is an annual set of matches pitting top golfers from North and South Carolina against top players from Virginia and West Virginia (Virginia State Golf Association and West Virginia State Golf Association). This year's win moves the Carolinas Team to a 51-24-1 overall record in the series.


The Carolinas Golf Association would like to thank the West Virginia Golf Association and the Virginia State Golf Association for participating and helping coordinate the team matches. The CGA would also like to thank the members and staff of Gaston Country Club for their hospitality in hosting the 76th Captain's Putter Matches.


76th Captain's Putter Matches
Gaston Country Club, Gastonia, N.C.
Final Round Results: Singles Matches
Robert Nussey, Virginias def. Tim Teaster, Carolinas, 2 up
David Jordan, Virginias def. Pat Thompson, Carolinas, 2 up
Eddie Hargett, Carolinas def. Tim Mount, Virginias, 4 & 3
Matt Sughrue, Virginias def. Paul Simson, Carolinas, 3 & 2
Sherrill Britt, Carolinas tied with Jim Grimmett, Virginias
Steve Harwell, Carolinas def. Neil Davis, Virginias, 8 & 6
Jack Allara, Virginias def. Walter Todd, Carolinas, 1 up
Rich Weston, Carolinas tied with Philip Mahone, Virginias
Jim Woodson, Virginias def. Russ Perry, Carolinas, 2 & 1
Evan Long, Carolinas def. John Steele, Virginias, 4 & 2
Adam Houck, Virginias def. Mark Olbrych, Carolinas, 2 & 1
Anthony Conn, Carolinas def. Stephen Bain, Virginias, 3 & 1
Brandon Reece, Carolinas def. Garland Green, Virginias, 3 & 2
Jordan Utley, Virginias def. Chris Cassetta, Carolinas, 3 & 1
Dustin Groves, Virginias def. Brian Quackenbush, Carolinas, 1 up
Timothy Driver, Carolinas tied with Jonathan Clark, Virginias
Walt Todd Jr., Carolinas tied with Chris Williams, Virginias
Blake Carter, Virginias def. Jordan Sease, Carolinas, 1 up
Chad Wilfong, Carolinas def. Justin Young, Virginias, 1 up
Daniel Neveu, Carolinas def. Buck Brittain, Virginias, 5 & 4
Pat Carter, Virginias def. Josh Branyon, Carolinas, 1 up
Raymond Wooten, Carolinas def. Ryan Patrick, Virginias, 3 & 1
Matthew Younts, Carolinas tied with Marshall Tinsley, Virginias
Cam Roam, Virginias def. Michael Sims, Carolinas, 2 up
Singles Matches Standings: Virginias - 13.5 points, Carolinas - 10.5 points
Final Standings: Carolinas - 28.5 points, Virginias - 19.5 points

About the Carolinas Golf Association (CGA)

The CGA is a 501(c)(3) not-for-profit educational organization that was founded in 1909 to promote and to protect the game of golf in the Carolinas by providing competitions, education, support and benefits to golf clubs and golfers. The CGA is the second largest golf association in the country with over 700 member clubs represented by nearly 150,000 individuals.
The CGA annually conducts 48 championships and five team match competitions for men, women, juniors, and seniors. It also runs over 150 One-Day (net and gross) events as well as qualifying for USGA national championships. The CGA serves golf in the Carolinas with numerous programs such as: the USGA Handicap System; tournament management software and support; course measuring and course/slope ratings; agronomy consultation; answers about the Rules of Golf, Rules of Amateur Status, and Handicapping; Carolinas Golf Magazine; Interclub series; Tarheel Youth Golf Association; Carolinas Golf Hall of Fame; expense assistance for USGA Junior and Girls' Junior qualifiers from the Carolinas; and the Carolinas Golf Foundation (CGF). The CGF has distributed nearly $2,000,000 since 1977 to benefit Carolinas' golf initiatives including junior and women's programs.
For more information about the CGA, visit our website.
##30##