Pine Needles and Mid Pines Claim Interclub Championship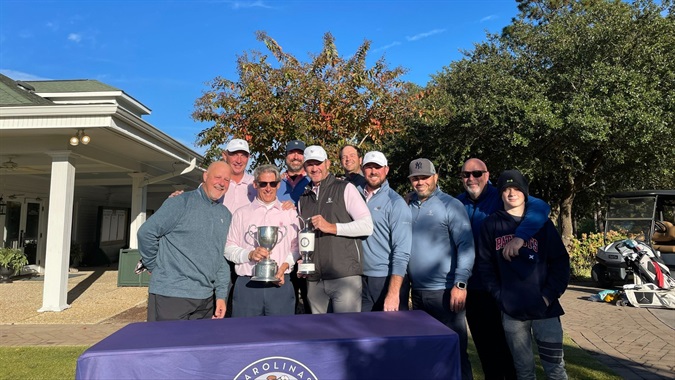 SOUTHERN PINES, N.C. (November 7, 2021) – Final results of the 24th CGA Regular Interclub at Longleaf Golf & Family Club in Southern Pines, N.C. on Sunday, November 7, 2021.
Related: Championship Web Site | Final Results | Photos
After five months of regular season round robin play, followed by six single elimination team matches, Pine Needles Resort & Mid Pines Golf & Inn were able to claim the 24th Interclub Championship beating Palisades #2 49.5 to 30.5.
On a cold windy day, the defending champions, Pine Needles & Mid Pines got hot winning all four matches against a strong Palisades #2 team and capturing their second Interclub title.
In the first match, Pine Needles Captain, Brady Rowland and Vincent Wade got the ball rolling winning two of the first three holes to gain a quick advantage. After settling down, the Palisades team of Erik Ibsen and Mike Thomas were able to trade blows with the giants to stay in the match. Unfortunately Ibsen and Thomas ran out of holes as Rowland and Wade claimed the match 12.5 to 7.5.
The second match of the day saw Rob Carpenter and Brad Diemert of Pine Needles take on Joe Kamens and Zac Beard of Palisades. The defending champs were too much for the newcomers as Carpenter and Diemert won four of the first six holes. With the hole too deep to dig out, the Pine Needles team was able to claim 13.5 points.
The closest Palisades came to winning a match was the third match. Nathan Presnal and Chad Knickerbocker of Pine Needles were paired against Jeff Kowalczik and Casey Schneider of Palisades. Presnal came out firing, winning the first hole for Pine Needles but this Palisades team would not go down quietly. Kowalczik birdied the second to tie the match. After 11 holes the Palisades team was clinging to a small lead when the Pine Needles duo was able to claim three of the next four holes. Knickerbocker and Presnal were able to go on and win 11.5 points to contribute to the win.
In the anchor match, the Pine Needles team of Rob Clarke and Mike Fields squared off against Donnie Langland and Adam Furlough of Palisades. Clarke and Fields were able to take an early lead, as Clarke hit it to a foot on the opening hole for a conceded birdie. From there Fields and Clarke did not look back, winning three holes on the first nine. Langland and Furlough finally drew some blood with a birdie on the par 4, 12th. Their hopes of a comeback was squashed as Fields was able to win back that point on the very next hole. When the dust settled Clarke and Fields captured 12 points for their team.
Captain Rowland was ecstatic after the day "First off, I would like to thank the CGA for putting together the Interclub season. Also, I want to thank Pine Needles for allowing us to participate. We really enjoyed our season and the opportunity to play all the teams and players we were able to meet along the way. It is great to play different courses with people who love golf like we do. As for my team, I am really proud of them. The playoffs can be intense and after winning last year we knew we had a target on our back. It is a lot easier to say we want to repeat than it is to do. We played a lot of great teams in the playoffs. We are very proud to be back to back CGA Interclub Champs"
With 88 teams competing in the 24th season of the CGA Regular Interclub, Pine Needles will again see their name engraved on the Ben Payne Trophy, named for the CGA Volunteer Official Ben Payne who helped start the program after moving here from southern California over 25 years ago.
The CGA wishes to thank the members and staff of Longleaf Golf & Family Club especially the General Manager, Stephen Crayan, Head Golf Professional, Dan Dicarlo and Director of Golf Course Maintenance, Jason Friedman.