CGA Anderson Boys' Expanded to 54-holes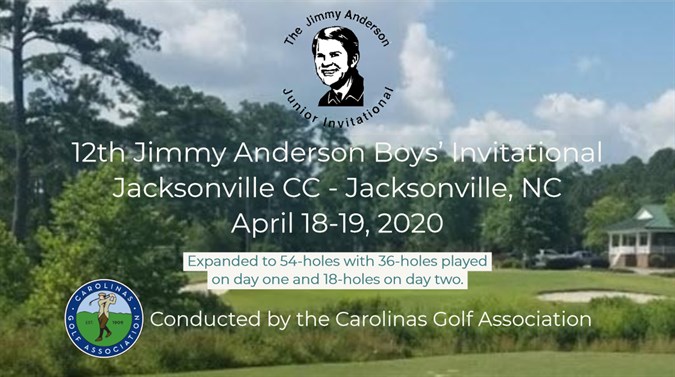 The Jacksonville Country Club Board of Directors and the Carolinas Golf Association (CGA) announce that the 12th Jimmy Anderson Boys' Invitational tournament format will be expanded to 54-holes. The tournament will played under a college tournament format as the players will play 36-holes on day one and 18-holes on day two. "By expanding to 54-holes, the players will be better prepared for college golf when they advance to the next level" stated CGA Director of Youth Development Jason Cox. "Also by playing 54-holes, the tournament results can now be used for World Amateur Golf Rankings" added Cox. The annual junior golf tournament will be contested on Saturday and Sunday, April 18-19, 2020.
This annual junior tournament was started by the alumni of the Jacksonville Country Club junior golf program in 2009 to honor their longtime teacher and friend Mr. Jimmy Anderson. Jimmy Anderson was the head golf professional at Jacksonville Country Club for over 25 years. Each Saturday morning, he conducted a junior golf clinic to help spread the game of golf to the next generation. During his tenure at Jacksonville CC, he taught many juniors including Mallory Miller, the 1987 N.C. Junior Champion and numerous future collegiate and golf professionals. Not only did he teach the game of golf, but was always there with a helpful word of encouragement to any young golfer. The tournament began as a boys and girls tournament, but due to the success of the event, the girls have been given their own tournament that is conducted each fall in October.
The 2020 tournament will mark the twelfth time the tournament has been hosted by Jacksonville CC. Seven past champions have gone on to play Division I college golf including two-time champion Andrew Decker (N.C. State); Connor Lewis (Radford); Thomas Walsh (Virginia); Patrick Cover (UNC-Wilmington); Christian Salzer (N.C. State); Danny Azallion (Virginia Tech); and Kenan Poole, II (UNC-Chapel Hill).
The Anderson Boys' is open to any male amateur golfer 13 to 18 years of age of April 19, 2020 who is a legal resident of NC or SC, who has not started college (class of 2020 and higher) and who has a current USGA handicap of 15.0 or lower.
The Anderson Boys' uses seven categories to grant exemptions to compete in the tournament. Those not included in the categories have the opportunity to qualify on April 4, 2020 at Siler City CC in Siler City, NC. A minimum of 10 spots will be available on April 4th.
EXEMPTIONS
Players in the following categories are exempt into the tournament
1. Top 25 in 2019 Jimmy Anderson Boys' Invitational
2. Top 5 in 2019 TYGA Down East Junior
3. Top 5 in 2019 SCJGA Cheraw Fall Challenge
4. Top 5 in 2019 TYGA Bill Harvey Junior
5. Top 5 in 2019 SCJGA Players Championship
6. Top 40 on TYGA NC junior ranking as of February 11, 2020
7. Top 40 on SCJGA junior rankings as of February 11, 2020
SCHEDULE OF EVENTS
Saturday, April 4, 2020
12:00 pm – 2:00 pm Sectional qualifying
Friday, April 17, 2020
All day Practice rounds
5:00 pm – 8:00 pm Registration
5:00 pm – 8:00 pm Welcome pizza party - Players and parents welcome
Saturday, April 18, 2020
8:30 am Round one shotgun
1:00 pm Round two directly after round one in same groups
5:00 pm - 7:00 pm Tournament dinner - Players and parents welcome
Sunday, April 19, 2020
7:00 am - 9:30 am Breakfast buffet - Players and parents welcome
8:00 am - 9:45 am Round three starting times off #1 and #10
2:00 pm Awards ceremony