Pine Island CC ot host 51st NC Junior Boys'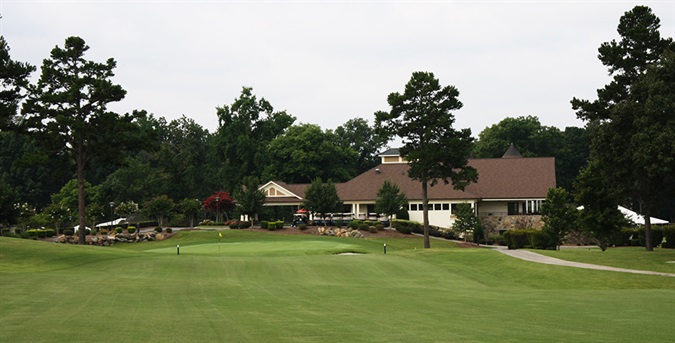 The Carolinas Golf Association has announced that Pine Island Country Club in Charlotte, NC will host the 51st N.C. Junior Boys' Championship on June 19-22, 2018. An anticipated field of 144 golfers will compete on the Michael Gleason designed course that has hosted the Vicki Disantis Girls' since 2008, the 2011 NC Junior Boys' and Girls' Championships and the 2012 NC Super Senior Championship.
Inspired by a rolling piece of farmland in the mid-1960s, golf course architect Charles M. Mahannah created Pine Island Country Club as a course every golfer would enjoy. Mr. Mahannah's vision of a course that requires proficiency, reverence and thought has continued through the years as we continually upgrade, redesign and maintain the course through innovative practices and trendsetting technology. With the latest renovation direction by golf course architect Michael Gleason of Pinehurst, NC the course is one of the finest USGA-regulated courses in the region. Dramatic, architecturally sound and extremely innovative, this premier private course provides fun and challenging play for golfers of all ages and skill levels.
Each year junior golfers from across North Carolina compete in this annual match play tournament. Some of the past champions include Scott Hoch, Dustin Bray, David Chung, Will Collins, Andy Knox, Carter Jenkins, Alex Smalley, Jack Massei and defending champion Quinn Riley. The champion receives exemptions into the NC Amateur, NC Amateur Match Play, the Hope Valley Junior Invitational and the Bobby Chapman Junior along with being invited to represent the Carolinas in the Carolinas-Virginias Junior Team Matches being hosted by CC of North Carolina in Pinehurst, NC on August 11-12, 2018.
Registration opens on May 7th at 8 pm.
DATES
June 19-22, 2018

FORMAT
The championship format is match play with an 18 hole of stroke play qualifier (Tuesday, June 19th) to determine the seeding for match play. The top 63 boys from the stroke play qualifier will advance to match play. Defending champion Quinn Riley of Raleigh, NC will be seeded number one for match play. Once a player loses a match, they are eliminated from the tournament.
YARDAGES
Boys will compete at approximately 6,600 yards, par 71.
AGE DIVISIONS
Boys will compete in one division. There are no age divisions.
ELIGIBILITY
Entry is open to any male amateur golfer ages 12-18 as of June 22, 2018, who has not started college, is a legal resident of North Carolina, is a member in good standing of a club which is a member of the Carolinas Golf Association (CGA) and has a current USGA Handicap Index® at a CGA member club that does not exceed 18.3.
PRIZES
Trophies are awarded to the champion, runner-up, semifinalists, quarterfinalists, and the medalist.
EXEMPTIONS
Exemptions into the championship will be awarded based on performance in 11 different tournaments leading up to the championship and the NC junior boys' rankings as of May 7, 2018.
SECTIONAL QUALIFYING
Those not included in any of the exemption categories have the opportunity to qualify on June 14th at Catawba Creek GC in Gastonia, NC or on June 14th at the Links at Cotton Valley in Tarboro, NC. A minimum of ten spots will be available at each site.
About the Carolinas Golf Association (CGA)
The CGA is a 501(c)(3) not-for-profit educational organization that was founded in 1909 to promote and to protect the game of golf in the Carolinas by providing competitions, education, support and benefits to golf clubs and golfers. The CGA is the second largest golf association in the country with over 700 member clubs represented by nearly 150,000 individuals.
The CGA annually conducts 48 championships and five team match competitions for men, women, juniors, and seniors. It also runs over 150 One-Day (net and gross) events as well as qualifying for USGA national championships. The CGA serves golf in the Carolinas with numerous programs such as: the USGA Handicap System; tournament management software and support; course measuring and course/slope ratings; agronomy consultation; answers about the Rules of Golf, Rules of Amateur Status, and Handicapping; Carolinas Golf Magazine; Interclub series; Tarheel Youth Golf Association; Carolinas Golf Hall of Fame; expense assistance for USGA Junior and Girls' Junior qualifiers from the Carolinas; and the Carolinas Golf Foundation (CGF). The CGF has distributed nearly $2,000,000 since 1977 to benefit Carolinas' golf initiatives including junior and women's programs.