2015 Carolinas Rules of Golf Seminar Schedule Announced
Southern Pines, N.C. -- The Carolinas Golf Association (CGA) has announced the schedule for its annual series of USGA Rules of Golf Seminars. This year's series will be the 39th year the CGA has served the Carolinas with Rules of Golf education and annual rules presentations.
The scheduled 16 seminars are free of charge to attendees, who will view a narrated computer presentation on the basics of the Rules of Golf followed by question and answer sessions. Seminars typically last between 1 ½ to 2 hours in duration. A free 2012-15 USGA Rules of Golf book will be distributed to all participants, and information on the Carolinas Golf Association will be available.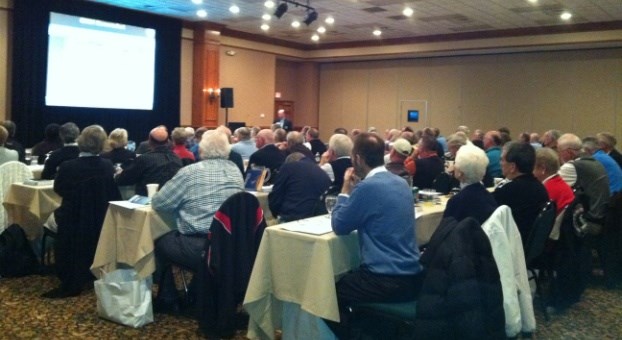 Seminars are open to golfers of all ages and abilities including members of CGA member clubs, golf professionals, college and high school golf teams and the general public.
Carolinas PGA members receive two "General Category" MSR education credits and LPGA members receive two CU credits for attending a seminar.
Seminar attendees are encouraged to pre-register online at https://www.carolinasgolf.org/2015-seminars
For further information, contact the CGA, 140 Ridge Road, Southern Pines, NC 28387, phone: 910-673-1000 or e-mail admin@carolinasgolf.org
The 2015 schedule with sites and times:
| | | | |
| --- | --- | --- | --- |
| Date | Site | City, State | Time |
| February 23 | Bryan Park Enrichment Center | Browns Summit, NC | 5:30pm-7:30pm |
| March 3 | Moss Creek Golf Club | Hilton Head, SC | 5:30pm-7:30pm |
| March 4 | Country Club of Charleston | Charleston, SC | 5:30pm-7:30pm |
| March 4 | Porters Neck Country Club | Wilmington, NC | 5:30pm-7:30pm |
| March 5 | The Dunes Golf & Beach Club | Myrtle Beach, SC | 5:30pm-7:30pm |
| March 5 | Carolinas Golf House #1 (40 person max) | Southern Pines, NC | 5:30pm-7:30pm |
| March 9 | Catawba Country Club | Newton, NC | 5:30pm-7:30pm |
| March 10 | Raintree Country Club | Charlotte, NC | 5:30pm-7:30pm |
| March 10 | Colonial Country Club | Thomasville, NC | 5:30pm-7:30pm |
| March 11 | Kenmure Country Club | Flat Rock, NC | 5:30pm-7:30pm |
| March 11 | Hope Valley Country Club | Durham, NC | 5:30pm-7:30pm |
| March 12 | Cypress Landing Golf Club (Bay Club) | Chocowinity, NC | 5:30pm-7:30pm |
| March 16 | Carolinas Golf House #2 (40 person max) | Southern Pines, NC | 5:30pm-7:30pm |
| March 18 | Carolina Country Club | Raleigh, NC | 5:30pm-7:30pm |
| March 18 | Thornblade Club | Greenville, SC | 5:30pm-7:30pm |
| March 19 | Cobblestone Park Golf Club | Blythewood, SC | 5:30pm-7:30pm |
##30##