Carolinas Women's Match Play Preview

Mallory Hetzel Looks to Make History

SOUTHERN PINES, N.C. (July 1, 2016) -- The Carolinas Golf Association (CGA) will conduct the 19th Carolinas Women's Match Play Championship at Bermuda Run Country Club's West Course in Bermuda Run, NC on July 6-8.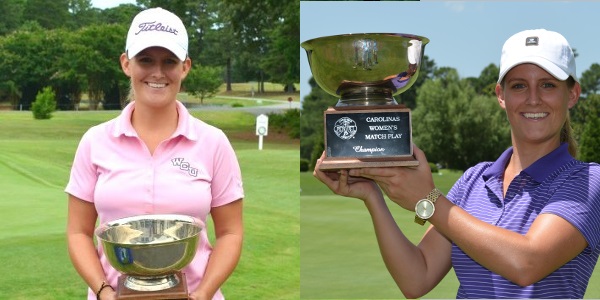 Two-time defending champion Mallory Hetzel of Waynesville, NC
will be the #1 seed for match play
Mallory Hetzel of Waynesville, N.C., is looking to become the first player to win three consecutive Carolinas Women's Match Play titles. "Thinking back on the last two years at the Carolinas Women's Match Play brings up a lot of great memories and feelings. It was so much fun to win in 2014, and to repeat in 2015 was certainly a special accomplishment," said Hetzel, a 7-time CGA champion. "I feel lucky to have the opportunity to compete again this year. The CGA is a fantastic organization and I've always appreciated what they have done for golf in the Carolinas. "
Hetzel is the 11th ranked women's golfer in the Carolinas. "Admittedly, I have not play much golf this summer. I have been focused on recruiting the next class of golfers for Western Carolina University and spending time with my family," said Hetzel, the head coach of the Western Carolina women's golf program. "My expectations will be low next week, but I do enjoy match play and the unique opportunity to compete head-to-head."
Other top-ranked players in this year's field include:
Sarah Bae of Pinehurst, N.C. A four-time CGA champion, Bae is the 25th ranked women's golfer in the Carolinas. A three-time NC Junior Girls' Player of the Year (2010-2012), she is a rising senior at NC State University.

Bailey Cocca of Myrtle Beach, S.C. A runner-up at the 2014 and 2016 Carolinas Women's Amateur, Cocca is ranked 13th in the Carolinas. She recently graduated from Coastal Carolina University.

Annie and Kate Collom of Charlotte, N.C., are ranked 15th and 21st in the Carolinas. Annie is a rising sophomore at the University of Richmond. Her sister, Kate, is a rising junior at Samford University.

Maddisen and Morgan Cox of Easley, S.C. Maddisen, ranked 12th in the Carolinas is a rising junior at James Madison University. Morgan won the 2014 Carolinas Junior Girls' Championship and will join her sister in the fall at JMU.

Ashley Thompson of Clyde, N.C., is ranked 22nd in the Carolinas. Ashley is a rising senior on Hetzel's Western Carolina University golf team.

Kayla Thompson of Whiteville, N.C. Last year's runner-up, Thompson is ranked 16th in the Carolinas. Kayla is a rising junior at UNC-Wilmington.

Lea Venable of Simpsonville, S.C. A 3-time CGA champion, in May Venable held the 18-hole lead at the Carolinas Women's Amateur. She is 6th in Carolinas Women's rankings. Hetzel and Venable teamed together to qualify for the inaugural U.S. Women's Four-Ball.

This will be the 13th CGA championship hosted by Bermuda Run. In 2011, the club hosted the North Carolina Amateur Match Play, won by current PGA Tour player Harold Varner III. The Carolinas Women's Match Play format is 18 holes of stroke play qualifying on July 6th to determine seeding and flights for match play in the Championship Division and seeding for match play in the Carolinas Division. Players have the option to compete in either the Championship Division (approximately 60000 yards) or Carolinas Division (approximately 5200 yards).
The Championship Division will play from the championship tees and compete using gross scores only. The championship flight will be comprised of the top 16 qualifiers and will compete for the overall champion title. Players will be seeded based on qualifying score. All ties for seeds 1-15 will be broken by blind draw. Ties for the last spot in the Championship Flight will be broken by an on-course playoff. Players who do not qualify for the Championship Flight are flighted according to number of entries and seeded based on qualifying score. Mallory Hetzel of Waynesville, NC is the defending champion and is seeded number one for match play.
The Carolinas Division will play a shorter course and is not eligible for the overall championship. The Carolinas Division will be pre-flighted based on Handicap Index and seeded within their flights based on net qualifying score. Players will use net scores for match play. Matches will be stroked off the low ball (lower handicap competitor playing at scratch and the higher handicap competitor receiving the difference in course handicaps between the two competitors). The number of flights and flight sizes are determined based on the number of entries. For the Carolinas Division only, players who lose their first round match will be placed in a consolation flight.
Entry is open to any female golfer who has reached her 13th birthday by July 6th, is a legal resident of North Carolina or South Carolina, is a member in good standing of a club which is a member of the Carolinas Golf Association and has an active GHIN USGA Handicap Index at a member club that does not exceed 40.4.

FULL FIELD OF PLAYERS:
Bae, Sarah, Pinehurst, NC
Beaupied, Susan, Pittsboro, NC
Bertram, Sarah, Concord, NC
Bhatia, Rhea, Wake Forest, NC
Bogache, Pendleton, Myrtle Beach, SC
Casson, Killian, Greenville, NC
Cleary, Hailey, Lexington, SC
Collom, Annie, Charlotte, NC
Collom, Kate, Charlotte, NC
Corley, Madison, Charlotte, NC
Cox, Carley, China Grove, NC
Cox, Maddisen, Easley, SC
Cox, Morgan, Easley, SC
Craver, Hannah, Winston Salem, NC
Donovan, Mary Katherine, Hampstead, NC
Goodman, Savanah, Easley, SC
Gore, Ann Elizabeth, Lexington, SC
Hetzel, Mallory, Waynesville, NC
Jarrell, Alexis, Davidson, NC
Kershaw, Alexis, Winston-Salem, NC
Laird, Morgan, Waxhaw, NC
Legacy, Sydney, Central, SC
Overbey, Cecily, High Point, NC
Parsons, Abby, Pinehurst, NC
Stinson, Emily, Charlotte, NC
Streng, Julie, Greensboro, NC
Symonds, Meghan, Cary, NC
Thompson, Ashley, Clyde, NC
Thompson, Ashlii, Brown Summit, NC
Thompson, Kayla, Whiteville, NC
Tindal, Jaelyn, Rock Hill, SC
Twitty, Jacqueline, Chapin, SC
Venable, Lea, Simpsonville, SC
Vodry, Samantha, Mooresville, NC
Yeatts, Alaina, Durham, NC

CHAMPIONSHIP SCHEDULE:
July 6
Round 1 – 18 holes stroke play qualifying
(single tee start 8:00 a.m.)
Lunch will be provided for all players immediately following play

July 7
First and Quarterfinal Round Matches
AM and PM Matches, 8:00 a.m. and approximately 12:30 p.m.

July 8
Semifinal and Final Round Matches
AM and PM Matches, 8:00 a.m. and approximately 12:30 p.m

About the Carolinas Golf Association (CGA)
The CGA is a 501(c)(3) not-for-profit educational organization that was founded in 1909 to promote and to protect the game of golf in the Carolinas by providing competitions, education, support and benefits to golf clubs and golfers. The CGA is the second largest golf association in the country with over 700 member clubs represented by nearly 150,000 individuals.
The CGA annually conducts 43 championships and five team match competitions for men, women, juniors, and seniors. It also runs over 140 One-Day (net and gross) events and qualifying for USGA national championships. The CGA serves golf in the Carolinas with numerous programs such as: the USGA Handicap System; tournament management software and support; course measuring and course/slope ratings; agronomy consultation; answers about the Rules of Golf, Rules of Amateur Status, and Handicapping; Carolinas Golf Magazine; Interclub series; Tarheel Youth Golf Association; Carolinas Golf Hall of Fame; expense assistance for USGA Junior and Girls' Junior qualifiers from the Carolinas; and the Carolinas Golf Foundation (CGF). The CGF has distributed more than $1,500,000 since 1977 to benefit Carolinas' golf initiatives including junior and women's programs.
For more information about the CGA, visit www.carolinasgolf.org.
##30##