Ladies' Play Day Results - Kenmure CC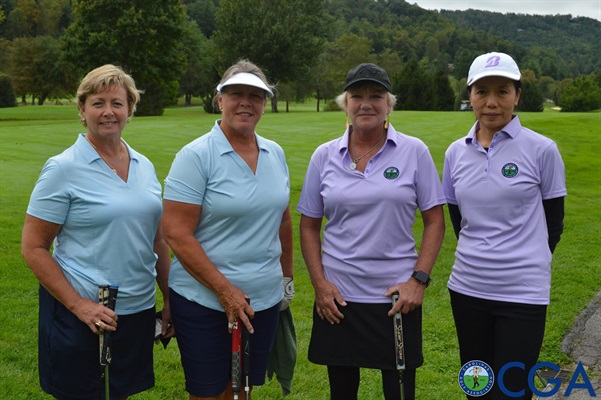 Ladies' Four-Ball Play Day Results
from Kenmure Country Club
SOUTHERN PINES, N.C. (October 10, 2019) -- Final results from the Ladies' Four-Ball Play Day hosted by Kenmure Country Club on Wednesday, October 9, 2019.
104 players competed in the ladies' four-ball play day at Kenmure Country Club in Flat Rock, N.C. Winners in each flight received gross and net prizes. The first place gross and net team in each flight also gained an exemption to the year-end Carolinas Cup Tournament that will be held at Kiawah Island Resort (Ocean) on December 2, 2019. All players also received points in the Race to the Carolinas Cup.
Ladies' Four-Ball Play Days are 18-hole events of four-ball stroke play, with prizes given for gross and net winners in each flight. The field is flighted based on team Handicap Index®.
Results
First Flight
Pos.
Players
City, State
Gross
Net
1st Gross
June Wang + Robbie Knotts
Huntersville, NC
76
72
1st Net
Sue McDermott + Debbie Hockman
Pinehurst, NC
76
61
2nd Gross
Janis Romeo + Laura Quillin
Charlotte, NC
78
69
2nd Net
Christine Ring + Jeanne Fleming
Travelers Rest, SC
82
65
3rd Net
Susan Dauber + Patricia Reid
Simpsonville, SC, Greenville, SC
80
66
Kate Fogel + Sara Thomas
Conover, NC, Cornelius, NC
82
69
Babs McIntosh + Jennifer Grabosky
North Myrtle Beach, SC, Tryon, NC
82
67
Lisa Lee + Carol Hill
Darlington, SC
82
66
Susan Christian + Luke Myers
Simpsonville, SC, Greer, SC
83
69
Karren Peterson + Mary Hallward
Simpsonville, SC, Travelers Rest, SC
83
69
Laura Jennings + Jill Criscuoli
Ninety Six, NC, Ninety SIX, SC
86
70
Susan Berg + Donna Treat
Ninety Six, SC
86
67
Kristen Rooke + Rebecca Earle
Greenville, SC, Fountain Inn, SC
87
74
Second Flight
Pos.
Players
City, State
Gross
Net
1st Gross
Terri Eisenhauer + Carrie Carman
Flat Rock, NC, Hendersonville, NC
83
63
1st Net
Terri Anderson + Betty Adams
Ninety Six, SC
86
66
2nd Gross
Katherine Pieczynski + Jill Hemingway
Pinehurst, NC
84
66
2nd Net
Kay Campbell + Mary Stam
Asheville, NC, Brevard, NC
84
66
3rd Net
Jennifer Obrien + Cathy Robinson
Mount Pleasant, SC, Sumter, SC
88
68
Becky Harley + Debbie Hassell
Clemson, SC, Walhalla, SC
88
70
Susan Bachman + Jan Boyer
Brevard, NC
89
71
Cheri Jones + Mary Ann Brown
Charlotte, NC, Waxhaw, NC
92
75
Jean Peters + Anne Bourne
Pinehurst, NC
92
71
Teresa Prestwood + Alice Queen
Waynesville, NC
93
72
Judie McKown + Barbara Tapley
Brevard, NC
93
71
Mindy Schult + Jane Young
Hendersonville, NC
94
76
Mirella Abbo + Lori Vogler
Mt. Pleasant
96
72
Third Flight
Pos.
Players
City, State
Gross
Net
1st Net
Julie Christianson + Tamera Elam
Hendersonville, NC
86
59
1st Net
Sally Gauntlett + Sue Sorrick
Hendersonville, NC
87
66
2nd Gross
Jeri Peterson + Christine Passen
Hendersonville, NC, Etowah, NC
88
68
2nd Net
Doris Fisher + Dawn Crunkleton
Simpsonville, SC, Hilton Head, SC
89
67
3rd Net
Debra Fleming + Esther Mishoe
Mills River, NC
93
67
Susana Reeves + Irene Garriga
Travelers Rest, SC, Cleveland, SC
89
68
Kay Rusche + Bev Gebicke
Ninety Six, SC
91
67
Caroline Buswell + Teresa Sprouse
Greenwood, SC, Abbeville, SC
92
68
Marianne Jones + Robin Meinrod
Travelers Rest, SC
93
67
Janet Mackenzie + Debra Summerville
Charlotte, NC
94
68
Cyndy Hanchett + Candice Kaylor
Brevard, NC, Brevard, FL
96
69
Cason Maccubbin + Phyllis Gill
Charlotte, NC
98
73
Betty Musser + Jeanie Sasser
Whitsett, NC
101
76
Fourth Flight
Pos.
Players
City, State
Gross
Net
1st Gross
Barbara Sjodin + Marie Ballard
Etowah, NC
90
63
1st Net
Peggy Smith + Ann Griffith
Greenwood, SC, Simpsonville, SC
95
64
2nd Gross
Patricia Bailey + Deanna Davis
Fletcher, NC, Candler, NC
97
70
2nd Net
Patricia Furman + Nancy Engstrom
Hendersonville, NC
102
67
3rd Net
Elizabeth Bethel + Betty Ligon
Greenwood, SC
97
68
Laura Johnson + Charlotte Tripoli
Landrum, SC
98
69
Jill Robbins + Pam Goldsworthy
Hendersonville, NC
100
73
Virgene Wildner + Carolyn Peterson
Penrose, NC, Pisgah Forest, NC
102
70
Victoria Callison + Annette Kellner
Hollywood, SC, Mount Pleasant, SC
103
71
Katherine Solbert + Rita Zrimsek
Landrum, SC
105
73
Linda Thomas + Cherrie Knight
Mt. Pleasant, SC, Biltmore Lake, NC
107
78
Sherry Sims + Susan Thomas
Hendersonville, NC
107
73
Ellen Vincent + Leila Jones
Charlotte, NC
114
79
About the Race to the Carolinas Cup and Ladies' Four-Ball Play Days
The Race to the Carolinas Cup is a season-long points competition in which players accumulate points based on team finish and participation in CGA Ladies' Four-Ball Play Days.
Four-Ball Play Days are ladies-only four-ball (better ball) competitions that are conducted at member clubs across North and South Carolina. Play Days are designed for players of all skill levels and abilities. These events are flighted by team Handicap Index and include gross and net prizes. Most events will be a shotgun start and all events will include lunch.
Every team at every Four-Ball Play Day earns points in the Race to the Carolinas Cup based on their gross or net finish in their respective flight. Each team will also receive participation points. Team points will be split between players to apply to each player's individual standing in the Race to the Carolinas Cup. Players may play with any partner in any of the play days and earn points toward her individual standing. At the end of the Race to the Carolinas Cup regular season, the player with the most points will be named the Race to the Carolinas Cup champion. This award will be given at the year-end Carolinas Cup Tournament. Players in the Top 50 of the Race to the Carolinas Cup standings, as well as each gross and net flight winners at every play day, will be invited to participate in the Carolinas Cup Tournament at Kiawah Island Resort (Ocean). Players may compete with any partner that is also eligible for the tournament. The Carolinas Cup Tournament will be held on December 2, 2019 and will include a banquet and luncheon to celebrate the Race to the Carolinas Cup Champion as well as the Carolinas Cup Tournament winners.
More Information about the Race to the Carolinas Cup
2019 Ladies' Four-Ball Play Days Schedule
About the Carolinas Golf Association (CGA)
The CGA is a 501(c)(3) not-for-profit educational organization that was founded in 1909 to promote and to protect the game of golf in the Carolinas by providing competitions, education, support and benefits to golf clubs and golfers. The CGA is the second largest golf association in the country with over 700 member clubs represented by nearly 150,000 individuals.
The CGA annually conducts 48 championships and five team match competitions for men, women, juniors, and seniors. It also runs over 150 One-Day (net and gross) events as well as qualifying for USGA national championships. The CGA serves golf in the Carolinas with numerous programs such as: the USGA Handicap System; tournament management software and support; course measuring and course/slope ratings; agronomy consultation; answers about the Rules of Golf, Rules of Amateur Status, and Handicapping; Carolinas Golf Magazine; Interclub series; Tarheel Youth Golf Association; Carolinas Golf Hall of Fame; expense assistance for USGA Junior and Girls' Junior qualifiers from the Carolinas; and the Carolinas Golf Foundation (CGF). The CGF has distributed nearly $2,000,000 since 1977 to benefit Carolinas' golf initiatives including junior and women's programs.
For more information about the CGA, visit our website.
##30##