NC Amateurs Selected for Tar Heel Cup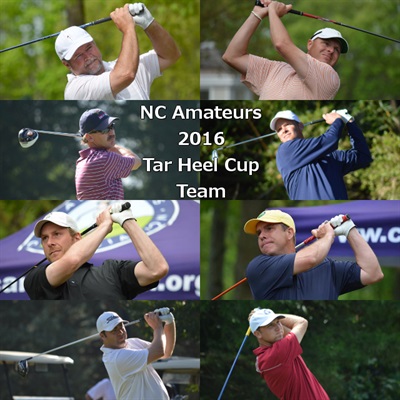 2016 NC Amateurs - Tar Heel Cup Matches
SOUTHERN PINES, N.C. (March 8, 2016) -- A team of eight North Carolina amateurs looks to build on its 3-0-3 record over the last six years when they go against eight North Carolina PGA professionals in the 22nd Tar Heel Cup Matches at River Landing in Wallace, N.C. on April 4-5. While the amateurs have not lost in the last six years, the professionals have long dominated these matches with a 13-5-3 all-time record. The event is jointly conducted by the Carolinas Golf Association (CGA) and the Carolinas PGA Section (CPGA).
The Tar Heel Cup is a Ryder Cup-style competition consisting of one day of Four-Ball matches and one day of Singles matches with one point awarded to the winner of each match. The Amateurs need 6 points to retain the Cup. The CPGA Professionals need 6 ½ points to win.
The Tar Heel Cup Matches return for the second consecutive year to the River Course at River Landing. This golf facility boasts championship golf courses designed by nationally acclaimed architect Clyde Johnston of Hilton Head, S.C. His design takes full advantage of the natural beauty of the gorgeous region which includes scenic lakes and lush woodlands, the Northeast Cape Fear River, and is wonderfully close to famous destinations like the riverfront town of historic Wilmington, NC. New Champion Bermuda greens make the courses at River Landing fun and challenging for individuals of all skill levels. River Landing has previously hosted CGA championships: 2001 NC Mid-Amateur (River), 2010 NC Four-Ball (Landing); 2011, 2012 NC Four-Ball (River); 2013 Dogwood State Junior Championship (River) and 2014 NC Match Play (Landing). The River Course is also utilized by the CGA as an annual host for U.S. Open Local Qualifying.
2016 Competitors:
N.C. AMATEURS
Sherrill Britt, West End, NC
Chris Cassetta, Winston-Salem, NC
Uly Grisette, Winston-Salem, NC
Scott Harvey, Greensboro, NC
Jonathan Jackson, Chapel Hill, NC
Daniel Neveu, Pinehurst, NC
Parks Price, Taylorsville, NC
Justin Tereshko, Jamestown, NC
N.C. PGA PROFESSIONALS
Todd Camplin, Beacon Ridge G&CC, West End, NC
Zac Collins, Treyburn CC Fuquay-Varina, NC
John Faidley, Forsyth CC, Winston-Salem, NC
Chris Haarlow, Precision Golf School, Greensboro, NC
Brian Joyce, Eagle Point GC, Wilmington, NC
Robert Linville, Precision Golf School, Charlotte, NC
Savio Nazareth, Starmount Forest CC, Kernersville, NC
Cory Schneider, The Pointe Golf Club, Powells Point, NC
SCHEDULE OF EVENTS:
Monday, April 4
10:30am: Team uniforms available in the River Landing clubhouse foyer
11:00am: Team photo outside golf shop
12:00pm-12:30pm: Four-Ball Matches off #1 tee.

Tuesday, April 5
8:00am-8:56am: Singles Matches off #1 tee.
Awards ceremony at scoreboard following play.
For more information about the Tar Heel Cup Matches, visit the Championship Home Page.
FORMAT
Tar Heel Cup consists of two days of competition. Day 1 format is Four-Ball Match Play. Day 2 format is Singles Match Play. Each match is worth 1 point each. A halved match earns each side ½ point. The Amateurs are the 2014 defending champions and need 6 points to retain the Cup. The CPGA Professionals need 6 ½ points to win. Until 2009, scoring was based on the Nassau system with three points at stake in each match -- one point for winning the front nine, one point for winning the back nine and one point for winning the overall 18.
ELIGIBILITY: Based on association rankings
FIELD: Eight professionals, eight amateurs
PRIZE: The Tar Heel Cup Matches Trophy and bragging rights
PAST CHAMPIONS
1995 - Amateurs
1996 - Professionals
1997 - Professionals
1998 - Professionals
1999 - Professionals
2000 - Amateurs
2001 - Professionals
2002 - Professionals
2003 - Professionals
2004 - Professionals
2005 - Professionals
2006 - Professionals
2007 - Professionals
2008 - Professionals
2009 - Professionals
2010 - Tie
2011 - Tie
2012 - Amateurs
2013 - Amateurs
2014 - Amateurs
2015 - Tie
River Landing Information
PGA Director of Golf: Larry George
Superintendent: Steve Sprouse
Golf Shop Phone: 910-285-6693
Club Address: 120 Club House Dr., Wallace, NC 28466
Club Website: www.RiverLanding.com
Yardage: 6942 yards, par 36-36--72; Course Rating: 74.0/141
About the Carolinas Golf Association (CGA)
The CGA is a 501(c)(3) not-for-profit educational organization that was founded in 1909 to promote and to protect the game of golf in the Carolinas by providing competitions, education, support and benefits to golf clubs and golfers. The CGA is the second largest golf association in the country with over 700 member clubs represented by nearly 150,000 individuals.
The CGA annually conducts 43 championships and five team match competitions for men, women, juniors, and seniors. It also runs over 140 One-Day (net and gross) events and qualifying for USGA national championships. The CGA serves golf in the Carolinas with numerous programs such as: the USGA Handicap System; tournament management software and support; course measuring and course/slope ratings; agronomy consultation; answers about the Rules of Golf, Rules of Amateur Status, and Handicapping; Carolinas Golf Magazine; Interclub series; Tarheel Youth Golf Association; Carolinas Golf Hall of Fame; expense assistance for USGA Junior and Girls' Junior qualifiers from the Carolinas; and the Carolinas Golf Foundation (CGF). The CGF has distributed more than $1,500,000 since 1977 to benefit Carolinas' golf initiatives including junior and women's programs.
For more information about the CGA, visit www.carolinasgolf.org.
##30##