U.S. Women's Amateur Q Results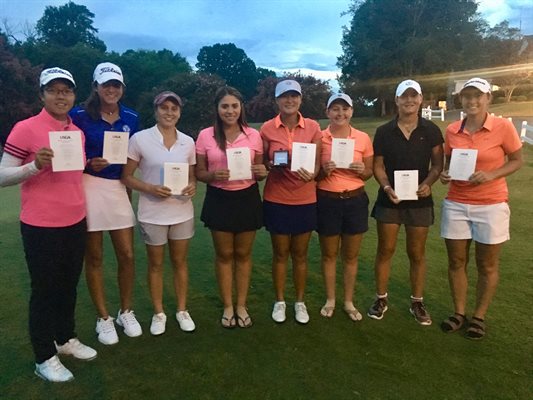 U.S. Women's Amateur Qualifying Results
from Monroe Country Club in Monroe, NC

MONROE, N.C. (July 7, 2018) -- Final results from U.S. Women's Amateur Qualifying at Monroe Country Club in Monroe, N.C. on July 6, 2018 (6333 yards, par 36-36--72, Course/Slope rating: 76.7/138).
Gina Kim of Chapel Hill, N.C. fired a 4-under-par 68 to bring home medalist honors at the U.S. Women's Amateur Qualifier at Monroe Country Club. Kim was in the morning wave of starting times at the qualifier and avoided the two-hour lightning delay that the players in the afternoon had to overcome. Kim finished with five birdies and one bogey, one stroke ahead of the nearest competitors. All of the nine qualifiers finished under par. Madison Caldwell of Milton, G.A. and Ya Chun Chang of Chinese Taipei each finished with a three-under-par 69; Abigail Schimpf of Daniel Island, S.C., Maria Balcazar of Mexico and Kynadie Adams of Nashville, T.N. finished at 2-under-par 70; and Abbey Hartsell of Hickory, N.C., Ivy Shepherd of Peachtree City, G.A. and Amanda Doherty of Brookhaven, G.A. finished at 1-under-par 71 to claim the final qualifying spots.
Eight players returned to the course Saturday morning for a playoff for first and second alternates. On the first hole, Grace St. Germain of Canada made a birdie and claimed the first alternate position. Katharine Patrick of West University Place, T.X. claimed the second alternate position after a par on the fourth playoff hole.
Nine qualifying spots and two alternate positions were available at this qualifying site.
Sectional qualifying is conducted over 18 holes at 23 locations in the United States and Canada. The championship proper will be held at The Golf Club of Tennessee in Kingston Springs, T.N. on August 6-12, 2018.
This qualifier was conducted by the Carolinas Golf Association on behalf of the United States Golf Association.
Results
U.S. Women's Amateur Qualifying
Monroe Country Club
Monroe, N.C.

Player
City, State
Total
Gina Kim
Chapel Hill, NC
Medalist
68
Madison Caldwell
Milton, GA
69
Ya Chun Chang
Chinese Taipei
69
Abigail Schimpf
Daniel Island, SC
70
Maria Balcazar
Mexico
70
Kynadie Adams
Nashville, TN
70
Abbey Hartsell
Hickory, NC
71
Ivy Shepherd
Peachtree City, GA
71
Amanda Doherty
Brookhaven, GA
71
The following players did not make the cut
Grace St-Germain
Canada
1st Alt
72
Katharine Patrick
West University Place, TX
2nd Alt
72
Lei Ye
People's Republic of China
72
Deedee-Taylah Russell
Australia
72
Aubree Jones
Covington, TN
72
Carley Cox
China Grove, NC
72
Annie Collom
Charlotte, NC
72
Jennifer Chang
Cary, NC
72
Rachael Mast
Lexington, NC
73
Madison Corley
Huntersville, NC
73
Anna Morgan
Spartanburg, SC
73
Ana Paula Valdes
Mexico
73
Anna Redding
Charlotte, NC
73
Katie Mitchell
Jacksonville, FL
73
Siarra Stout
Franklin, TN
73
Caroline Hodge
Larchmont, NY
74
Tristyn Nowlin
Richmond, KY
74
Sophia Burnett
Bluffton, SC
74
Aneka Seumanutafa
Emmitsbrug, MD
74
Elsa Moberly
Richmond, KY
74
Moon Cheong
Charlotte, NC
74
Maggie Ashmore
Kingston, GA
74
Kayla Smith
Burlington, NC
74
Teresa Conroy
Tallahassee, FL
74
Isabella Van Der Biest
Kingsport, TN
74
Virginia Green
Fairhope, AL
75
Marisa Messana
Ft Lauderdale, FL
75
Rinko Mitsunaga
Roswell, GA
75
Rachel Kuehn
Asheville, NC
75
Jacqueline Twitty
Chapin, SC
75
Julia Johnson
St. Gabriel, LA
75
Emily Hawkins
Lexington, NC
76
Alyssa Montgomry
Knoxville, TN
76
Alice Hodge
Larchmont, NY
76
Kathleen Sumner
Charleston, SC
76
Kaho Monica Matsubara
San Diego, CA
76
Alexis Kershaw
Winston-Salem, NC
76
Skylar Thompson
Buford, GA
76
Michaela Morard
Huntsville, AL
76
Madison Isaacson
Greensboro, NC
76
Haylee Harford
Leavittsburg, OH
76
Sarah Spicer
Bahama, NC
76
Caroline Craig
Sautee Nacoochee, GA
76
Ally Williams
Athens, AL
76
Siyun Liu
People's Republic of China
76
Madison Moosa
Charlotte, NC
76
Brooke Sansom
Pike Road, AL
77
Muskan Uppal
Cornelius, NC
77
Callista Rice
Mars Hill, NC
77
Keri Kenkel
Charlotte, NC
77
Meghan Holbrooks
Winston Salem, NC
77
Natalie Srinivasan
Spartanburg, SC
77
Auston Kim
St Augustine, FL
77
Carly Haines
Rye Brook, NY
77
Diane Lim
Suwanee, GA
77
Isabella Rawl
Lexington, SC
77
Ryann Sinclair
Mooresville, NC
77
Morgan Gonzales
Chandler, AZ
78
Tracy Lee
Howey-In-The-Hills, FL
78
Jessica Spicer
Bahama, NC
78
Jensen Castle
West Columbia, SC
78
Kayla Thompson
Clarkton, NC
78
Lily Rinker
Jupiter, FL
78
Ahra Ko
Suwanee, GA
79
Ann Elizabeth Gore
Lexington, SC
79
Mary Kate Hiller
Vero Beach, FL
79
Sydney Yermish
Wynnewood, PA
79
Leann Domitrovits
Wingate, NC
80
Caroline Ellington
Raleigh, NC
80
Ana Tsiros
Asheville, NC
80
Morgan Baxendale
Windermere, FL
81
Hannah Rose Bruxvoort
Chapel Hill, NC
81
Caroline Crumrine
Wilmington, NC
81
Alyssa Campbell
Lake Wylie, SC
81
Grace Massengill
Hickory, NC
81
Baylee Evan
Lancaster, SC
82
Natalie Petersen
Holly Springs, NC
82
Riley Hamilton
Reidsville, NC
82
Emily Rapp
Greenville, SC
83
Janie Thomas
Winston-Salem, NC
83
Madison Elliott
North Myrtle Beach, SC
83
Page Morehead
Spartanburg, SC
84
Sarah Hardin
West Jefferson, NC
84
Alexandria Bare
Salisbury, NC
85
Erica Boyd
Charlotte, NC
87
Lydia Randell
Winston-Salem, NC
87
Samantha Fritzinger
Allentown, PA
87
Anna Parramore
Greenwood, SC
92
Christine Sprinkle
Greenville, SC
92
Roshnee Sharma
Waxhaw, NC
WD
Emma Bradley
Naples, FL
WD
About the Carolinas Golf Association (CGA)
The CGA is a 501(c)(3) not-for-profit educational organization that was founded in 1909 to promote and to protect the game of golf in the Carolinas by providing competitions, education, support and benefits to golf clubs and golfers. The CGA is the second largest golf association in the country with over 700 member clubs represented by nearly 150,000 individuals.
The CGA annually conducts 48 championships and five team match competitions for men, women, juniors, and seniors. It also runs over 150 One-Day (net and gross) events as well as qualifying for USGA national championships. The CGA serves golf in the Carolinas with numerous programs such as: the USGA Handicap System; tournament management software and support; course measuring and course/slope ratings; agronomy consultation; answers about the Rules of Golf, Rules of Amateur Status, and Handicapping; Carolinas Golf Magazine; Interclub series; Tarheel Youth Golf Association; Carolinas Golf Hall of Fame; expense assistance for USGA Junior and Girls' Junior qualifiers from the Carolinas; and the Carolinas Golf Foundation (CGF). The CGF has distributed nearly $2,000,000 since 1977 to benefit Carolinas' golf initiatives including junior and women's programs.
For more information about the CGA, visit our website.
##30##