US Amateur Qualifying Results Colleton River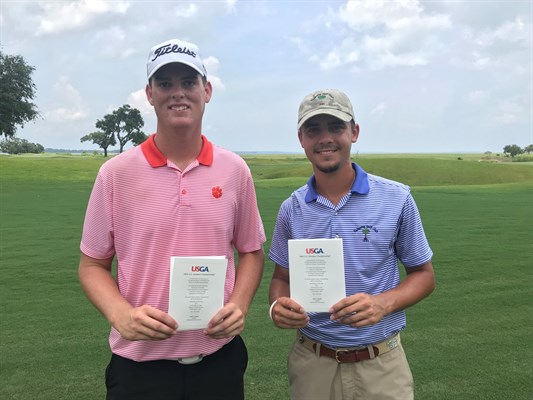 BLUFFTON, SC– Final results from U.S. Amateur Championship Sectional Qualifying hosted by Colleton River (Dye Course) in Bluffton, SC on Wednesday, July 18, 2018 (7200 yards, par 36-36—72).
Six qualifying spots and two alternate positions were available at this qualifying site.
Five South Carolinians and an Australian earned spots in the US Amateur Championship at Pebble Beach. Jake Carter from Aiken, SC and Zack Gordon from Gaffney, SC shared medalist honors. Also earning spots were Garrett Reband from York, SC, Andrew Orischak from Hilton Head, SC, Jeremy Grab from Daniel Island, SC and Nathaniel Barbieri from Sydney Australia.
The six qualifiers will advance to the US Amateur Championship at Pebble Beach Golf Links from August 13-18, 2018.
Hole-by-hole scoring can be viewed here: https://www.golfgenius.com/pages/1467917
This qualifier was conducted by the South Carolina Golf Association on behalf of the Carolinas Golf Association and the United States Golf Association.
2018 US Amateur Sectional Qualifying
Colleton River, Bluffton, SC
Qualifying Results
Pos.

Player

Hometown

To Par

R1

R2

Total Score

Details

T1

Jake Carter

Aiken, SC

-4

71

69

140

Qualifier

T1

Zack Gordon

Gaffney, SC

-4

69

71

140

Qualifier

T3

Garett Reband

York, SC

-3

70

71

141

Qualifier

T3

Andrew Orischak

Hilton Head, SC

-3

70

71

141

Qualifier

T5

Jeremy Grab

Daniel Island, SC

-2

69

73

142

Qualifier

T5

Nathan Barbieri

Sydney, AUS

-2

71

71

142

Qualifier

Failed to Qualify

T7

Garrett May

Texarkana, TX

-1

72

71

143

First Alternate

T7

Christian Salzer

Sumter, SC

-1

71

72

143

Second Alternate

T7

Logan Sowell

Kershaw, SC

-1

72

71

143

T10

Matt Carter

Easley, SC

E

68

76

144

T10

Jonathan Brightwell

Charlotte, NC

E

71

73

144

T10

Judson Holliday

Aynor, SC

E

71

73

144

13

Corey Carlson

Greencove Springs, FL

+1

74

71

145

T14

Julian Keur

Summerville, SC

+2

72

74

146

T14

Jack Faraci

Okatie, SC

+2

76

70

146

T16

Travis Mancill

Hilton Head Island, SC

+3

73

74

147

T16

Zack Swanson

Charlotte, NC

+3

72

75

147

T18

Crawford Simmons

Statesboro, GA

+4

72

76

148

T18

Saptak Talwar

New Delhi, IND

+4

74

74

148

T18

Bartley Forrester

Gainesville, GA

+4

74

74

148

T18

Elliott Johnson

Beaufort, SC

+4

76

72

148

T22

Michael McKee

Ware Shoals, SC

+6

74

76

150

T22

William Harwood

Columbia, SC

+6

77

73

150

T22

Carson Spears

Augusta, GA

+6

77

73

150

T25

Brandon McBride

Bluffton, SC

+7

74

77

151

T25

Riley Schank

Freedom, WI

+7

71

80

151

T25

Tom Crow

Virginia Beach, VA

+7

76

75

151

T28

Rex Riley

Charleston, SC

+8

75

77

152

T28

Todd Grear

Mooresville, NC

+8

74

78

152

T28

Coleman Self

Greenwood, SC

+8

78

74

152

T28

Chandler Vilcheck

Bluffton, SC

+8

76

76

152

T28

William Canipe

Murrells Inlet, SC

+8

75

77

152

T33

Holden Grigg

Myrtle Beach, SC

+9

74

79

153

T33

Connor Moore

Bluffton, SC

+9

70

83

153

T33

Will Straub

Huntersville, NC

+9

75

78

153

T33

Zach McLain

Gilbert, SC

+9

78

75

153

T33

Nicholas Russell

Hilton Head Island, SC

+9

77

76

153

T38

John Obrien

Columbia, SC

+11

76

79

155

T38

Jonathan Sundstrom

Bluffton, SC

+11

77

78

155

T40

Matt Teaster

Spartanburg, SC

+12

75

81

156

T40

Drew Weary

Bluffton, SC

+12

75

81

156

T40

Nicholas Poole

Columbia, SC

+12

78

78

156

T40

Alec Weary

Bluffton, SC

+12

77

79

156

T44

Ethan Willis

Mount Pleasant, SC

+13

74

83

157

T44

Matt Oquinn

Beaufort, SC

+13

75

82

157

T44

Charlie Spencer-White

WAL

+13

76

81

157

T44

Jarrod Conard

Canton, NC

+13

77

80

157

T44

Zach Bostic

Gaffney, SC

+13

77

80

157

T49

John David Chambers

Augusta, GA

+14

74

84

158

T49

Nick Lambos

Massillon, OH

+14

75

83

158

T49

Keith Smith

Hilton Head, SC

+14

76

82

158

T49

Caleb Surratt

Indian Trail, NC

+14

77

81

158

T49

Christian Garruppo

Hilton Head, SC

+14

77

81

158

T54

Christopher Kraft

Newtown, CT

+15

75

84

159

T54

Joseph Jarrard

Marietta, GA

+15

78

81

159

T54

Marcus Walker

Summerville, SC

+15

78

81

159

57

Colin Hawkins

Hilton Head Island, SC

+16

77

83

160

58

Ben Strauman

Wayzata, MN

+25

77

92

169

WD

Doug Hanzel

Savannah, GA

-

73

WD

WD

WD

Will Brooks

Cookeville, TN

-

75

WD

WD

WD

Zakariya Butt

Summerville, SC

-

75

WD

WD

WD

Carter Collins

Statesboro, GA

-

76

WD

WD

WD

Jack Hall

Savannah, GA

-

76

WD

WD

WD

Louis Muir

CAN

-

76

WD

WD

WD

Mike Bodney

Jacksonville, FL

-

76

WD

WD

WD

Weston Sanders

Greenwood, SC

-

76

WD

WD

WD

Casey Gilligan

Cincinnati, OH

-

77

WD

WD

WD

Matthew Morelli

Savannah, GA

-

77

WD

WD

WD

Zachary Herold

Lexington, SC

-

77

WD

WD

WD

Austin Frick

Myrtle Beach, SC

-

78

WD

WD

WD

Cole Patterson

Greenville, SC

-

78

WD

WD

WD

Jake Funderburk

Cookeville, TN

-

78

WD

WD

WD

Josh Payseur

Great Falls, SC

-

78

WD

WD

DQ

William Lincicome

Pinehurst, NC

-

71

DQ

DQ

The following players did not make the cut

CUT

Taylor Smith

Johnson City, TN

+7

79

79

CUT

Arjun Puri

IND

+7

79

79

CUT

Jimmy McQuiston

Norwood, MA

+7

79

79

CUT

Peter Galloway

Savannah, GA

+7

79

79

CUT

Jason Steiner

Fort Mill, SC

+8

80

80

CUT

Kyle Putkonen

Hilton Head, SC

+8

80

80

CUT

Lee Jakobsen

Charleston, SC

+8

80

80

CUT

Brad Hughes

Bluffton, SC

+8

80

80

CUT

Evan Hunt

Mount Pleasant, SC

+8

80

80

CUT

Tripp Coggins

Pooler, GA

+8

80

80

CUT

Thomas Deschler

Chicago, IL

+9

81

81

CUT

Weston Bell

Piedmont, SC

+9

81

81

CUT

Jake Ware

Atlanta, GA

+9

81

81

CUT

Chandler Brewer

Tybee Island, GA

+10

82

82

CUT

Hunter Parks

Union, SC

+10

82

82

CUT

Matt Lehman

Bluffton, SC

+10

82

82

CUT

Samuel Cudjoe

Bethel, TRI

+10

82

82

CUT

Charlie Farrell

Hilton Head Island, SC

+11

83

83

CUT

Christopher Asbell

Moncks Corner, SC

+11

83

83

CUT

Steven Strasheim

Bluffton, SC

+11

83

83

CUT

Borys Shubinskyy

Hilton Head Island, SC

+11

83

83

CUT

Dalton Scott

Canton, NC

+12

84

84

CUT

Daniel McClain

Lexington, SC

+12

84

84

CUT

Michael Hocker

Aiken, SC

+13

85

85

CUT

Robert Wyrick II

Guyton, GA

+13

85

85

CUT

Gavin Lindstrom

Hilton Head, SC

+14

86

86

CUT

Thomas Baltimore

Potomac, MD

+15

87

87

CUT

Andrew Collins

Dallas, TX

+16

88

88

CUT

Evan Greenplate

Hilton Head Island, SC

+19

91

91

CUT

James Scott

Atlanta, GA

+21

93

93

CUT

Adam Robinson

Marietta, OH

-

WD

WD

CUT

Andrew Bankert

Pooler, GA

-

WD

WD

CUT

Charlie Hoyle

Lytham, ENG

-

WD

WD

CUT

Henry Taylor

Spartanburg, SC

-

WD

WD

CUT

James Emerson

Beaufort, SC

-

WD

WD

CUT

John Bryant

Greenville, SC

-

WD

WD

CUT

Jonathan Phillips

Hardeeville, SC

-

WD

WD

CUT

Jordan Sease

Lexington, SC

-

WD

WD

CUT

Scott Weeks

Sandfly, GA

-

WD

WD

CUT

Sean Miller

Taylors, SC

-

WD

WD

CUT

Spencer Grady

Lexington, SC

-

WD

WD

CUT

Taylor Welborn

Lagrange, GA

-

WD

WD

CUT

Todd White

Spartanburg, SC

-

WD

WD

CUT

Alex Hamilton

Spartanburg, SC

-

WD

WD

CUT

Billy Weibley

Union, SC

-

WD

WD

CUT

Blake Weinbach

Columbia, SC

-

WD

WD

CUT

Brennan Bogdanovich

Suwanee, GA

-

WD

WD

CUT

Daniel Castleberry

Greenville, SC

-

WD

WD

CUT

John Belicka

Mount Pleasant, SC

-

WD

WD

CUT

Jonathan Griz

Hilton Head Island, SC

-

WD

WD

CUT

Rob Simmons

Beaufort, SC

-

WD

WD

CUT

Robert Ferira

N Charleston, SC

-

WD

WD

CUT

William Sullivan

Columbia, SC

-

WD

WD

CUT

Chris Hirata

Savannah, GA

-

NS

NS

CUT

Lino Galdin

Macon, GA

-

NS

NS

CUT

Daniel Azallion

Hilton Head Island, SC

-

NS

NS