Redding earns medalist honors at W Match Play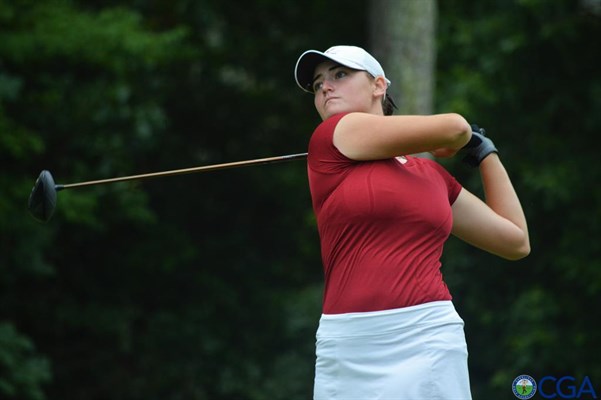 Anna Redding of Concord, N.C. earns medalist honors and cruises through Round of 32 at the 21st Carolinas Women's Match Play at North Ridge Country Club on July 24, 2018.
By: Brittany Stewart/CGA Communications Intern
RALEIGH, N.C. (July 24, 2018) -- Qualifying stroke play and Round of 32 results of the 21st Carolinas Women's Match Play at North Ridge Country Club (Lakes) in Raleigh, N.C. on Tuesday, July 24, 2018 (6,060 yards, Par 36-36--72, Course Rating 76.0/134).
Related: Championship Web Site | Starting Times | Scoring | Championship History | Photos

Anna Redding of Concord, N.C. made a bold statement in the morning stroke play qualifying round at the 21st Carolinas Women's Match Play hosted by North Ridge Country Club. She carded a six-under-par 66 to earn medalist honors and the No. 1 seed for match play.
The rising junior at Virginia captured her first CGA title earlier this summer at the 92nd Carolinas Women's Amateur and showed a similar performance in today's qualifying round. She found her rhythm early on the front nine and birdied three of her first five holes. Carrying her momentum to the back nine, she carded two birdies and an eagle.
"Everything was working," Redding said. "I felt really confident, and I had a very open and clear mind this morning. I was just hitting golf shots and everything was working, so it was awesome."
Courtney McKim of Raleigh, N.C. carded a five-under-par 67 with three birdies and an eagle to earn the No. 2 seed. Jessica Spicer of Bahama, N.C. carded a four-under-par 68 in the qualifying round to earn the No. 3 seed for match play.
Three of the top four seeds advanced to tomorrow's Round of 16 matches. No. 29 seed Kate Harper of Isle of Palms, S.C. upset No. 4 seed Victoria Huskey of Greenville, S.C. and won 1-up. Spicer cruised to the Round of 16 after defeating Brooke Hutto of Aiken, S.C., 3 and 2.
Redding also stamped her ticket to tomorrow's matches with a 3 and 2 win over No. 32 seed Gracyn Burgess of Lexington, S.C., who earned a spot in the Round of 32 in a sudden death playoff. Though she had consecutive impressive rounds, Redding is not losing focus on the upcoming competition.
"It doesn't really matter what seed you are," Redding said. "Anything can happen in match play, so I'm just trying to stick to my game plan and hitting and executing my shots."
Julie Shore of Raleigh, N.C. leads the Carolinas division after carding an eight-over-par 80 in the qualifying round. She birdied three holes to take a four stroke lead over the rest of the field.
The Round of 16 matches will be held Wednesday morning and play will continue Wednesday afternoon with quarterfinal matches. The semifinal and championship matches will be held on Thursday, July 26.
The championship format is 18 holes of stroke play qualifying to determine seeding and flights for match play in the Championship Division and seeding for match play in the Carolinas Division. Players have the option to compete in either the Championship Division (approximately 6,000 yards) or Carolinas Division (approximately 5,200 yards.)
Entry is open to any female amateur golfer who has reached her 13th birthday by July 26, 2018, maintains a residence in North Carolina or South Carolina, is a member in good standing of a club which is a member of the Carolinas Golf Association (CGA) and has an active GHIN USGA Handicap Index at a CGA member club.
Scoring will be provided by the CGA throughout the championship, offering 9 and 18-hole updates. Live updates will also be available on the CGA's official Twitter account, @cgagolf1909. Continue to visit the CGA website throughout this championship and all year long for complete championship coverage including scores, interviews, photos, and recaps.

21st Carolinas Women's Match Play
North Ridge Country Club | Raleigh, N.C.
Qualifying stroke play and Round of 32 Results
Qualifying Stroke Play Results
Championship Division
Pos.
Player
City, State
Total
1
Anna Redding
Concord, NC
-6
66
2
Courtney McKim
Raleigh, NC
-5
67
3
Jessica Spicer
Bahama, NC
-4
68
4
Victoria Huskey
Greenville, SC
E
72
5
Mesha Levister
Louisburg, NC
+1
73
T6
Madison Moosa
Charlotte, NC
+2
74
T6
Kathleen Sumner
Charleston, SC
+2
74
T6
Emily Hawkins
Lexington, NC
+2
74
T6
Alexis Kershaw
Winston-Salem, NC
+2
74
T6
Kayla Smith
Burlington, NC
+2
74
T6
Taylor Hinson
Belmont, NC
+2
74
T12
Rachael Mast
Lexington, NC
+3
75
T12
Keri Kenkel
Charlotte, NC
+3
75
T12
Madison Corley
Charlotte, NC
+3
75
T12
Jodee Tindal
Rock Hill, SC
+3
75
T12
Savanah Goodman
Easley, SC
+3
75
T12
Emily Cox
Lancaster, SC
+3
75
T18
Bailee Twiford
Coinjock, NC
+4
76
T18
Madison Isaacson
Greensboro, NC
+4
76
T20
Lea Venable
Simpsonville, SC
+5
77
T20
Catherine Ashworth
Fuquay-Varina, NC
+5
77
T20
Kaley Barts
Apex, NC
+5
77
T20
Ana Tsiros
Asheville, NC
+5
77
T20
Macie Burcham
Greensboro, NC
+5
77
T20
Maria Atwood
Holly Springs, NC
+5
77
T26
Sarah Spicer
Bahama, NC
+7
79
T26
Natalie Petersen
Holly Springs, NC
+7
79
T26
Meghan Trainor
Charlotte, NC
+7
79
T29
Page Morehead
Spartanburg, SC
+8
80
T29
Kate Harper
Isle of Palms, SC
+8
80
T29
Brooke Hutto
Aiken, SC
+8
80
32
Gracyn Burgess
Lexington, SC
+9
81
The following players did not make the Championship Flight
Hannah Rose Bruxvoort
Chapel Hill, NC
+9
81
Janie Thomas
Winston-Salem, NC
+9
81
Lexie Johnston
Raleigh, NC
+9
81
Callista Rice
Mars Hill, NC
+10
82
Hailey Freedman
Chapel Hill, NC
+11
83
Jaelyn Tindal
Rock Hill, SC
+11
83
Elizabeth Nguyen
Pinehurst, NC
+11
83
Angela Stewart
Greenville, NC
+12
84
Michaela Cox
Greensboro, NC
+13
85
Kendall Dobbins
Summerfield, NC
+14
86
Lee Playford
Raleigh, NC
+15
87
Jordan Young
Winston-Salem, NC
+17
89
Kaylia Mcintyre
Bluffton, SC
+19
91
Christina Stritzinger
Charlotte, NC
+27
99
Carolinas Division
| | | | | |
| --- | --- | --- | --- | --- |
| Pos. | Player | City, State | | Total |
| 1 | Julie Shore | Raleigh, NC | +8 | 80 |
| 2 | Suzanne Moro | Myrtle Beach, SC | +12 | 84 |
| 3 | Libby Neil | Wilmington , NC | +14 | 86 |
| 4 | Beth Coldwell | Myrtle Beach, SC | +17 | 89 |
| 5 | Patricia Nielsen | Charlotte, NC | +18 | 90 |
| 6 | Mary Jane Peebles | Bluffton, SC | +19 | 91 |
| 7 | Lin Wright | Chapel Hill, NC | +27 | 99 |
Round of 32 Results
Anna Redding, Concord, N.C. def. Gracyn Burgess, Lexington, S.C., 3 and 2
Rachael Mast, Lexington, N.C. def. Keri Kenkel, Charlotte, N.C., 2 and 1
Emily Hawkins, Lexington, N.C. def. Lea Venable, Simpsonville, S.C., 7 and 6
Madison Moosa, Charlotte, N.C. def. Macie Burcham, Greensboro, N.C., 2 and 1
Kate Harper, Isle of Palms, S.C. def. Victoria Huskey, Greenville, S.C., 1 up
Jodee Tindal, Rock Hill, S.C. def. Kaley Barts, Apex, N.C., 3 and 2
Mesha Levister, Louisburg, N.C. def. Meghan Trainor, Charlotte, N.C., 5 and 4
Ana Tsiros, Asheville, N.C. def. Madison Corley, Charlotte, N.C., 1 up
Courtney McKim, Raleigh, N.C. def. Page Morehead, Spartanburg, S.C., 5 and 4
Emily Cox, Lancaster, S.C. def. Bailee Twiford, Coinjock, N.C., 4 and 3
Kathleen Sumner, Charleston, S.C. def. Sarah Spicer, Bahama, N.C., 1 up
Alexis Kershaw, Winston-Salem, N.C. def. Maria Atwood, Holly Springs, N.C., 5 and 3
Jessica Spicer, Bahama, N.C. def. Brooke Hutto, Aiken, S.C., 3 and 2
Savannah Goodman, Easley, S.C. def. Madison Isaacson, Greensboro, N.C., 1 up
Natalie Petersen, Holly Springs, N.C. def. Kayla Smith, Burlington, N.C., 3 and 1
Taylor Hinson, Belmont, N.C. def. Catherine Ashworth, Fuquay-Varina, N.C., 2 up

Schedule of rounds:
Tuesday, July 24, 2018
First Round--18 holes of stroke play qualifying
Lunch provided for all players
Championship Flight, Round of 32 Matches (PM shotgun)
Wednesday, July 25, 2018
Championship Flight: Round of 16 and Quarterfinal matches
All other flights: First round matches and Semifinal matches
Thursday, July 26, 2018
Championship flight: Semifinal and Final matches
All other flights: Final matches