Redding advances to semifinals at W Match Play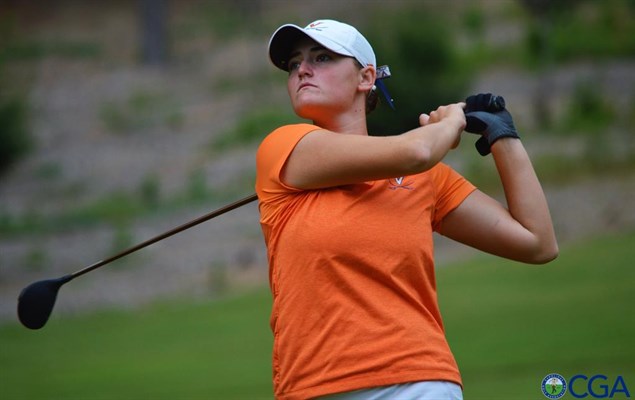 Anna Redding of Concord, N.C. earned a spot in the semifinal match after winning consecutive matches on Wednesday, July 25, 2018 at North Ridge Country Club.
By: Brittany Stewart/CGA Communications Intern
RALEIGH, N.C. (July 25, 2018) -- Round of 16 and quarterfinal results of the 21st Carolinas Women's Match Play at North Ridge Country Club (Lakes) in Raleigh, N.C. on Wednesday, July 25, 2018 (6,060 yards, Par 36-36--72, Course Rating 76.0/134).
Related: Championship Web Site | Starting Times | Scoring | Championship History | Photos

No. 1 seed Anna Redding of Concord, N.C. earned a spot in the semifinal match after winning consecutive matches under rainy skies on Wednesday. She edged Emily Hawkins of Lexington, N.C. 1-up after sinking a putt on the last hole in her quarterfinal match.
Amid intense rain in her Round of 16 match, Redding defeated No. 16 seed Rachael Mast of Lexington, N.C., 3 and 2 setting herself up to face Hawkins in the quarterfinals. Redding jumped to an early lead before Hawkins began clawing back. The match was tied at all-square headed into the final hole, but Redding ensured her victory by sinking a putt on the eighteenth green.
Redding will face Jodee Tindal of Rock Hill, S.C. in Thursday morning's semifinal match. Tindal cruised through her quarterfinal match, defeating Ana Tsiros of Asheville, N.C., 4 and 2.
It will be another battle of the Carolinas in the second semifinal match as Kathleen Sumner of Charleston, S.C will face Jessica Spicer of Bahama, N.C. Sumner, who is a rising sophomore at Florida State, upset No. 2 seed Courtney McKim of Raleigh, N.C. in the final holes of the quarterfinals to win 1-up.
Spicer entered match play as the No. 3 seed and punched her ticket to the semifinals after defeating Natalie Petersen of Holly Springs, N.C. 3 and 2. The rising junior at Virginia Tech had a slow start to her quarterfinal match and found herself down after Petersen had a solid first couple of holes.
"I knew that it just takes a couple of good holes, and if I just kept playing steady, she would probably make a mistake somewhere. I stuck with the game plan and kept playing, and she made a couple of mistakes and I had a couple of good holes. I got the momentum back and took it from there."
Spicer is looking for redemption in tomorrow's match after falling in last year's semifinals to the eventual champion, Hailey Cleary, in extra holes. She said she plans to stick to her game plan, play the golf course and take it from there.
"I'd really like to roll in a couple of putts and get my putter going tomorrow," Spicer said. "I want to go out there and attack it tomorrow."
The semifinal matches will be held Thursday morning and play will continue Thursday afternoon with the final match.
The championship format is 18 holes of stroke play qualifying to determine seeding and flights for match play in the Championship Division and seeding for match play in the Carolinas Division. Players have the option to compete in either the Championship Division (approximately 6,000 yards) or Carolinas Division (approximately 5,200 yards.)
Entry is open to any female amateur golfer who has reached her 13th birthday by July 26, 2018, maintains a residence in North Carolina or South Carolina, is a member in good standing of a club which is a member of the Carolinas Golf Association (CGA) and has an active GHIN USGA Handicap Index at a CGA member club.
Scoring will be provided by the CGA throughout the championship, offering 9 and 18-hole updates. Live updates will also be available on the CGA's official Twitter account, @cgagolf1909. Continue to visit the CGA website throughout this championship and all year long for complete championship coverage including scores, interviews, photos, and recaps.

21st Carolinas Women's Match Play
North Ridge Country Club | Raleigh, N.C.
Round of 16 and Quarterfinal Results
Championship Flight-- Round of 16 Results
Anna Redding of Concord, N.C. def. Rachael Mast of Lexington, N.C., 3 and 2
Emily Hawkins of Lexington, N.C. def. Madison Moosa of Charlotte, N.C., 3 and 2
Jodee Tindal of Rock Hill, S.C. def. Kate Harper of Isle of Palms, S.C., 1 up
Ana Tsiros of Asheville, N.C. def. Mesha Levister of Louisburg, N.C., 3 and 2
Courtney McKim of Raleigh, N.C. def. Emily Cox of Lancaster, S.C., 7 and 5
Kathleen Summer of Charleston, S.C. def. Alexis Kershaw of Winston-Salem, N.C., 2 and 1
Jessica Spicer of Bahama, N.C. def. Savannah Goodman of Easley, S.C., 4 and 3
Natalie Petersen of Holly Springs, N.C. def. Taylor Hinson of Belmont, N.C., 3 and 2
Championship Flight-- Quarterfinals
Jodee Tindal of Rock Hill, S.C. def. Ana Tsiros of Asheville, N.C., 4 and 2
Anna Redding of Concord, N.C. def. Emily Hawkins of Lexington, N.C., 1 up
Jessica Spicer of Bahama, N.C. def. Natalie Petersen of Holly Springs, N.C., 3 and 2
Kathleen Sumner of Charleston, S.C. def. Courtney McKim of Raleigh, N.C., 1 up
First Flight-- Quarterfinal Results
Callista Rice of Mars Hill, N.C. def. Jaelyn Tindal of Rock Hill, S.C., 4 and 3
Elizabeth Nguyen of Pinehurst, N.C. def. Lexie Johnston of Raleigh, N.C., 4 and 2
Hannah Rose Bruxvoort of Chapel Hill, N.C. def. Hailey Freedman of Chapel Hill, N.C., 6 and 4
First Flight-- Semifinal Results
Callista Rice of Mars Hill, N.C. def. Janie Thomas of Winston-Salem, N.C., 7 and 6
Hannah Rose Bruxvoort of Chapel Hill, N.C. def. Elizabeth Nguyen of Pinehurrst, N.C., 19 holes
Second Flight-- Quarterfinal Results
Jordan Young of Winston-Salem, N.C. def. Lee Playford of Raleigh, N.C.,
Michaela Cox of Greensboro, N.C. def. Christina Stritzinger of Charlotte, N.C., 7 and 5
Kendall Dobbins of Summerfield, N.C. def. Kaylia Mcintyre of Bluffton, S.C., 4 and 2
Second Flight-- Semifinal Results
Angela Stewart of Greenville, N.C. def. Jordan Young of Winston-Salem, N.C., 2 up
Michaela Cox of Greensboro, N.C. def. Kendall Dobbins of Summerfield, N.C., 4 and 3
Championship Consolation-- Round of 16
Keri Kenkel of Charlotte, N.C. def. Gracyn Burgess of Lexington, S.C., 4 and 3
Macie Burcham of Greensboro, N.C. def. Lea Venable of Simpsonville, S.C., WD
Kaley Barts of Apex, N.C. def. Victoria Huskey of Greenville, S.C., 1 up
Madison Corley of Charlotte, N.C. def. Meghan Trainor of Charlotte, N.C., 3 and 1
Bailee Twiford of Coinjock, N.C. def. Page Morehead of Spartanburg, S.C., 1 up
Sarah Spicer of Bahama, N.C. def. Maria Atwood of Holly Springs, N.C., 2 and 1
Brooke Hutto of Aiken, S.C. def. Madison Isaacson of Greensboro, N.C., 5 and 4
Kayla Smith of Burlington, N.C. def. Catherine Ashworth of Fuquay-Varina, N.C., 20 holes
Championship Consolation-- Quarterfinals
Madison Corley of Charlotte, N.C. def. Kaley Barts of Apex, N.C., 2 up
Keri Kenkel of Charlotte, N.C. def. Macie Burcham of Greensboro, N.C., 4 and 3
Bailee Twiford of Coinjock, N.C. def. Sarah Spicer of Bahama, N.C., 2 and 1
Kayla Smith of Burlington, N.C. def. Brooke Hutto of Aiken, S.C., 2 and 1
Carolinas Division-- Quarterfinals
Beth Coldwell of Myrtle Beach, S.C. def. Patricia Nielson of Charlotte, N.C., 9 and 7
Suzanne Moro of Myrtle Beach, S.C. def. Lin Wright of Chapel Hill, N.C., 5 and 4
Libby Neil of Wilmington, N.C. def. Mary Jane Peebles of Bluffton, S.C., 3 and 1
Carolinas Division-- Semifinals
Beth Coldwell of Myrtle Beach, S.C. def. Julie Shore of Raleigh, N.C., 4 and 3
Suzanne Moro of Myrtle Beach, S.C. def. Libby Neil of Wilmington, N.C., 4 and 4

Schedule of rounds:
Tuesday, July 24, 2018
First Round--18 holes of stroke play qualifying
Lunch provided for all players
Championship Flight, Round of 32 Matches (PM shotgun)
Wednesday, July 25, 2018
Championship Flight: Round of 16 and Quarterfinal matches
All other flights: First round matches and Semifinal matches
Thursday, July 26, 2018
Championship flight: Semifinal and Final matches
All other flights: Final matches