US Senior Amateur Qualifying Results High Point CC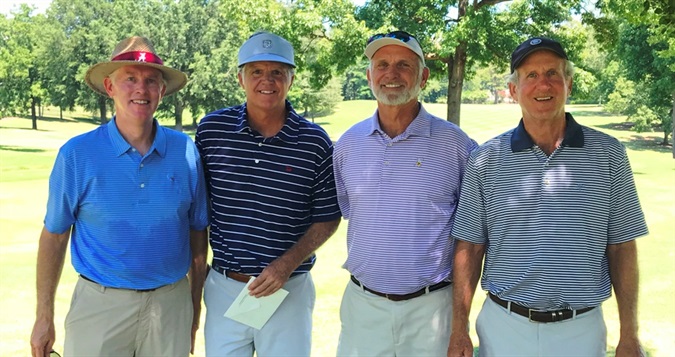 Qualifiers: (from L to R): John Rudolph, Walter Todd, Gary Robinson, Russ Perry
HIGH POINT, NC– Final results from U.S. Senior Amateur Championship Sectional Qualifying hosted by High Point Country Club (Willow Creek) in High Point, NC on Thursday, July 26, 2018 (6650 yards, par 36-36—72).
Four qualifying spots and two alternate positions were available at this qualifying site.
Four golfers from the Carolinas qualified for the U.S. Senior Amateur Championship. Russ Perry from Winston-Salem, NC shot three-under par 69 to earn medalist honors and the first qualifying spot. Charlotte, NC native John Rudolph shot two-under par 70 to earn the second qualifying spot. Gary Robinson from Fayetteville, NC and Walter Todd from Laurens, SC both shot rounds of one-under par71 to earn the final two qualifying spots.
Hole-by-hole scoring can be viewed here: https://www.golfgenius.com/pages/1467831
This qualifier was conducted by the Carolinas Golf Association on behalf of the United States Golf Association.
2018 US Senior Amateur Sectional Qualifying
High Point Country Club, High Point, NC
Qualifying Results
Pos.

Player

Hometown

To Par

Total Score

Details

1

Russ Perry

Winston Salem, NC

-3

69

2

John Rudolph

Charlotte, NC

-2

70

T3

Gary Robinson

Fayetteville, NC

-1

71

T3

Walter Todd

Laurens, SC

-1

71

The following players did not make the cut

CUT

Kelly Miller

Southern Pines, NC

E

72

1st Alt.

CUT

Steve Humphrey

Lexington, KY

E

72

2nd Alt.

CUT

Ryan Fox

West End, NC

+1

73

CUT

Brad Burris

High Point, NC

+1

73

CUT

Harrison Rutter

Winston-Salem, NC

+1

73

CUT

Rick Riddle

Charlotte, NC

+1

73

CUT

Keith Waters

Raleigh, NC

+1

73

CUT

Jerome Schott

Holly Springs, NC

+2

74

CUT

Pat Thompson

Asheville, NC

+2

74

CUT

Preston Edmondson

Morrisville, NC

+2

74

CUT

Walker Taylor

Wrightsville Beach, NC

+2

74

CUT

Dean Channell

Cary, NC

+2

74

CUT

Todd Hendley

Columbus, NC

+2

74

CUT

Jeff Tedder

Advance, NC

+2

74

CUT

James Pearson

Charlotte, NC

+3

75

CUT

Mark Walker

Greensboro, NC

+3

75

CUT

Stephen Sharpe

Greensboro, NC

+3

75

CUT

Timothy Harward

Santa Ana, CA

+4

76

CUT

Scott Smith

Knoxville, TN

+4

76

CUT

Bill Long

Southern Pines, NC

+4

76

CUT

Trip Boinest

Shelby, NC

+4

76

CUT

Phil Bland

Waynesville, NC

+4

76

CUT

James Grainger

Charlotte, NC

+5

77

CUT

Patrick Brady

Reidsville, NC

+5

77

CUT

Randy Kivett

Bear Creek, NC

+5

77

CUT

Craig Cathey

Burlington, NC

+5

77

CUT

Ken Shelton

Denver, NC

+5

77

CUT

Bill Argabrite

Kingsport, TN

+6

78

CUT

Chuck Parker

Raleigh, NC

+6

78

CUT

Artie Williams

New York, NY

+6

78

CUT

Tony Green

Kingsport, TN

+6

78

CUT

Bill Sibbick

Martinsville, VA

+6

78

CUT

Robby Kirby

Charlotte, NC

+6

78

CUT

Ivory Walker

Fletcher, NC

+6

78

CUT

Julian Taylor

Greenville, SC

+7

79

CUT

Joseph Sadowski

Hickory, NC

+7

79

CUT

Tim Dinwiddie

Afton, TN

+7

79

CUT

Nolan Mills

Charlotte, NC

+7

79

CUT

David Tolley

Roanoke, VA

+8

80

CUT

Mark Moore

Fort Mill, SC

+9

81

CUT

John Osborne

Vero Beach, FL

+9

81

CUT

Gary Roberson

Burlington, NC

+10

82

CUT

David Brown

Conover, NC

+10

82

CUT

Paul Bitler

Roaring Gap, NC

+10

82

CUT

Colin Brown

Raleigh, NC

+11

83

CUT

Bill Johnson

Granite Falls, NC

+12

84

CUT

Glenn Sexton

Greensboro, NC

+12

84

CUT

J. Vann Parker

Emerald Isle, NC

+12

84

CUT

Eric Taylor

Greensboro, NC

+12

84

CUT

Dennis Scott

Greenville, SC

+12

84

CUT

Gary Pugh

Asheboro, NC

+13

85

CUT

Rich Ferguson

Waxhaw, NC

+13

85

CUT

Bill Phillips

Charlotte, NC

+14

86

CUT

Spike Smith

Pinehurst, NC

+15

87

CUT

John Vaughan

Naples, FL

+15

87

CUT

Brooks Carey

Charlotte, NC

+16

88

CUT

Steven Shelton

Kingsport, TN

+19

91

CUT

Robert J. Wansker

Charlotte, NC

+20

92

CUT

Roger Chadwell

Kingsport, TN

+20

92

CUT

Andre Douglas

High Point, NC

+21

93

CUT

John Lavin

Myrtle Beach, SC

-

WD

CUT

Alex Barefoot

Locust, NC

-

WD

CUT

Eric Clark

Charlotte, NC

-

WD

CUT

Russ Patterson

Winston Salem, NC

-

WD

CUT

Garland Yates

Asheboro, NC

-

WD

CUT

Wayne Howle

Darlington, SC

-

WD

CUT

Andre Resner

Salisbury, NC

-

WD