Poole wins by six at Dogwood Boys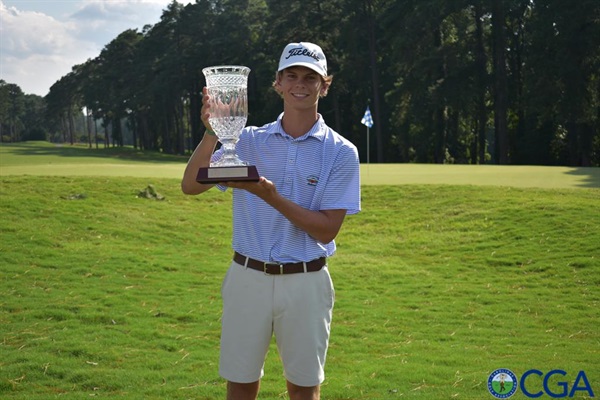 Kenan Poole of Raleigh, N.C. fires a final round 69 to claim the 14th Dogwood State Junior Boys Championship.
DURHAM, N.C. (August 9, 2018) -- Final round results of the 14th Dogwood State Junior Boys' Championship at the Duke University Golf Club in Durham, N.C. (7,101 yards, Par 36-36--72, Course Rating 74.6/142).
Related: Championship Web Site | Scoring | Championship History | Photo
Kenan Poole of Raleigh, N.C. was able to overcome a formidable field and demanding Duke University Golf Club to claim his second CGA title of the summer at the 14th Dogwood State Junior Boys' Championship.
"I think the first one is special but the second one proves something and that shows you can consistently hang in there and win tournaments," Poole said. "That's hopefully what I'm gonna keep doing for my golf career."
On a week that saw both saw both flash flood warnings and temperatures reaching the 90's, it was all about grit and determination to finish atop the 130-man field.
Poole, a rising senior at Ravenscroft High School and a University of North Carolina at Chapel Hill commit, went to sleep with a six-shot lead Wednesday night after play was suspended due to inclement weather.
However, after the conclusion of the second round on Thursday morning, Poole's lead was cut to three strokes.
His opponents attempted to chip away at the lead, but a two-under, 34 on the front nine stretched Poole's lead to four stokes heading into the final nine holes of the championship. Poole didn't let up on the back nine, making two birdies and only one bogey to shoot 69 in the final round. Poole finished the tournament at 8-under-par, 208 to win by six.
"A lot of guys I was playing with, you could see when they were missing fairways and missing greens, that's when they were making their mistakes," Poole said. "I knew the birdies would come, but when I play well personally, it's about limiting mistakes. This week only having four bogeys helped a lot to shoot some low numbers."
Peter Fountain of Raleigh, N.C., who held a share of the first round lead, finished in second place after a strong birdie-birdie finish on the closing two holes of the third round.
Michael Childress of Salisbury, N.C., made had a strong front-nine charge posting a one-under, 35 but still lost a stroke to Poole. Childress concluded his round with a back-nine 38, to finish in third place at even for the three rounds at 216.
Poole was the 6th ranked junior boy golfer in North Carolina heading into the week with a scoring average of 74.16. He'll be part of the eight-man team to represent the Carolinas at the 36th Carolinas - Virginias Junior Team Matches at Country Club of North Carolina (Cardinal), in Pinehurst, N.C., August 11-12, 2018.
"It gives me a lot (of confidence)," Poole said. "Hopefully we'll play well and beat the Virginias team. I'm obviously playing really good right now and had a really-really good summer. I'm just going to carry that confidence over into this week and hopefully play well over there."
The championship format is 54-holes of stroke play. Field will be cut to the 70 and ties after 36 holes.
Entry is open to any male amateur golfer who has not reached their 19th birthday by August 9, 2018, who has not started college, is a legal resident of North Carolina, is a member or their parent is a member in good standing of a club which is a member of the Carolinas Golf Association (CGA) and has a current USGA handicap index® at a CGA member club that does not exceed 18.4.
The CGA would like to thank Duke University Golf Club for hosting the 14th Dogwood State Junior Boys' Championship. Thank you to all the members and staff for allowing the use of their fantastic facilities and for all of their hard work during the event. A special thank you is extended to General Manager Edward Ibarguen, Head Professionals Brent Bowen and Rob Pilewski, and Head Superintendent Brendan McNulty.
14th Dogwood State Junior Boys' Championship
Duke University Golf Club | Durham, N.C.
Final Round Results

| | | | | | | | |
| --- | --- | --- | --- | --- | --- | --- | --- |
| Pos. | Player | City - Class | Total to Par | R1 | R2 | R3 | Total |
| 1 | Kenan Poole | Raleigh-2019 | -8 | 71 | 68 | 69 | 208 |
| 2 | Peter Fountain | Raleigh-2020 | -2 | 70 | 72 | 72 | 214 |
| 3 | Michael Childress | Salisbury-2018 | E | 74 | 69 | 73 | 216 |
| 4 | Eston Lee | Four Oaks-2020 | +2 | 72 | 73 | 73 | 218 |
| 5 | Jack Marcotte | Apex-2019 | +3 | 75 | 73 | 71 | 219 |
| T6 | Fulton Smith | Pinehurst-2019 | +5 | 75 | 72 | 74 | 221 |
| T6 | Matias La Grutta | Cary-2020 | +5 | 72 | 75 | 74 | 221 |
| T6 | Drew Hackett | Charlotte-2019 | +5 | 75 | 74 | 72 | 221 |
| T9 | Pierce Robinson | Kings Mountain-2019 | +6 | 74 | 73 | 75 | 222 |
| T9 | Alex Campbell | Charlotte-2020 | +6 | 74 | 71 | 77 | 222 |
| T9 | Will Hanna | Raleigh-2018 | +6 | 76 | 69 | 77 | 222 |
| T9 | Spencer Oxendine | Fayetteville-2019 | +6 | 76 | 71 | 75 | 222 |
| 13 | Charlie Barr | Salisbury-2021 | +7 | 75 | 74 | 74 | 223 |
| T14 | Attie Giles | Pinehurst-2018 | +8 | 70 | 76 | 78 | 224 |
| T14 | Connor Jones | Raleigh-2018 | +8 | 75 | 74 | 75 | 224 |
| T14 | Josh Lendach | Raleigh-2021 | +8 | 76 | 75 | 73 | 224 |
| T17 | Garrett Risner | Holly Springs-2020 | +9 | 73 | 76 | 76 | 225 |
| T17 | Carter Rains | Greenville -2019 | +9 | 77 | 74 | 74 | 225 |
| T17 | Tyler Dechellis | Clayton-2021 | +9 | 75 | 75 | 75 | 225 |
| T17 | Zach Roberts | Holly Springs-2020 | +9 | 74 | 76 | 75 | 225 |
| T21 | Nicholas Mathews | Mebane-2020 | +10 | 76 | 74 | 76 | 226 |
| T21 | Cameron Akers | Asheville-2020 | +10 | 76 | 77 | 73 | 226 |
| T21 | Graham Chase | Charlotte-2019 | +10 | 74 | 79 | 73 | 226 |
| T24 | Thomas Eubanks | Charlotte -2019 | +11 | 74 | 74 | 79 | 227 |
| T24 | Andrew Plate | Greensboro-2021 | +11 | 78 | 73 | 76 | 227 |
| T24 | Walker Isley | Oak Island-2020 | +11 | 75 | 77 | 75 | 227 |
| T27 | Caleb Surratt | Matthews-2022 | +12 | 76 | 74 | 78 | 228 |
| T27 | Narayan Mohan | Charlotte-2021 | +12 | 73 | 76 | 79 | 228 |
| T27 | Blake Brantley | Winston-Salem-2020 | +12 | 77 | 73 | 78 | 228 |
| T27 | Cameron Whitney | Charlotte-2020 | +12 | 74 | 80 | 74 | 228 |
| T31 | Davis Reynolds | Maggie Valley-2018 | +13 | 75 | 75 | 79 | 229 |
| T31 | Addison Beam | Cherryville-2019 | +13 | 80 | 73 | 76 | 229 |
| T31 | Symon Balbin | Pinehurst-2019 | +13 | 78 | 75 | 76 | 229 |
| 34 | Joey Pritchard | Pinehurst-2020 | +14 | 77 | 78 | 75 | 230 |
| T35 | Kareem Elkassem | Raleigh-2023 | +15 | 78 | 75 | 78 | 231 |
| T35 | Carter Boulia | Cary-2019 | +15 | 78 | 77 | 76 | 231 |
| T35 | Hank Grzeszczak | Davidson-2019 | +15 | 77 | 82 | | 159 |
| T38 | David Langley | Greenville-2020 | +16 | 72 | 80 | 80 | 232 |
| T38 | Christopher Gardner | Rocky Mount-2019 | +16 | 77 | 76 | 79 | 232 |
| T38 | Riley Smith | Concord-2019 | +16 | 76 | 79 | 77 | 232 |
| T38 | Minor Hinson | Charlotte-2021 | +16 | 79 | 77 | 76 | 232 |
| T42 | Alex Rubino | Charlotte-2019 | +17 | 78 | 77 | 78 | 233 |
| T42 | Clayson Good | Durham-2020 | +17 | 81 | 75 | 77 | 233 |
| T44 | Cade Hancock | Elizabethtown-2019 | +18 | 78 | 76 | 80 | 234 |
| T44 | Malin Muckenfuss | Charlotte-2020 | +18 | 78 | 77 | 79 | 234 |
| T46 | Luke Perrino | Mooresville-2020 | +19 | 78 | 78 | 79 | 235 |
| T46 | Zach Gilbert | Davidson-2019 | +19 | 79 | 77 | 79 | 235 |
| T46 | Bryson Sprinkle | Rockwell-2018 | +19 | 76 | 80 | 79 | 235 |
| T46 | Christopher Sperrazza | Raleigh-2019 | +19 | 74 | 83 | 78 | 235 |
| T50 | Frank Gilliam | Raleigh-2020 | +20 | 83 | 74 | 79 | 236 |
| T50 | Brady Hooks | Clayton-2019 | +20 | 77 | 81 | 78 | 236 |
| T52 | Zane Sullivan | Charlotte-2019 | +21 | 75 | 80 | 82 | 237 |
| T52 | Ben McCartney | Matthews-2021 | +21 | 80 | 78 | 79 | 237 |
| T52 | Luke Nelson | Raleigh-2020 | +21 | 80 | 79 | 78 | 237 |
| T55 | Jack Towarnicky | New Bern-2019 | +22 | 76 | 78 | 84 | 238 |
| T55 | Nicholas Song | Waxhaw-2020 | +22 | 75 | 80 | 83 | 238 |
| T55 | Andrew Graham | Asheville-2021 | +22 | 80 | 76 | 82 | 238 |
| T55 | Tyler Partee | Thomasville -2021 | +22 | 81 | 76 | 81 | 238 |
| T55 | Will Hawley | Raleigh-2019 | +22 | 82 | 75 | 81 | 238 |
| T55 | Rob Salisbury | Winston-Salem-2019 | +22 | 78 | 80 | 80 | 238 |
| T55 | James Carlin | Raleigh-2020 | +22 | 79 | 79 | 80 | 238 |
| T55 | Kellen Graham | Asheville -2018 | +22 | 83 | 76 | 79 | 238 |
| T63 | Garrett Dawson | Wilkesboro-2019 | +23 | 79 | 78 | 82 | 239 |
| T63 | Brandon Jones | Sanford-2019 | +23 | 77 | 81 | 81 | 239 |
| 65 | Nicholas Stuedli | Charlotte-2018 | +24 | 79 | 78 | 83 | 240 |
| 66 | Casey Osiecki | New Bern-2020 | +25 | 80 | 79 | 82 | 241 |
| T67 | Caden Baker | Mebane-2021 | +26 | 80 | 77 | 85 | 242 |
| T67 | Pearse Lucas | Charlotte-2021 | +26 | 81 | 78 | 83 | 242 |
| T69 | Mitchell Tanis | Pineville-2020 | +27 | 79 | 79 | 85 | 243 |
| T69 | Britt Stroud | Raleigh-2019 | +27 | 83 | 76 | 84 | 243 |
| 71 | Randall Hudson | New Bern-2020 | +28 | 74 | 80 | 90 | 244 |
| 72 | Noah Butler | Raleigh-2019 | +29 | 76 | 79 | 90 | 245 |
| 73 | Jared Clontz | Nebo-2019 | +30 | 81 | 78 | 87 | 246 |


Schedule of rounds:
Tuesday, August 7, 2018
8:00 a.m. - 9:45 a.m.- First Round starting times
12:30 p.m. - 2:15 p.m.- First Round starting times
Wednesday, August 8, 2018
8:00 a.m. - 9:45 a.m.- Second Round starting times
12:30 p.m. - 2:15 p.m.- Second Round starting times
Thursday, August 9, 2018
7:30 a.m. - Second Round restart
10:00 a.m. - Final round shotgun start time
2:30 p.m.- Awards presentation