Preview: 10th Jimmy Anderson Junior Girls'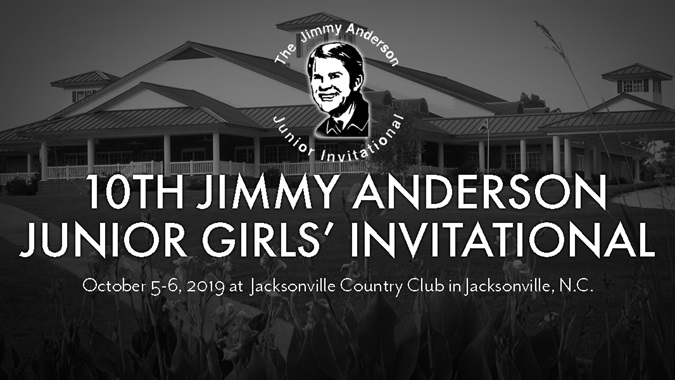 SOUTHERN PINES, N.C. (October 3, 2019) --The 2019 Carolinas Golf Association's girls' championship season wraps up with the 10th Jimmy Anderson Junior Girls' Invitational at Jacksonville Country Club in Jacksonville, N.C. on October 5-6, 2019. 45 girls are scheduled to play in the 36-hole stroke play tournament for junior girls between the ages of 12-18 who have not completed high school. The Carolinas Golf Association and the Peggy Kirk Bell Girls' Golf Tour will conduct the event in conjunction with Jacksonville Country Club.
Related links: Tournament web site | Starting Times | Scoring
This annual junior tournament was started by the alumni of the Jacksonville Country Club junior golf program in 2009 to honor their longtime teacher and friend Mr. Jimmy Anderson. Jimmy Anderson was the head golf professional at Jacksonville Country Club for over 25 years. Each Saturday morning, he conducted a junior golf clinic to help spread the game of golf to the next generation. During his tenure at Jacksonville CC, he taught many juniors including Mallory Miller, the 1987 N.C. Junior Champion and numerous future collegiate and golf professionals. Not only did he teach the game of golf, but was always there with a helpful word of encouragement to any young golfer. The tournament began as a boys and girls tournament, but due to the success of the event, the girls have been given their own tournament that is conducted each fall in October.
This year marks the tenth time the tournament has been hosted by Jacksonville CC. All but one past champion has played Division I collegiate golf including Tatum Briele of New Bern, N.C. (NC State), Sarah Bae of Pinehurst, N.C. (NC State), Evelyn Dole of Raleigh, N.C. (Southern Methodist), Emily Brooks of Chapel Hill, N.C. (Elon). Jennifer Chang of Cary, N.C. (Southern California), Anna McDonald of Hickory, N.C. (Appalachian State) Natalie Petersen of Holly Springs, N.C. (Georgia Southern) and Emily Hawkins of Lexington, N.C. (Campbell)
Here are a few players to watch at this year Jimmy Anderson Boys' Invitational:
Katherine Schuster of Kill Devil Hills, NC. Schuster a high school junior enters the Anderson Girls' as the No. 1 ranked junior in N.C. Schuster has had a very successful summer with wins in the N.C. Junior Girls, the NCHSAA 1A/2A State Championship, the North & South Junior, the Beth Daniels Junior and the Hope Valley Junior. Schuster has verbally committed to play college golf at Clemson.
Kayleigh Reinke of Rock Hill, S.C. Reinke, currently ranked No. 6 in S.C., is a high school junior who won the Jimmy Self Invitational and finished fourth in the S.C. Women's State Amateur. Reinke also has high finishes in the Vicki DiSantis Girls', the Beth Daniel Junior Azalea, the Caddie Classic and reached the Semifinals in the S.C. Junior Match Play Championship.
Paris Fieldings of Suffolk, VA. Fieldings is a high school freshman who is ranked No. 6 in Virginia. Fieldings won the Revo Girls Classic and the Scott Robertson earlier this year along with a fifth place finish in the Virginia Junior Girls' Championship.
Matia Atwood of Holly Springs, N.C. Atwood, currently ranked No. 4 in N.C., is a high school sophomore. This past summer, Atwood was the runner-up in the N.C. Junior Girls' Championship and had top-ten finishes in the Carolinas PGA Junior, the Twin States Girls', the Precision Junior Girls', the Hope Valley Junior and the Vicki DiSantis Girls'.
Alexia Siehl of Fort Mill, S.C. Siehl is a high school junior and is ranked No. 8 in South Carolina. Siehl was the runner-up in the Vicki DiSantis Girls' and The Blade Junior and had third place finishes in the Twin State Girls' and the Carolinas Girls' Championship.
Macy Pate of Boone, N.C. Pate, a high school freshman, is currently ranked No. 11 in N.C. Pate won the 2018 N.C. Middle School Championship, finished in third place in the Carolinas Girls' 15 and Under Championship and had a top-10 finish in the Vicki DiSantis Girls'.
Grace Holcomb of Wilmington, NC. A high school junior, Holcomb is coming off a five-shot victory in the TYGA State Championship. This summer Holcomb won back-to-back TYGA one-day events at Wilmington Golf Club and Pine Valley CC. Holcomb was named to the second all-tournament team in the North State Girls' High School Challenge this past September. Holcomb is currently ranked No. 21 in N.C.
Full Field of Players
| | | | |
| --- | --- | --- | --- |
| | Trinity Ahing, New Bern, NC-2020 | Paris Fieldings, Suffolk, VA-2023 | Ella Perna, Durham, NC-2022 |
| | Hannah Altman, Lake City, SC-2022 | Lotte Fox, Raleigh, NC-2020 | Kayleigh Reinke, Rock Hill, SC-2021 |
| | Maria Atwood, Holly Springs, NC-2022 | Grace Holcomb, Wilmington, NC-2021 | Jennifer Rials, Florence, SC-2022 |
| | Lexi Bennett, Santee, SC-2021 | Anna Howerton, Kernersville, NC-2023 | Elizabeth Rudisill, Charlotte, NC-2025 |
| | Anika Bhatnagar, Cary, NC-2020 | Caroline Isaacson, Greensboro, NC-2020 | Jenna Rutledge, Beaufort, NC-2022 |
| | Anna Claire Bridge, Raleigh, NC-2021 | Morgan Ketchum, Winston-Salem, NC-2022 | Katherine Schuster, Kill Devil Hills, NC-2021 |
| | Mary Sears Brown, Wake Forest, NC-2021 | Emily Mathews, Mebane, NC-2023 | Alexia Siehl, Fort Mill, SC-2022 |
| | Kyla Callahan, Denver, NC-2024 | Layla Meric, Wesley Chapel, NC-2021 | Kinsley Smith, Raleigh, NC-2024 |
| | Autumn Carey, Manning, SC-2022 | Sadler Miller, Clayton, NC-2022 | Cindy Song, Waxhaw, NC-2023 |
| | Chayse Cool, Goose Creek, SC-2022 | Megan Morris, Cary, NC-2021 | Fabienne Van Kleef, Hilton Head Island, SC-2020 |
| | Breannon Council, Wilson, NC-2024 | Madison Myers, Cary, NC-2025 | Grayson Warren, Washington, NC-2021 |
| | Lindley Cox, Hampstead, NC-2023 | Nicole Nash, Charlotte, NC-2023 | Emily Wellspeak, New Bern, NC-2020 |
| | McKenzie Daffin, Fort Bragg, NC-2021 | Makenzie Norwood, Kiawah, SC-2022 | Laney Wessels, Sophia, NC-2021 |
| | Kayla Dowell, Mebane, NC-2021 | Delia Parker, Greer, SC-2021 | |
| | Julie Fiedler, New Bern, NC-2021 | Macy Pate, Boone, NC-2024 | |
About the Peggy Kirk Bell Girls' Golf Tour (PKBGT)
Founded in 2007 by the Triad Youth Golf Foundation, a non-profit 501(c)(3) charitable organization, as a local girls' golf tour in the Triad region of North Carolina, the tour began as a simple concept: create more effective competitive playing opportunities for girls. By utilizing innovative yardage-based divisions instead of the traditional age-based format, the tour focused on developing tournament experience at the player's pace. The 2020 season will feature nearly 100 tournaments in 9 states on the East Coast and with over 900 members, the PKBGT is the largest girl's only tour in the country. Learn more about the PKBGT at www.pkbgt.org.
About the Carolinas Golf Association (CGA)
The CGA is a 501(c)(3) not-for-profit educational organization that was founded in 1909 to promote and to protect the game of golf in the Carolinas by providing competitions, education, support and benefits to golf clubs and golfers. The CGA is the second largest golf association in the country with over 700 member clubs represented by nearly 150,000 individuals. The CGA annually conducts 43 championships and five team match competitions for men, women, juniors, and seniors. It also runs over 140 One-Day (net and gross) events and qualifying for USGA national championships. The CGA serves golf in the Carolinas with numerous programs such as: the USGA Handicap System; tournament management software and support; course measuring and course/slope ratings; agronomy consultation; answers about the Rules of Golf, Rules of Amateur Status, and Handicapping; Carolinas Golf Magazine; Interclub series; Tarheel Youth Golf Association; Carolinas Golf Hall of Fame; expense assistance for USGA Junior and Girls' Junior qualifiers from the Carolinas; and the Carolinas Golf Foundation (CGF). The CGF has distributed more than $1,500,000 since 1977 to benefit Carolinas' golf initiatives including junior and women's programs. For more information about the CGA, visit www.carolinasgolf.org.
##30##
For more information contact:
Jason Cox, Director of Youth Development
Phone: 910-673-1000
E-mail: jason.cox@carolinasgolf.org

Carolinas Golf Association:
140 Ridge Road
Southern Pines, NC 28387
Web Site: www.carolinasgolf.org